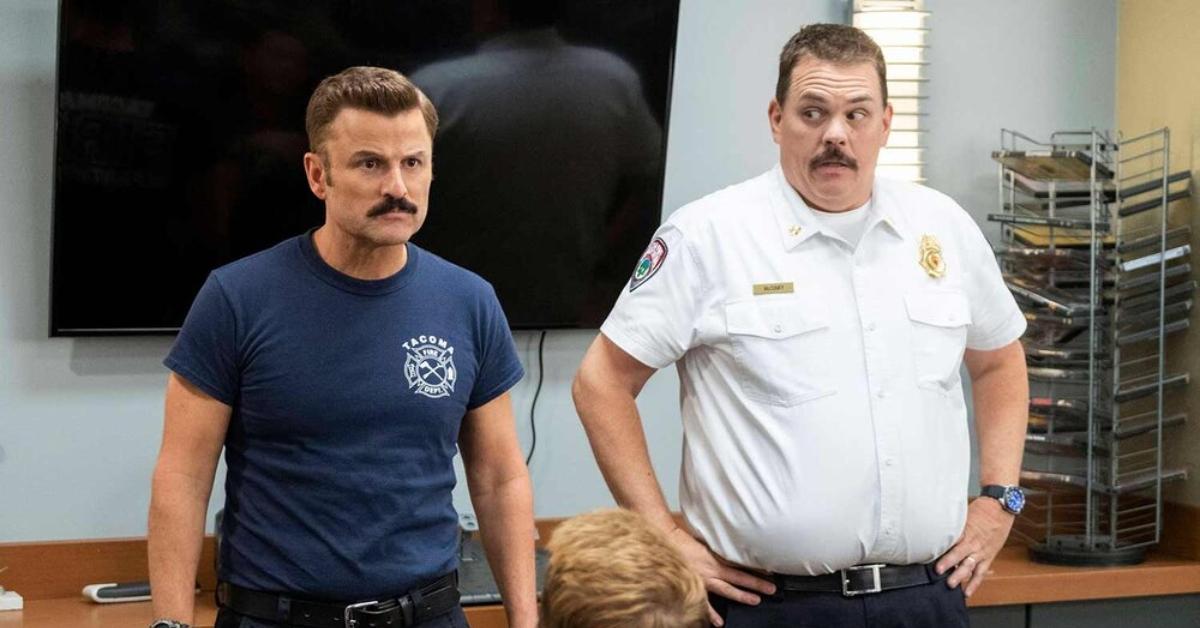 'Tacoma FD': Kevin Heffernan and Steve Lemme's Show Is Inspired by Real Emergency Calls
Being a firefighter in one of the rainiest cities in America means that the Tacoma Fire Department is not regularly putting out blazes in their community. Instead, these first responders are tackling insane emergency calls, and passing the time with station antics, such as gambling, and engaging in friend competitions.
Article continues below advertisement
The hilarious truTV series Tacoma FD is back for Season 2 and continues to follow the pranks and hijinks that ensue between Chief Terry McConky (Kevin Heffernan), Captain Eddie Penisi (Steve Lemme), and the rest of their small team.
Distractify spoke exclusively with the show's creators and stars Kevin Heffernan and Steve Lemme about Season 2 storylines, real-life pranks that inspired the series, and their fabulous mustaches.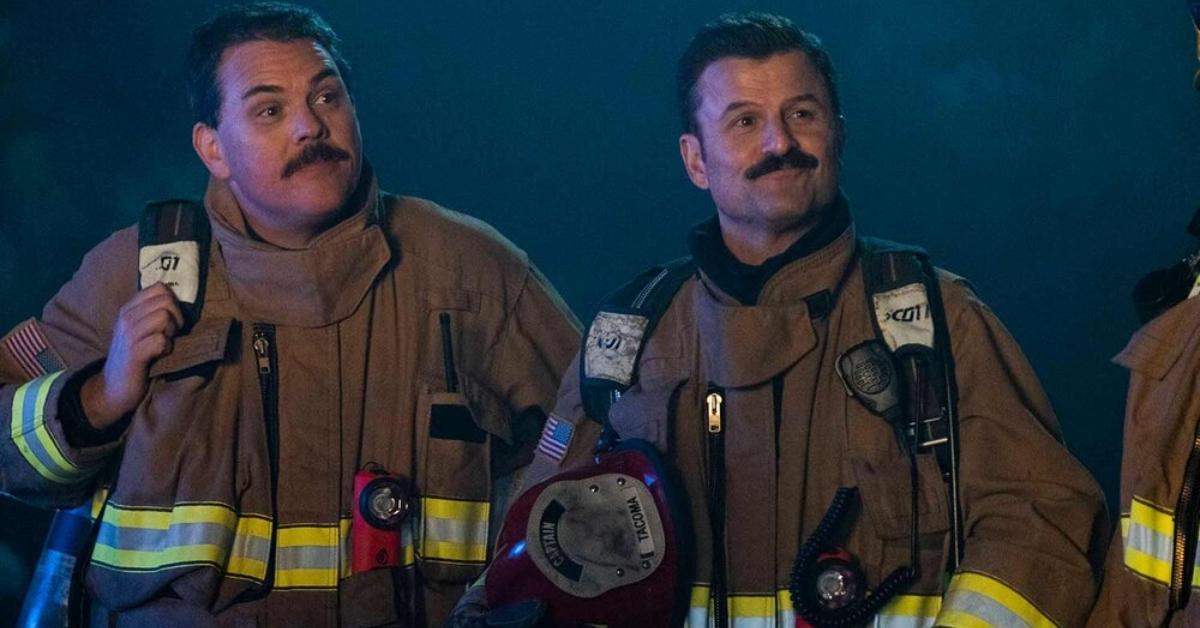 Article continues below advertisement
Check out our Q&A below. (Editor's note: This interview has been edited and condensed for clarity.)
'Tacoma FD': Kevin Heffernan and Steve Lemme dish on real-life pranks and Season 2 storylines.
Distractify: When you're creating these bizarre emergency calls and situations that these firefighters find themselves in, are these just concepts you come up with or do you research outlandish real life situations that first responders have actually responded to?
Article continues below advertisement
Kevin Heffernan: What we really do is we talk to firefighters. They have the greatest stories in the world. … We were kinda spinning them into these funny scenes. Then the show kinda took off with firefighters and they were reaching out to us and each firefighter has like 50 amazing stories. So we've been looking to those stories and putting a comedy spin on them. Pretty much every one of those calls that we go on is a true story.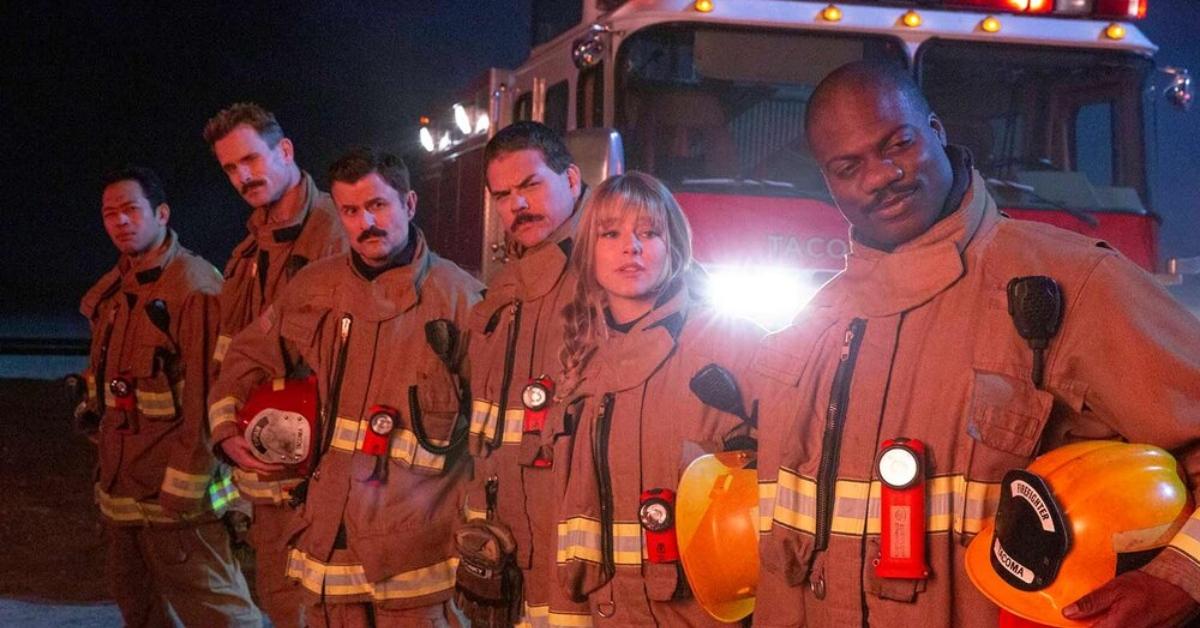 Article continues below advertisement
Has there been an interesting real-life story that you guys wanted to do for the show, but couldn't?
Steve Lemme: When we really hit limitations is when we hear cool stories about fires. … I don't know if you've noticed, but we only have one fire per season on our TV show because we can't afford to do any more. ... Kevin's cousin Bill [Heffernan] told us a story about a guy on drugs who was freaking out ... he had a doll and he kept screaming that he wanted them to give CPR to his doll.
In an effort to keep him calm, they had the firefighters go ahead and give CPR to a dummy. That led us to the beginning of Episode 3 this season where we have Jeff Dunham to come in and be the guy who wants us to give CPR to a dummy. … So these firefighters have seen it all.
Did any real-life pranks inspire storylines for the show?
Article continues below advertisement
SL: Pranks that we did in real life that we did as kids ... one was something we did in Season 1 that I did to a teacher of mine back in high school. I didn't see eye-to-eye with this guy so I snuck into his office and unscrewed the seat of his chair and poured frozen shrimp down the pipe of the chair and screwed the seat back on.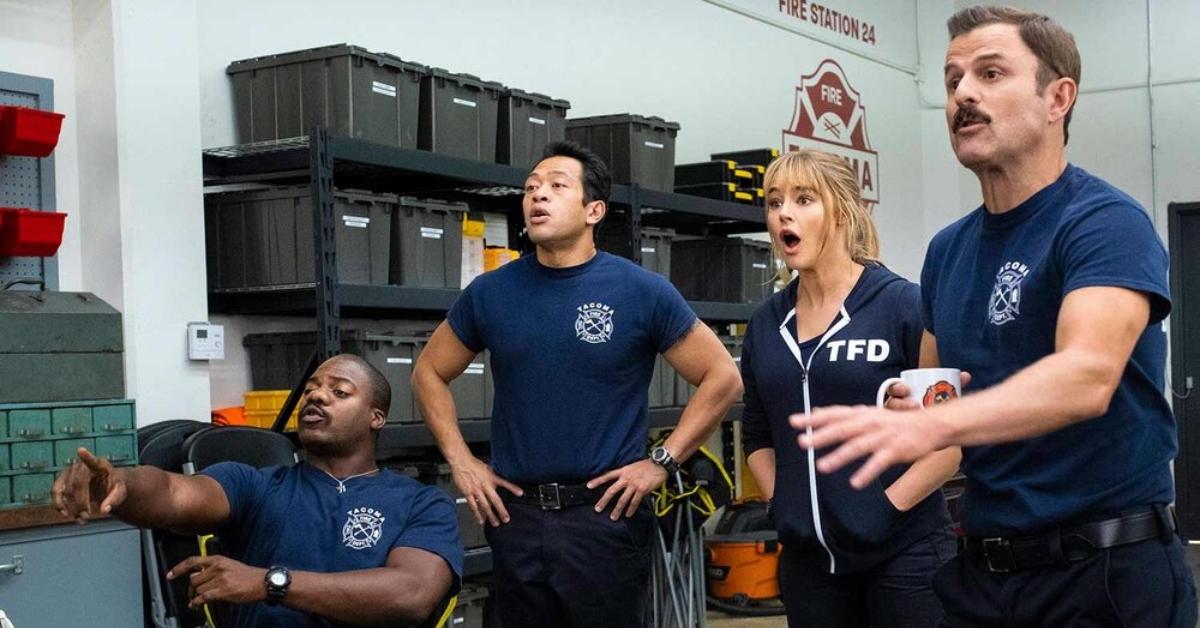 Article continues below advertisement
After a day he had his furniture moved out of his office and they fumigated it and moved the furniture back in, so of course the smell was back. He had all of his furniture moved to a different office and then that office smelled. Finally, he gave up and replaced all of his furniture, so that way I won. I beat my teacher, and we used it for Tacoma FD.
So you got away with it?
SL: Oh, I got away with it. I guess Tacoma FD is my confession, after all these years, it was me.
I read that while filming Season 2, Steve, you cracked a rib during a scene with a snake.
SL: Terry and I get tangled up in a snake and Kevin was laying on top of me for two hours straight. … At some point he said I'm going to give you all my weight now. He did that and that was a different experience. That was like being run over by a steam roller.
Article continues below advertisement
I had some soreness in my chest. … The soreness came back and I went to the ER and I had a little hairline fracture in the top of my chest cavity. The doctor asked if I had fallen or hit by anything that might have led to this. I told them, 'You know, I'm an actor and I shot a scene with a guy who is like, 250 pounds and he was on me for about two hours. Could that be it?' He was like, 'Yeah.'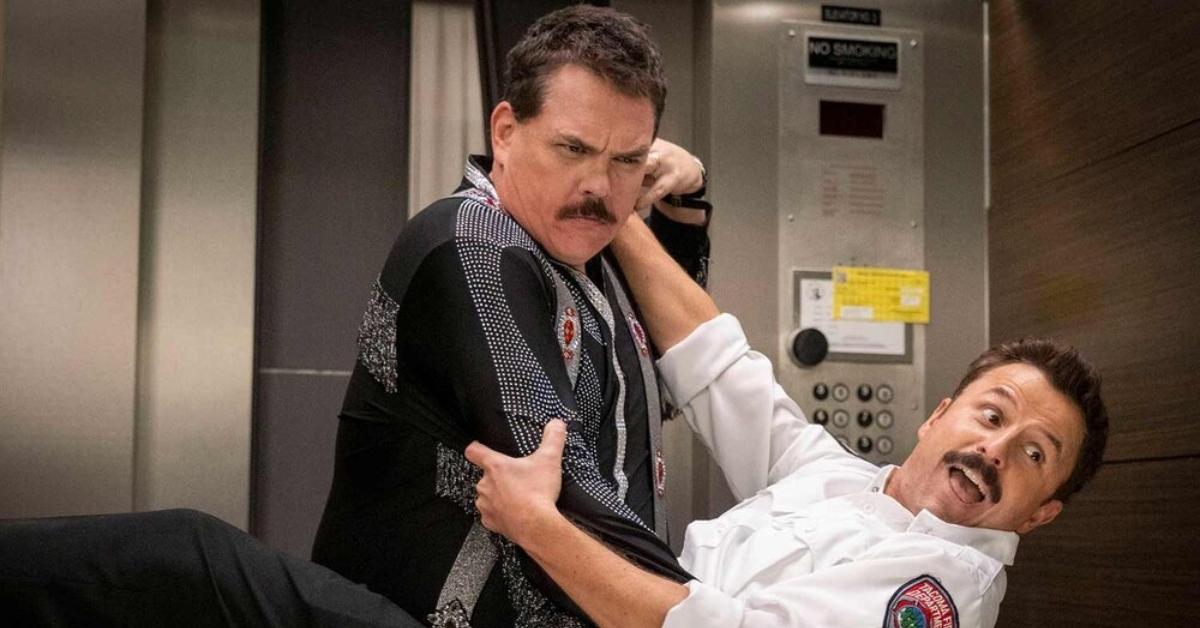 Article continues below advertisement
What was your favorite scene to film this season?
KH: One of the more challenging scenes that I did this season was I did an elaborate salsa dance where I had to learn the salsa dance, which I ultimately do at the Firemen's Ball in kind of a special way. That was a weird thing for me.
You guys also rock some serious mustaches on the show. Are they real or fake? Did you feel the 'stache was just the quintessential firefighter outfit?
SL: Those are real mustaches. I have to give a shoutout to Kevin because back when we made Super Troopers, he only had like 12 hair holes on his upper lip and his mustache was really terrible. But, in the 15 years since then he's really come a long way. I think he's grown one hair hole per year and now he's up to 27. His mustache is looking pretty good, I think.
Tacoma FD airs Thursdays at 10 p.m. ET on truTV.