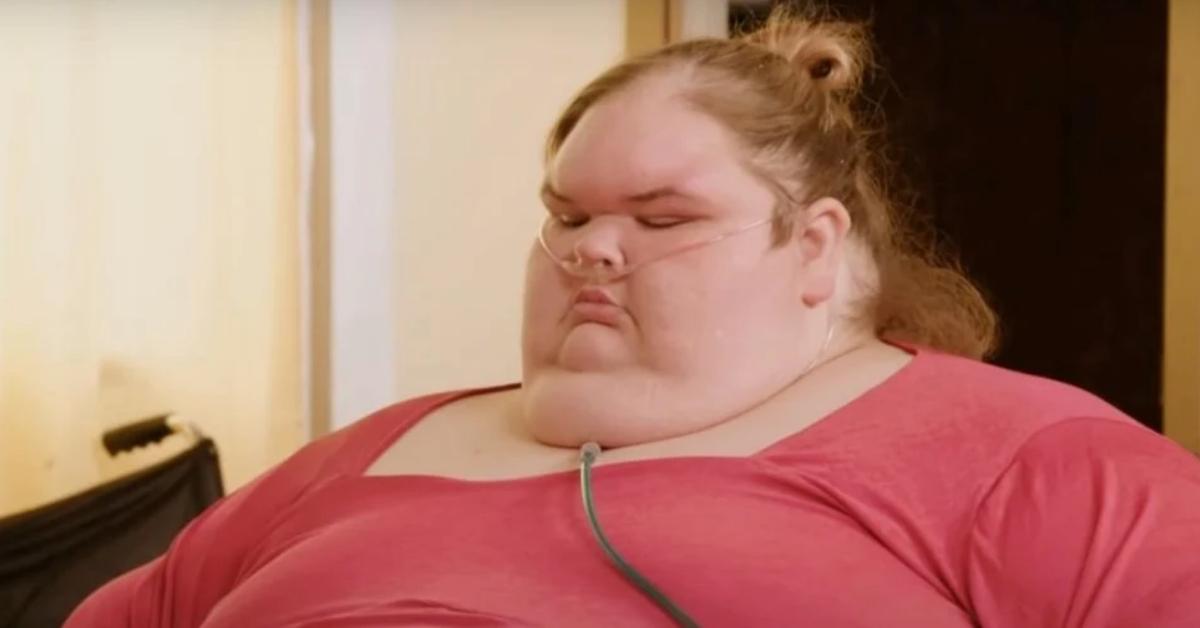 How Did '1000-Lb Sisters' Star Tammy Slaton Wind up in the Hospital Again?
Before viewers were introduced to 1000-Lb Sisters star Tammy Slaton, she had faced quite a few close calls due to her being obese. Tammy had trouble breathing because she had a blood clot in her lungs, and she once came down with a horrible case of pneumonia. It was so bad that her older sister Amy Slaton felt the need to set up a GoFundMe for Tammy because she thought her sister would die.
Article continues below advertisement
Throughout her stint on 1000-Lb Sisters, Tammy has experienced major health problems, and fans have worried for her due to her failure to lose weight. However, recently Tammy had been starting to drop the pounds. But her social media followers began to become even more concerned when they saw posted photos of Tammy vaping while wearing an oxygen mask. Since Tammy left the weight loss rehab center, her TLC fans have been worried she would relapse after claiming she'd only eat one burger a day.
Article continues below advertisement
So when the 35-year-old took to social media recently and her video revealed that she was spending time in the hospital, including on Thanksgiving, there was an upheaval of worry. Here's what we know about the situation that led to Tammy's hospital stay, plus an update on the reality star's health.
Tammy Slaton was in the hospital for carbon dioxide poisoning. How is she now?
Tammy took to TikTok in late November 2021 to say that she had landed back in the hospital. She let fans know that she ended up in the hospital due to carbon dioxide poisoning and then explained that she had to undergo a tracheotomy. Tammy had to have a hole cut in her throat in order for her to receive oxygen.
Article continues below advertisement
The poisoning also resulted in her contracting pneumonia again, and Tammy was also put on life support. Despite all of this, Tammy has shared that she's "good." In another one of her TikTok videos, Tammy said, "I'm doing better day by day. I'm supposed to be getting out of the hospital in a couple of days." On Nov. 29, Tammy took to Tik Tok again, saying that she would be leaving the hospital.
Article continues below advertisement
So if not today, Nov. 29, we could assume that she should be getting discharged in the next day or so. Once Tammy is released, her recovery journey will continue, as she is planning to go to another rehab to get her strength back and to get back to losing weight. It's great to know that her health is doing much better, and hopefully, Tammy won't have to spend any more time in the hospital going further.
How did Tammy Slaton get carbon dioxide poisoning?
In a Reddit discussion group about 1000-Lb Sisters, users started chatting about how Tammy even got carbon dioxide poisoning in the first place and if she actually meant carbon monoxide poisoning. In the thread, one user noted, "I'm a Respiratory Therapist, and [as] soon as I saw her trach mask around her neck, I knew she had been on life support. Definitely CO2 poisoning, we call it hypercapnia. I can't believe she lived."
According to Web MD, hypercapnia is a buildup of carbon dioxide in your bloodstream, which makes it harder for someone to breathe, and one of the causes is obesity. We wish Tammy nothing but the best and hope this doesn't happen again to her.
New episodes of 1000-Lb Sisters air Mondays at 10 p.m. EST on TLC.