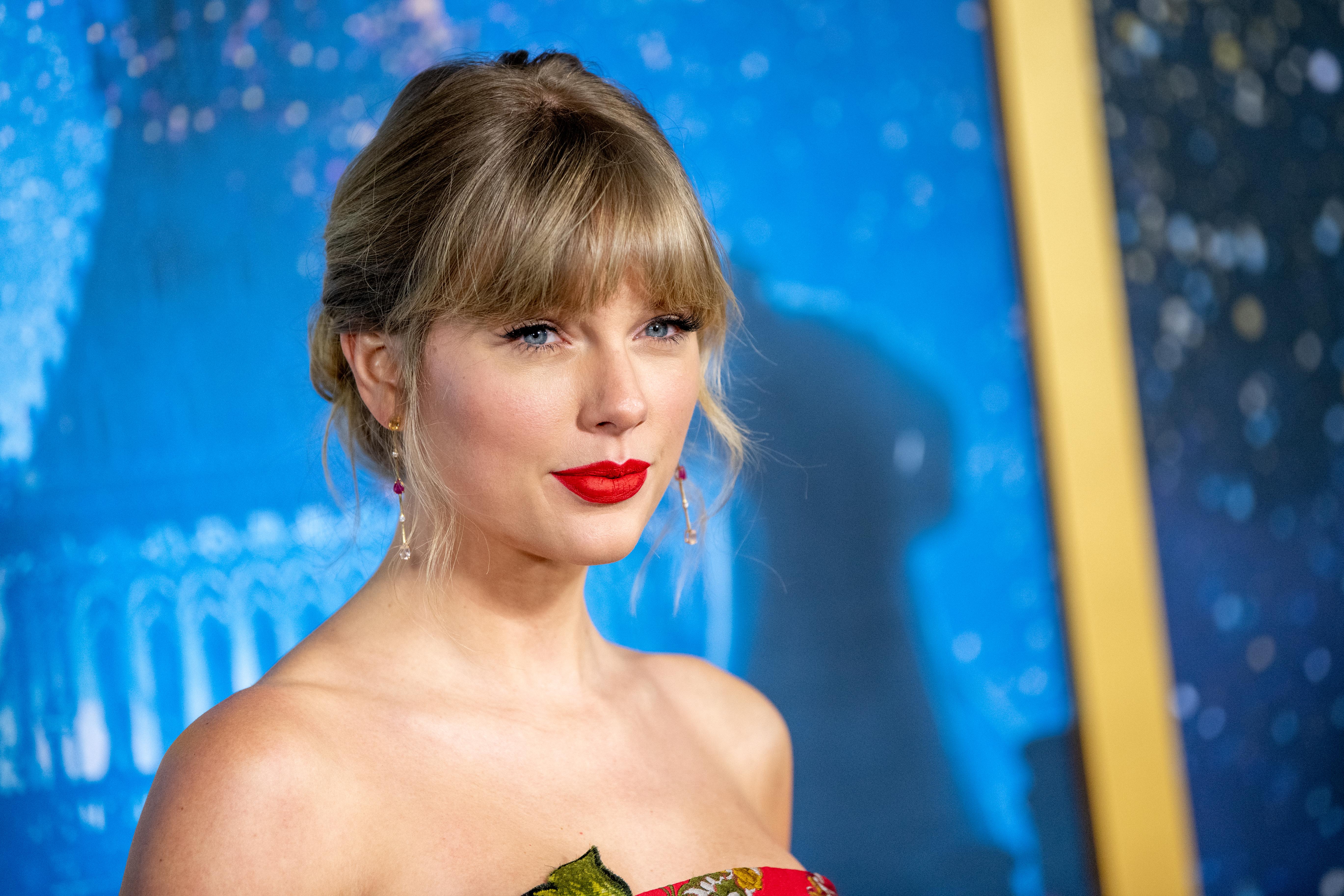 Taylor Swift Called out Netflix for Sexist 'Ginny & Georgia' Joke
Netflix took a chance with the Gilmore Girls-esque series Ginny & Georgia. The series is a dramedy that follows Ginny Miller (Antonia Gentry), a 15-year-old girl who is more grounded than her 30-year-old mother. (Sound familiar?) They also live in a New England town just like Lorelai and Rory. Georgia (Brianne Howey) works to give her daughter and her son, Austin (Diesel La Torraca), a better life (though she goes to extremes Lorelai doesn't).
Article continues below advertisement
While the show does its best to be a picture of feminism and female empowerment, it fell short with one small joke that now has gone viral thanks to the woman who was the punchline. Taylor Swift took to Twitter to call out Ginny & Georgia for a sexist joke aimed at her personal life.
Taylor Swift called the 'Ginny & Georgia' joke "sexist" and "lazy."
As young Ginny is being grilled by her mother about her dating life, Ginny responds, "What do you care? You go through men faster than Taylor Swift."
Loyal Taylor Swift fans rallied for the singer on social media, criticizing the joke as sexist and played out. After hype from fans, Taylor herself took to social media to call out the show's writers for the line. She also called out Netflix as a whole, as the platform is home to her 2020 documentary, Miss Americana.
Article continues below advertisement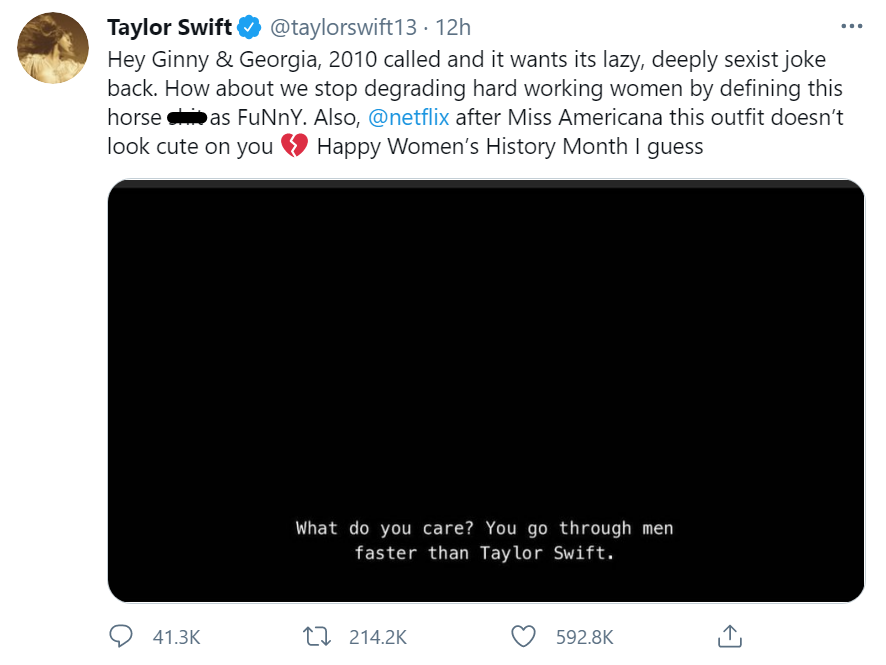 "Hey Ginny & Georgia, 2010 called and it wants its lazy, deeply sexist joke back," Taylor tweeted. "How about we stop degrading hard working women by defining this horse s--t as FuNnY. Also, @netflix after Miss Americana this outfit doesn't look cute on you. Happy Women's History Month I guess." She also included a heartbreak emoji.
Article continues below advertisement
The joke may have struck a chord with Taylor due in part to her relationship with Netflix.
The joke from Ginny & Georgia was obviously not the first joke that Taylor has heard at her expense, poking fun at her relationship history, but some believe Taylor felt hurt by Netflix especially. Her documentary featured on Netflix, Miss Americana, profiled Taylor's life and her frustration with a misogynistic society and even her own internalized misogyny.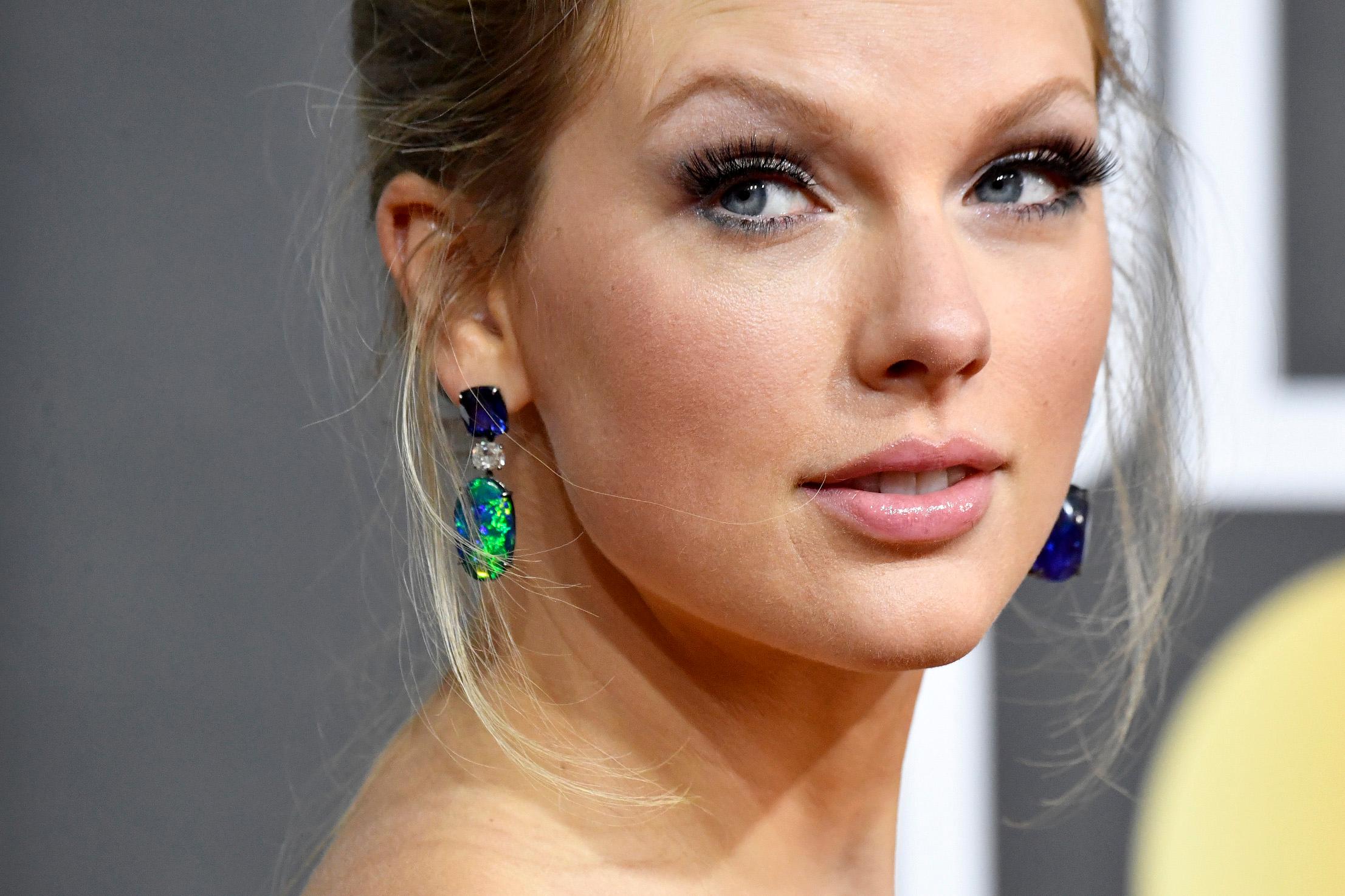 Article continues below advertisement
"I'm trying to be as educated as possible on how to respect people, on how to de-program the misogyny in my own brain. Toss it out, reject it, and resist it," she explained. "Like, there is no such thing as a slut. There is no such thing as a bitch. There is no such thing as someone who's bossy, there's just a boss."
Article continues below advertisement
Taylor has also denounced others for using her personal life for amusement. When asked by Vogue in 2016 what piece of information she'd like to go back and tell her 19-year-old self, Taylor responded, "You're gonna date just like a normal 20-something should be allowed to, but you're going to be a national lighting rod for slut-shaming."
Taylor's fans backed her up on social media with a #RespectTaylorSwift hashtag.
When Taylor came out herself to make her feelings about Ginny & Georgia known, fans responded in droves to support her. "The fact that platforms like @netflix continue to use Taylor Swift as a punchline for misogynistic and sexist comments, which might I add, would never be made about a male, is the reason we continue to take 3 steps backward for every step forward in feminism - RESPECT TAYLOR SWIFT," one fan wrote.
Article continues below advertisement
However, there were some others who thought that the "cancellation" of an entire show for one single joke was overkill being perpetuated by Taylor Swift. "No, it wasn't a great line. However, there is context to this one line. But once again, Taylor is the victim and weaponizes her fans. You are trying to cancel an entire show for one line that has sentences before & after that line which provides context," a user tweeted.