Teacher Fired by School Because Principal Said God Told Him "Teaching Wasn't Her Passion"
A teacher who loved her job said that the school's Principal fired her after she asked for more money stating that God told him to do it.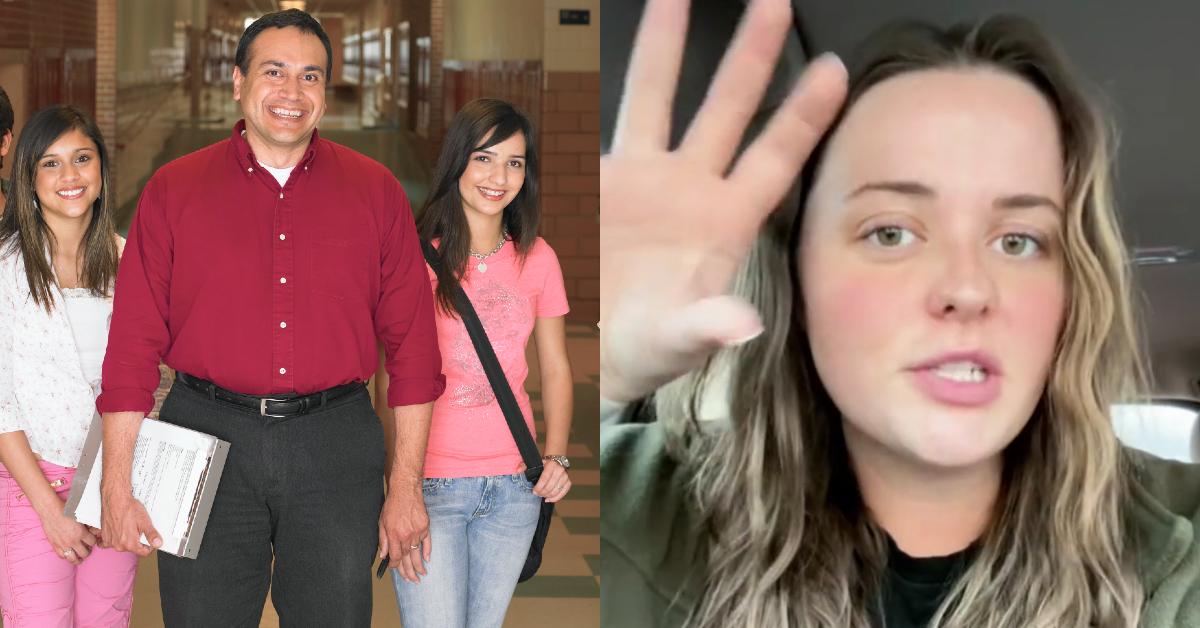 Article continues below advertisement
But then there are folks like this teacher/TikToker's former Principal, who use God as a means of what sounds like them justifying their personal retaliatory attacks against others, aka, doing crumby things in the Lord's name.
Cassidy Elise (@cassidyeliseco) posted a viral TikTok where she talks about her experience in working for a "mission" based religious institution, enthusiastically stating how much she loved her job, even if she wasn't in love with the pay.
Article continues below advertisement
So, after two years of working with the school, she brought up in her year-end review that she would like to receive more money, but ultimately decided to sign her contract and continue teaching there.
This was the plan until the school's principal received a message from God telling him that her passion wasn't for teaching.
Article continues below advertisement
Cassidy says in her video: "Welcome to 'how I got fired as an elementary school teacher. I graduated college 2019 went straight into teaching. That first year teaching was COVID year, I was a cute little 22-year-old, making it through, we did it."
She continues, "I taught for 2 years, I also, I taught at a private school instead of a public school because I thought that was like the dream like let's teach at a private school. I exponentially made less than public school teachers. I was about six to seven thousand dollars less than the public school like right down the road."
Article continues below advertisement
Cassidy explained that while she was earning less money at the private school, she understood this because the school was founded on a "mission," as it was a religious-leaning institution that taught students lessons from the Bible in addition to other academics.

Article continues below advertisement
"First year of teaching was obviously a little rough because it was COVID but I felt so accomplished like I absolutely loved my job. When year two rolled around I was very confident in my teaching, like I knew I was doing a really good job just by the comments that I would get from like the parents and like the students and like some of my co-workers I just felt good, like there's obviously still a lot I needed to learn being a first year, second-year teacher but I felt really good that I was doing what I'm supposed to be doing."
Cassidy stated that her confidence in her teaching abilities was also backed by data as the students in her class had the "highest rate of percentage growth for reading" which she thought was really "cool" and reinforced how much she loved going to work and doing her job.
Article continues below advertisement
And she said that while there were some things about the job she didn't really like, namely the school's administration, she coughed it up to taking some bad with the good due to the fact she was employed with a "mission" based school.

Article continues below advertisement
The trouble began, however, after she went in for her end-of-the-year meeting with the Principal upon successfully completing her second year as a teacher at the faith-based school.
Cassidy describes the meeting as pretty run-of-the-mill, teachers discuss how their years went with the Principal, then they're handed their contracts for the next school year, and boom, they're done.
She said in the meeting that she "raised some concern about what we were getting paid" but didn't make that big of a deal about it in her discussion with the Principal.
Article continues below advertisement
After her meeting, she called her mother to ask for advice as she learned she wasn't getting a pay raise, to which her mom replied that she should "stick it out" with the school for another year and see where she ends up.

Article continues below advertisement
And that's precisely what Cassidy decided to do: she signed her contract and gave it to the principal in person. The following day she left on a trip out of state, only to receive a text from the principal asking her to come in to discuss something that "concerned" him.
Cassidy explained that she wouldn't be able to come in as she was out of state, but that she could discuss it over the phone. The principal then said he would much rather talk about it face to face, but Cassidy pressed and said that she would like to know what the nature of their conversation was going to be.
Article continues below advertisement

The principal acquiesced and said that they could "hop on a Zoom" to discuss it: "So I get on a Zoom call with this man and he said you know what I...he said after our conversation yesterday I don't think you're passion is for teaching and actually God told me that that's not your passion."
Article continues below advertisement
She replied, "That's so cool and interesting because God never told me that but that's really cool that he's only speaking through you because you're a man. So he said because this isn't your passion and God told me that this is not your passion I'm actually not gonna be renewing your contract anymore so you will not be teaching with us next year."

Article continues below advertisement
"And that blew my mind because of how much I had accomplished in that my passion was so towards the kids."
Judging from the comments from viewers who saw Cassidy's post, other teachers have found themselves in similar situations: "GIRL, I went through a similar situation at a private school! On to bigger and better things!" one TikToker wrote.
Another penned, "Sounds like the school I left. My admin SUCKED, so I left mid-year due to the toxicity."
Someone else said that they've commonly encountered employers that use their personal "missions" in order to "guilt people into working for peanuts."