Teacher Explains Why She Never Gives Homework in Viral TikTok
Courtney White is a high school language arts teacher in Texas who firmly believes that assigning homework won't help her students learn more.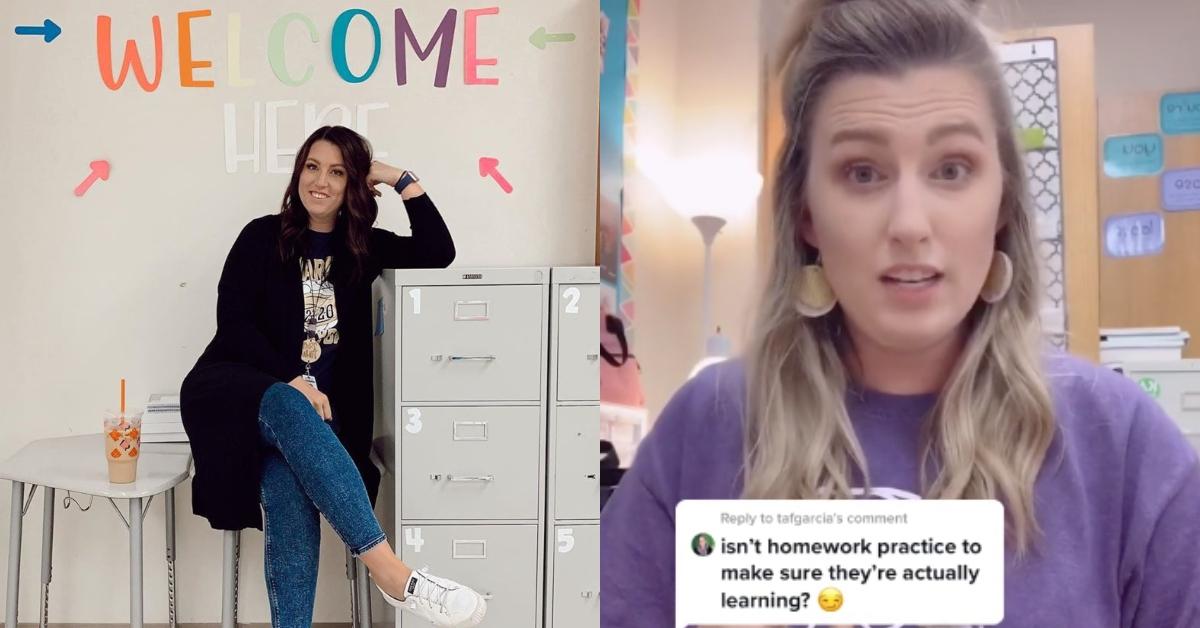 Think back to when you were in school. How many times did you cry over homework, whether it was because you had too much of it and not enough time, or it was too hard and covered things you didn't have a handle on from class?
Article continues below advertisement
Homework can be an OK tool for teachers to use if doled out properly, but many teachers assign homework without really thinking about why they're assigning it. Courtney White, a language arts teacher from Texas, did away with homework completely in her classes.
Article continues below advertisement
White has a pretty large following on TikTok and Instagram, both of which she uses to share information about what it's like to be a teacher and to share her teaching methods.
In the above video, she revealed that she is, in fact, "that teacher that doesn't assign homework." The short video prompted lots of comments and questions from people, including other teachers. So Courtney did a follow-up video in which she explained exactly why she doesn't assign any homework to her students.
Article continues below advertisement
"There's no proof that homework is going to make them better students in my class," she says in the video, which has amassed over 4 million views. "I respect their time outside of class. They work hard for me all day. They don't need to go home and do more homework because if they do it at home, that does not show me mastery.
Article continues below advertisement
"It's extra practice, sure, but not good practice if they're doing it wrong. It's not good practice if they're cheating. It's not good practice if they're having someone else do it.
"Most of my students are high schoolers. They have jobs. They have FFA. They have sports. They're in practice. They're in band. They have other responsibilities outside of school. Some of them are going home and taking care of their younger siblings because their parents are at work.
Article continues below advertisement
"Some of them just need to go home and sleep. Some of them have to go home and worry about how they're going to eat because there's no food at their house. So if I also give them hours of homework, when do they have time to be kids? When do they have time to relax? Because when you get off of work, you want to go home and relax. So I'm a good teacher and I'm doing my job."
Article continues below advertisement
That makes a ton of sense to me. Homework for homework's sake is not a good enough reason. If a teacher can use class time to get out all the information and make sure their students understand it through in-class exercises, that should be enough.
In an interview with Good Morning America, White explains, "I decided to not assign homework to my students, and I did this in elementary school as well, just so they had time outside of school to just be kids. I know homework can be essential for some classes and you just can't get around not assigning it.
Article continues below advertisement
"So I totally understand the point of homework. But for me personally, I just like to have a little more leniency and letting them know, like, it's OK to be human and go home and sleep. It's OK to not go home and stress over homework because you were at practice until nine o'clock at night or you're going home and taking care of siblings, you're working, whatever it may be outside of school.
"I really push the assignments in class. We work really hard in class and we cover the topic multiple times. But my students also know that if they don't take class seriously, they don't finish work in class, it will go home, and so far, that has never happened. So they take classwork very seriously, and I just assess them a lot in class, so I have no reason to send the work home later in the day."