Viral Videos Show Hero Teachers Doing Their Best to Teach Virtual Classes
The teachers who are trying to conduct classes virtually right now are literal saints and they should be paid way more than they are.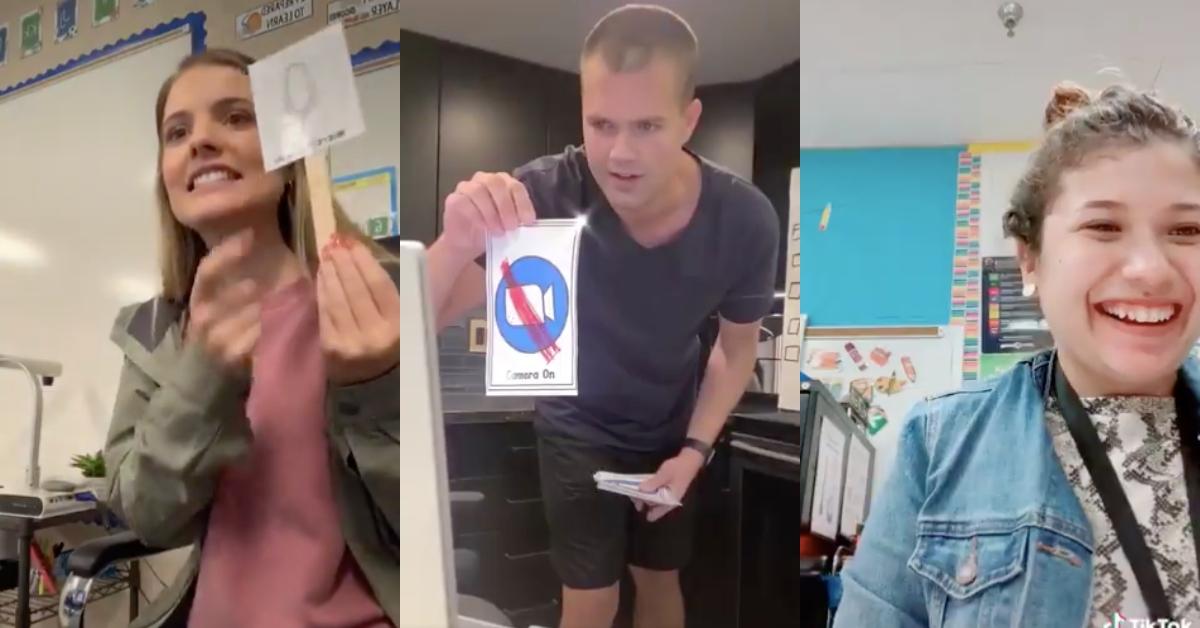 It's no secret that teachers should be paid more. That was true before the coronavirus pandemic hit, and it's definitely true now. Teachers have had to scramble to figure out online learning, and in these first few weeks of school, they're dealing with all the pitfalls, expected and unexpected, of trying to get kids to learn through a computer screen.
Article continues below advertisement
It's not easy. In fact, it's one of the hardest jobs in the world right now. And there are a few viral TikToks that teachers have posted of themselves in the moment, during virtual lessons, that will prove that the people trying to educated your children right now are literal saints. Like, for example, the one below.
Article continues below advertisement
In this video, this teacher is clearly doing a math lesson with a young group of kids. She's figured out a creative way to visually share addition problems. But when she needs a student to speak up, he has trouble with his microphone.
She has a popsicle-stick picture of the microphone to help him realize he needs to turn on his. And then she waits...so patiently...for him to turn it on and answer the question. The Twitter user who posted the video, which went super viral, captioned it, "This woman should literally be paid one million dollars a year."
Article continues below advertisement
In follow-up tweets, they write, "I've watched this 100 times. I don't think I could do this for five minutes and she does it??? Every day??????? Senators should make maximum 25 percent of this woman's net annual income."
Soon, others started chiming in in the comments with similar sentiments. "That's not even the hard part," one person wrote. "The lesson planning and prep and dealing with unsupportive parents is what gets you. Teachers cannot be paid or appreciated enough."
Article continues below advertisement
Trying to teach kids of all ages in person was enough of a struggle; now teachers have to deal with the same expectations from parents and administrators, but everything has to happen online. It's not a simple switch.
Article continues below advertisement
Commenters began sharing more TikToks from more amazing teachers in the responses to the first video, and each one shows just how wonderful and patient and amazing teachers are.
Article continues below advertisement
I'm not going to lie; when he said that they should unmute themselves on the count of three and say "Hello!" and then all the kids did it before he counted to three, I got super frustrated. But that man stood there with the utmost patience and understanding.
"Oh goodness, I'm completely frustrated and completely exhausted just from watching this clip. He is awesome!" one person wrote. The amount of stress teachers are under these days is insanely unfair, and they deserve so much more.
Article continues below advertisement
If teachers deserved better pay and more appreciation before (which they did), they certainly deserve even more now. Teachers are often blamed for issues out of their control, and they have one of the toughest, most important jobs in our society. Educating young people is no small feat, especially when you have to do it over Zoom and kids have no idea how to mute and unmute themselves.