Teacher Refuses to "Help Kids Catch Up" After Parents Took Them on Vacation, Earns Praise
A teacher who shared their frustration in being asked to get kids who took two weeks out of school up to speed is praised online.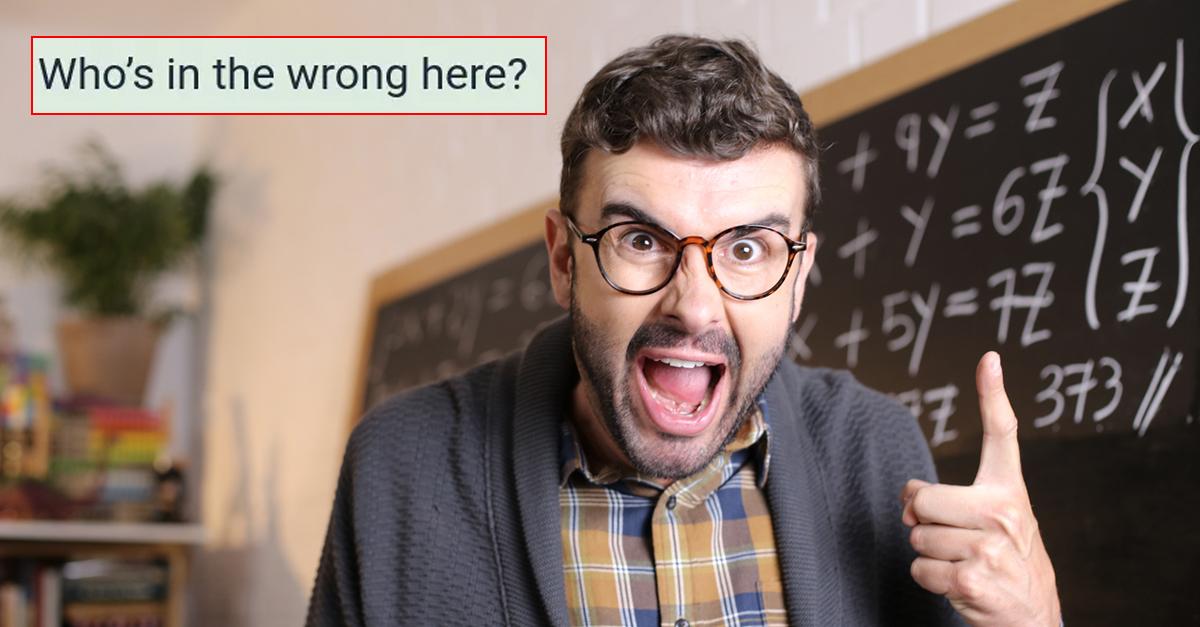 Consistency is key to achieving excellence in any discipline. Want to become a top athlete? Don't miss practice and make sure that you're present and ready to work every second of practice. Want to be recognized for great work while at work? Consistently meet or beat deadlines and constantly put forth solutions to long-standing problems so you become an invaluable asset.
Article continues below advertisement
Attaining success in school is no different. If you want to make sure that you're keeping up with the rest of your classmates and not falling behind in the source material, then you really can't afford to miss any days of school. This is especially concerning considering the COVID-19 pandemic thrust a bunch of children and families into remote learning situations.
While a lot of great work can be done remotely, it was a difficult adjustment for many students who were primarily familiar with in-classroom teaching.
Now, however, that things have returned back to "normal" from "the new normal," it's more important than ever for folks to get back to work with a vengeance.
This could be why so many folks are supporting this teacher's response to parents who asked that they tutor their children.
Article continues below advertisement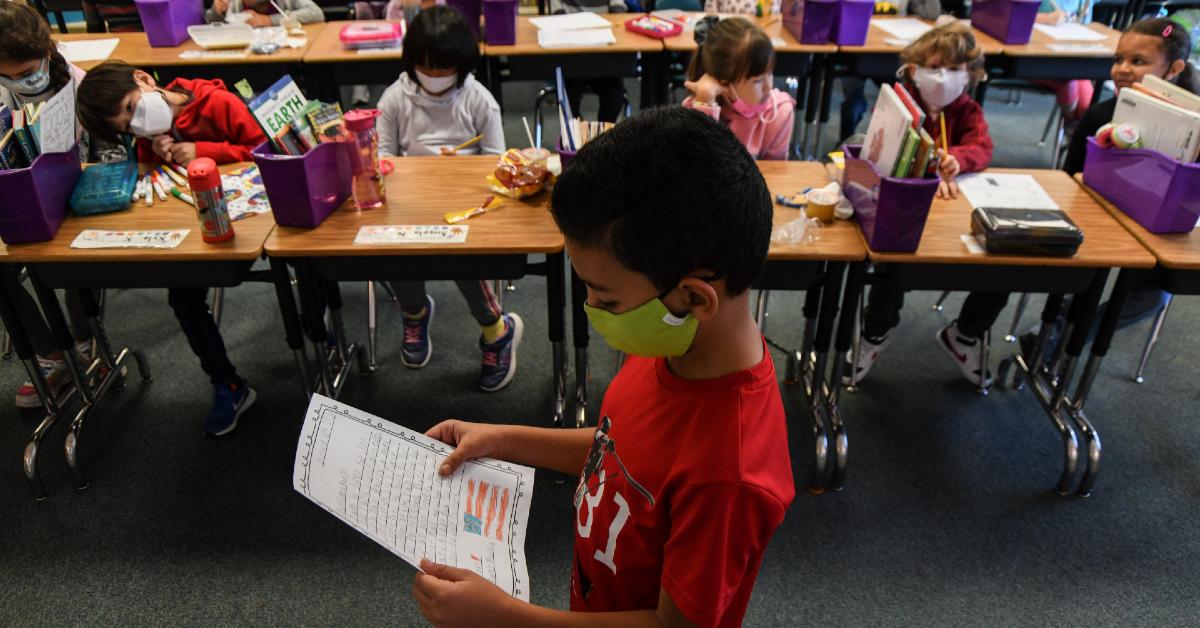 While the idea of an instructor refusing to teach a child doesn't sound very teacher-like, it's the circumstances surrounding the refusal that had so many people agreeing with the blog's original post.
Mumsnet user PeachyM posed a question with a brief background story to other users on the platform titled: "To refuse to give up time to help kids catch up?"
Article continues below advertisement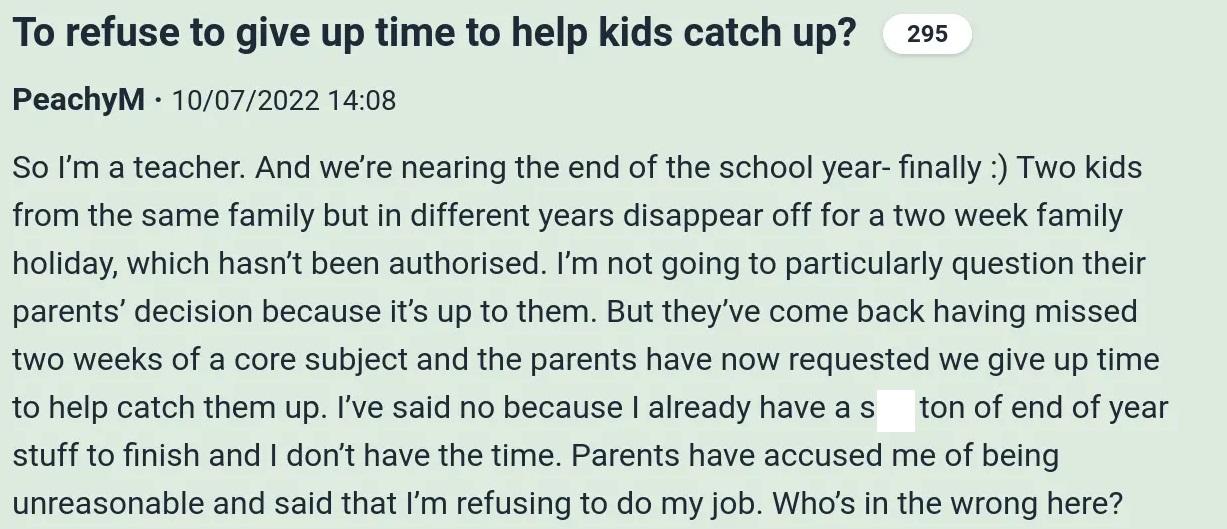 In the post they write: "So I'm a teacher. And we're nearing the end of the school year- finally :) Two kids from the same family but in different years disappear off for a two week family holiday, which hasn't been authorised. I'm not going to particularly question their parents' decision because it's up to them."
Article continues below advertisement

PeachyM continues: "But they've come back having missed two weeks of a core subject and the parents have now requested we give up time to help catch them up. I've said no because I already have a s--- ton of end of year stuff to finish and I don't have the time. Parents have accused me of being unreasonable and said that I'm refusing to do my job. Who's in the wrong here?"
Article continues below advertisement

For the most part, many of the users on the platform said that she wasn't in the wrong for giving up the little free time she had at the end of the school year in order to tutor kids after they went on a vacation while school was still in session.
Article continues below advertisement
Many expressed that the parents were being unreasonable.
"Of course you're not being unreasonable. Their prerogative to take kids out but then if they miss stuff it's the parents' look out. I have been a teacher for 20 years and with the best will in the world, I have virtually no time to do anything extra. They're being completely unreasonable."
Article continues below advertisement

Others said that they could recommend private tutors the parents could pay for in order to help their kids get back on track with whatever they missed, plus she could help a friend get some extra work in the process: "Do you know any tutors? I would go out of my way to reccomend a tutor friend but give up my time no there is a cost to taking family time in school time and that is not the schools problem"
Article continues below advertisement

Others said that the parents should be thankful she didn't report the kids for their absences and hurt their chances of going to the next grade level.
Article continues below advertisement

"The parents made the decision to take them on holiday.They can now take responsibility and either tutor them over the summer holidays - themselves or pay for a tutor.If you were feeling kind you could point them at some online content."
Article continues below advertisement

There were some that suggested maybe the parents decided to take them out on a vacation before school was officially over because travel expenditures were more affordable and maybe those "early bird" prices were more within the parents' budgets, but that still didn't mean it was PeachyM's responsibility.
What do you think?