Mom Angry Friend Tried to Force a "Clean Your Plate" Rule on Her Daughter, Sparks Debate
A mom came under fire for attempting to enforce the rules she makes her children live on her friend's child at her friend's house.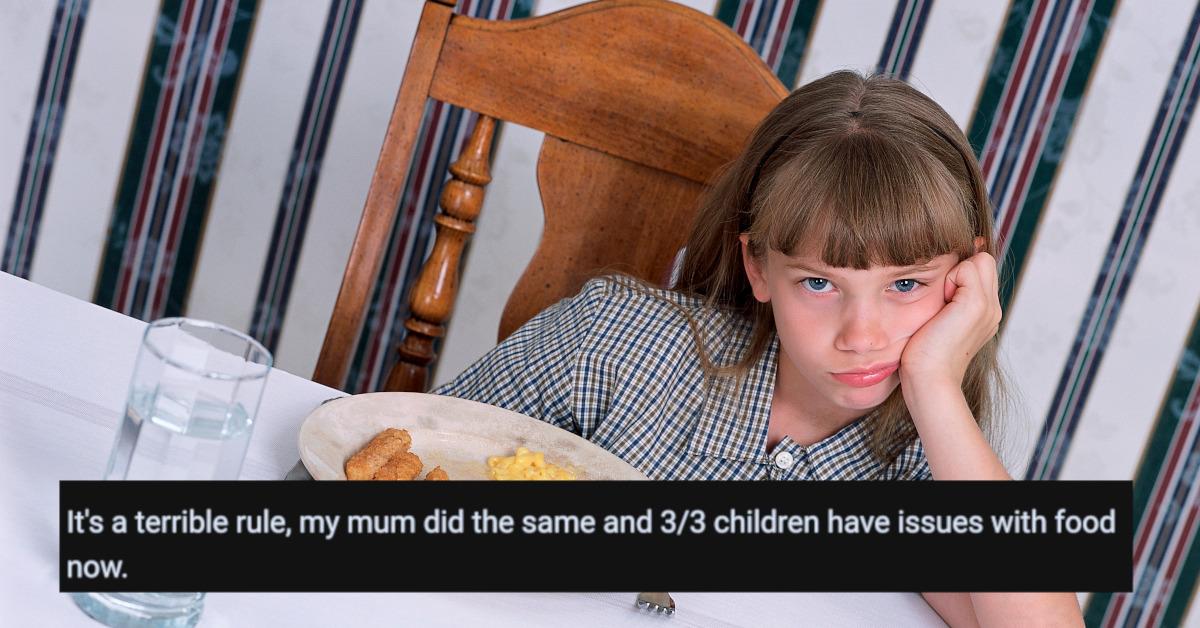 Different people raise their kids differently and so as long as they aren't breaking the law or abusing them, it's generally believed that you shouldn't really get involved in attempting to raise them in any particular way, even if you disagree with some of the more nuanced decisions parents make.
Article continues below advertisement
For example, I'm not of the belief that there are "children's" songs. Sure, I'm not going to put on explicit content for my kids to listen to, but you best believe I'm not going to sit in a car and make them rock to nursery rhymes all day or Kidz Bop or Disney film soundtracks just because of their age. If there's a track from a Spotify Playlist I'm checking out, or if there's a track I think they'd like or should hear, then I'm putting it on, I don't care if Trent Reznor or Sam Sparro or Adele sings it (again, non-explicit versions people).
However, a Mumsnet user who posts under the handle @lolabear38 says that their mom friend did just that while visiting her house with her children.
When it comes to dinner, the friend's mom is pretty cut and dry when it comes to dessert: her kids aren't allowed to have any unless they finish everything that's on their plate.
Article continues below advertisement

Lola says that she doesn't enforce this policy on her own children and that she has a pretty good gauge on what her children eat in a day and whether or not they've managed to satisfy their dietary needs.
However, her friend, while visiting her house, expects Lola to enforce the same rule on her own child just so her kids don't see that there's a double standard and she doesn't have to explain why she implements this rule while OP does not.
Article continues below advertisement

What's more is that while Lola's daughter is visiting her friend's house, her child abides by her friend's home rules, however, it seems that this same consideration isn't reciprocated.
Lola writes in the post: "We have close friends whose house we eat at, or they eat at ours, fairly often. They have different expectations at dinner time for their kids than I do - they enforce a very strict 'clear your plate or no pudding' rule, I don't do this."
Article continues below advertisement

"When dd is at their house, their rule applies. Generally, I would agree - their house, their rule but there have been quite a few times recently when she's become very upset at being forced to eat a whole plate full of food she doesn't want with the threat of no pudding hanging over her (she's 6 and loves pudding). Friend or her DH are very firm with all the kids that they have to eat everything and they follow through with the threat of no pudding. It's got to the point where I'm finding reasons not to go there to eat because dd is so anxious about it."
Article continues below advertisement

"What is bothering me a lot about this situation is when they come to eat at ours, they try and enforce the same rule. I took friend aside this evening and told her that I don't generally make dd clear her plate and explained why - she said fair enough but for the sake of making everything fair to her kids when they're all eating together the rule has to apply - it's not fair her kids have to do this while mine don't."
Article continues below advertisement

"I take things on a case by case basis - I generally know what dd had eaten in the day and so know she's had a roughly balanced diet so if she doesn't want to finish a whole plate of food, and presuming she's eaten (what I consider to be) enough, then she's allowed to leave what she doesn't want and still have pudding. I also don't want to force her to eat or use pudding as a reward."
Article continues below advertisement

She wanted to know if she was in the wrong wanting to draw the line at her pal expecting her own rules to be considered martial law in her own home: "AIBU to put my foot down and say dd doesn't have to clear her plate to have pudding? In my own house?! Or when at restaurants? In their house, ok I guess. But if I'm following their rules in their home surely they should return the gesture when in my house?!"
Article continues below advertisement

Many people backed Lola saying that her expectations weren't out of line at all and that her friend was really demanding too much. Others remarked that "forcing" children to finish everything on their plate is a surefire way to get them to build an unhealthy relationship with food and could create eating disorders down the line.
Article continues below advertisement

Some encouraged her to talk to her friend about it, away from their children because it was apparent that Lola's friend was very much concerned with their perception of behavior.
What do you think? Is Lola's friend in the wrong here?