Wife's "Idiot-Proof" Meal Prep Outline for Her Husband Has the Internet Cracking Up
Reddit's cracking up at the food prep road map this woman left for her husband, sparking a ton of head nods and jokes from users on the platform.
A 2019 Pew Research Center article has compiled some statistics from the Bureau of Labor Statistics that strongly indicate when it comes to the majority of US households, women predominantly prep meals and handle grocery shopping duties, regardless of whether or not couples have kids. However, when children are involved, 80% of women surveyed said that they're mostly taking care of buying and cooking food.
Article continues below advertisement
Although research has indicated more and more men are spending time in the kitchen and grocery store, a long-running joke is that guys, especially dads in heterosexual relationships, are utterly clueless when it comes to shopping for/making grub. And a now-viral Reddit post is only adding to an already sizable library of social media quips about husbandly hopelessness when it comes to "feeding the kids."
The post, uploaded by user zdozex, shows a photo of a can of beans, a can of corn, two forks, two plates, and two small containers with various notes appended to different sections of the plates. The "meal roadmap" received over 100,000 upvotes on the social media platform in just two days, and over 7,000 comments.
Article continues below advertisement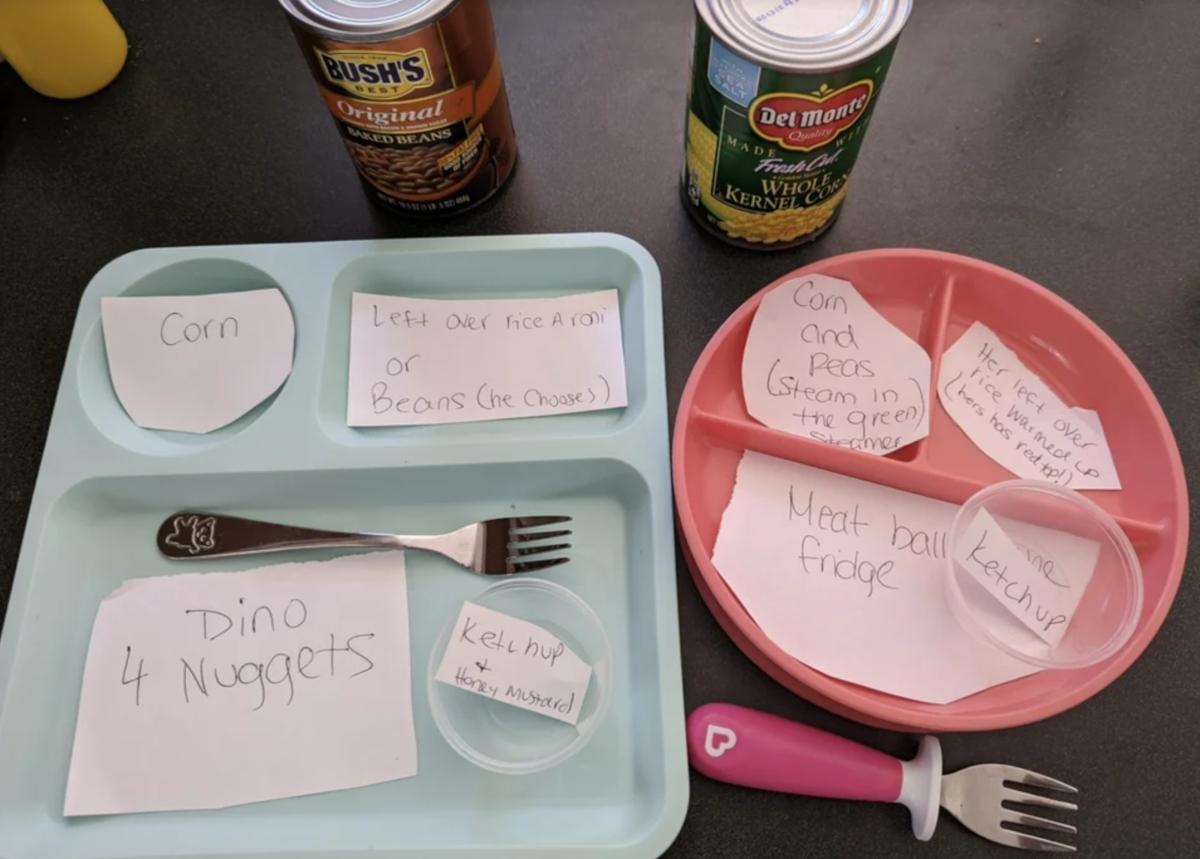 "My wife just went back to work and thinks I'm an idiot," the post is titled. The notes show where the food is supposed to go along with instructions on what to serve to which child and where he can find the food in the house.
Article continues below advertisement

The picture prompted tons of responses, with some people commiserating with the Redditor's plight. Others shared their own experiences of "being left with dad" who had to help make their food.
Article continues below advertisement

"I can already hear it, 'That's not how Mommy does it.'...."
"When i was a kid i drove my dad insane a few times because when he made me a sandwich it had to be peanut butter on top and jelly on the bottom, because that's the way mom made them."
Article continues below advertisement

A mom chimed in the comments section relaying her own meal preparation woes: "My husband insists he's 'got it' yet constantly falls short and then complains when I do things to help them along. Yes technically clothed and fed, just mismatched and possibly not the right size clothes with incomplete or unhealthy meals."
Article continues below advertisement
Some used the post as an opportunity to tell jokes of their own: "My wife tried the same thing with me. Little did she know, my kids like actual food way more than paper with some words written on it."

Article continues below advertisement
"Send back a pic of crying kids and chewed up paper.With the caption 'The children didn't enjoy your new make believe dinner items idea'"
While some quipped that the dinner wasn't for the kids, but OP himself.
"I think it was nice of her to map out your lunch and dinner for you, but you have some weird ass taste my guy."

Article continues below advertisement
Others hit OP with some hard truth, that perhaps her decision to make such a clearly delineated food preparation plan was rooted in previous experiences: "If she thought it was necessary to make this cheat sheet due to past observations, then maybe," he is that incompetent.

Article continues below advertisement
So how did xdozex fare with his meal preparation? He replied to one user in the comments: "it went pretty smoothly but apparently I had the temperature wrong for some of the food."

As for what compelled his wife to make such detailed notes, it seems like it had more to do with her feeling anxious about having to go back to work and leaving her kids home after being with them consecutively for so long: "She is incredibly anxious about the separation and I'm doing everything I can to help her feel comfortable. I prepped the dinner exactly how she asked me to. But I still thought it was pretty funny."