Tesla Releases "Dog Mode" to Stop People From Smashing Your Window
Back in October, Twitter user Josh Atchley asked Elon Musk directly to add a 'dog mode' — and he delivered.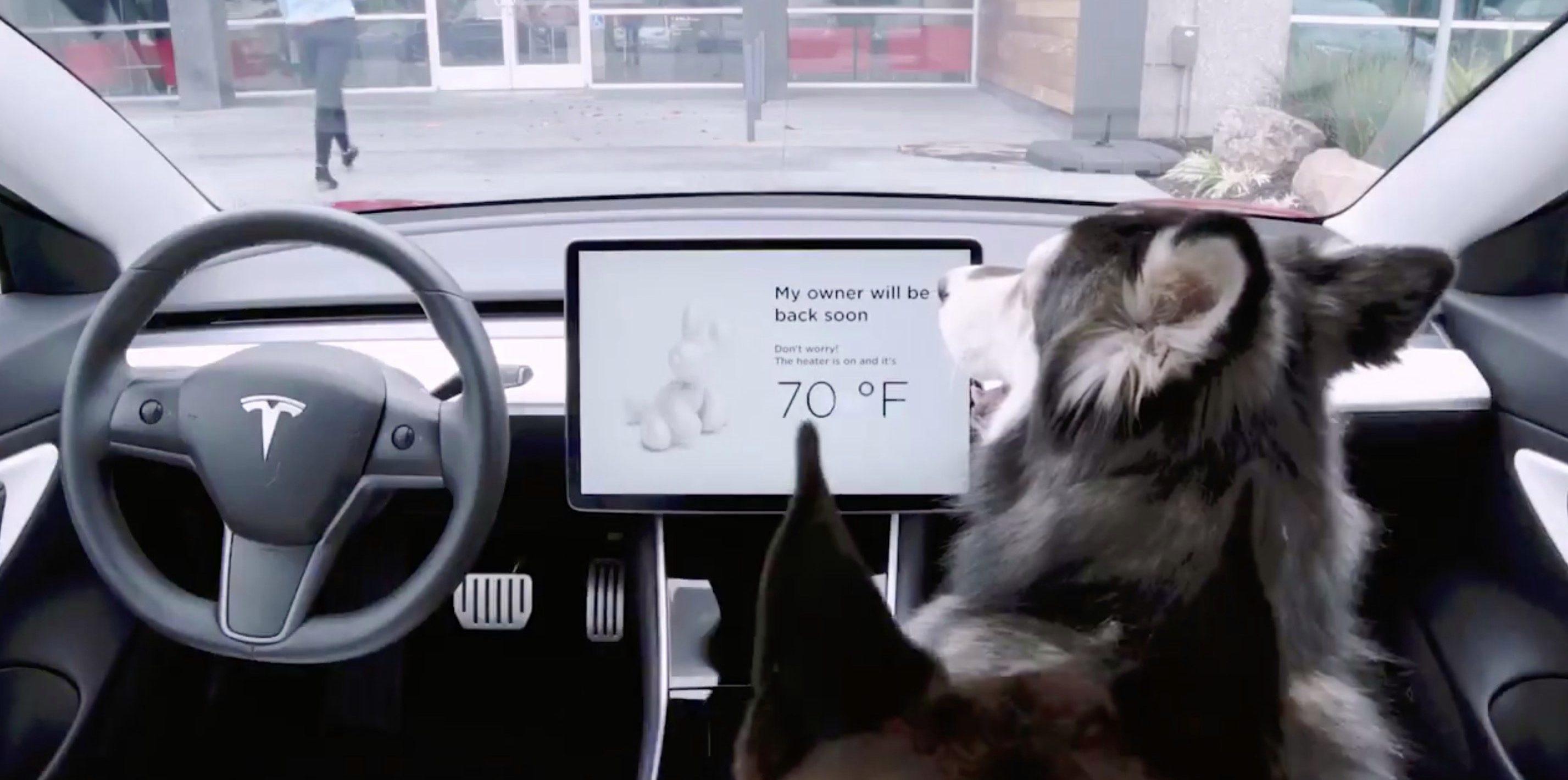 At least 11 states now have "Good Samaritan" hot car laws, allowing private citizens to break into a vehicle to save a pet if they have reason to believe that they're in danger from heat or cold. Additionally, in another 14 states, public officials such as law enforcement or humane officers have that power.
Article continues below advertisement
Unsurprisingly, Tesla owners weren't fond of the idea of someone breaking into their car when they leave their dog alone for a few minutes with climate control on. So back in October, Twitter user Josh Atchley asked Elon Musk directly to add a "dog mode," that lets people outside the car know all was well inside. He got a simple answer: "Yes."
Article continues below advertisement
Fast forward a few months, and on Wednesday, the carmaker rolled out "dog mode" through a software update. Essentially, the mode will keep the car at a perfect temperature for your furry friend and display a message on the centre tablet to stop anyone smashing your window.
Article continues below advertisement
If you want to turn dog mode on, they even have an easy guide.
"To enable Dog Mode, tap the fan icon at the bottom of the touchscreen when your car is parked. Set Keep Climate On to DOG, make adjustments within temperature limits, then leave knowing your pet will stay comfortable," the instructions read. "Dog Mode will stay on after you leave your car. If you your battery reaches less than 20 percent charge, you will receive a notification on your mobile app."
It is worth noting though, that some states won't even let you leave an animal unattended in a vehicle at all, whether the temperature is perfect or not. So you should probably read up on your local laws before using the feature.
Along with dog mode, Tesla has also rolled out a new security feature called "sentry mode."
Article continues below advertisement
When enabled, the tablet will display a message warning anyone detected outside the vehicle that they're being recorded. If the car detects something more serious like a broken window, the alarm activates, the centre screen goes brighter, and the car's audio system plays at maximum volume.
Owners will be notified by the Tesla mobile app, and automatically be sent any video the car recorded.
Musk and Tesla previously deployed a software fix that would automatically disengage the glovebox after the car stops moving following a crash. This was following a nasty accident from a reddit user and Tesla Model 3 owner who crashed the car into another that had come to a stop at 60mph. The crash disabled him from accessing the car's glovebox, which made it difficult to gain access to his car's title, insurance, and registration information.
Article continues below advertisement
In this case, Musk also suggested that Tesla would change the design of their tablets to include a thin plastic sheet to the front or back of screen. This was after a shard of glass from the touchscreen cut the driver.