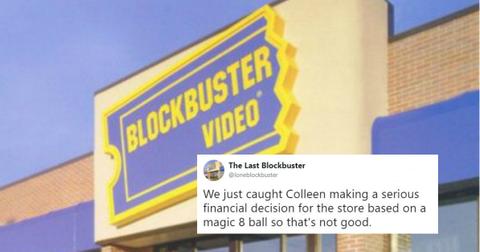 The Twitter Account for "the Last Blockbuster" Is Comedy Gold
By Mustafa Gatollari

Updated
There was a time when Blockbuster Video was the name for in-home entertainment. Within the first month of a major movie's home video release, walls would be covered with VHS tapes and DVDs. Countless people would rush to video stores to avoid paying late fees. Young friends and siblings would pool together their change to rent a video game they would beast on for the entire weekend.
It's not like Blockbuster didn't have the opportunity to still be in the game: in one of the biggest mistakes in corporate history (next to Sears' decision to not partner with Amazon) the company decided against buying Netflix and having the streaming platform take control of the online portion of their movie subscriptions/rentals.
Now Netflix is not only a content streaming juggernaut, but they're a major TV/film production studio.
As for Blockbuster? Well they only have one retail location left. In the world. And that's right in Bend, Oregon. They don't plan on going anywhere anytime soon, however, and it looks like they'll hold fast. They've got about 4,000 active account holders who rent titles from the store regularly. 
Then there's the "throwback" factor. New accounts are being opened every day from tourists who want to hold a Blockbuster card. They also sell nostalgic-branded t-shirts and hats.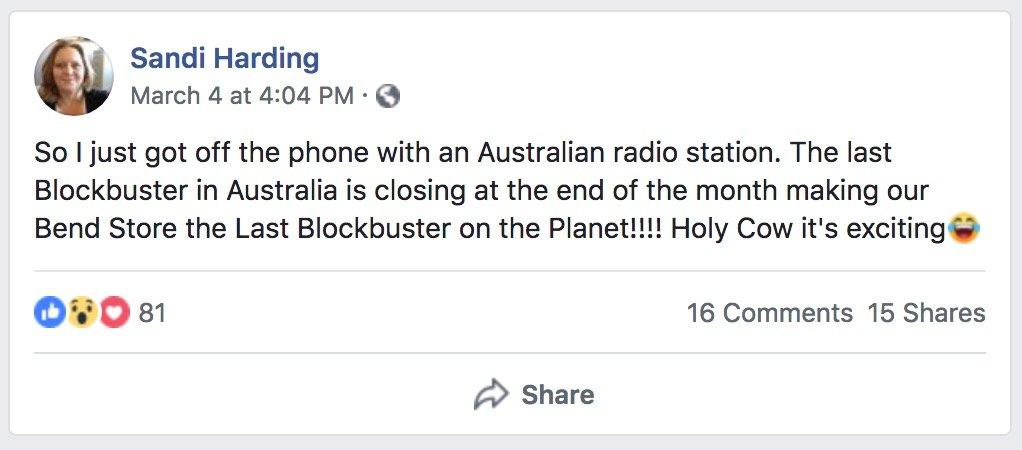 The store's owner, Sandi Harding, is happy about being the final store in the world. While other people would fear their job security, she's very excited about keeping the business going.
Local Brewery 10 Barrel Brewing even made a special beer for the store called "The Last Blockbuster" and served it a party that celebrated the store's distinction. Oh, and they even managed to raise $40,000 on Kickstarter to fund a documentary about their store.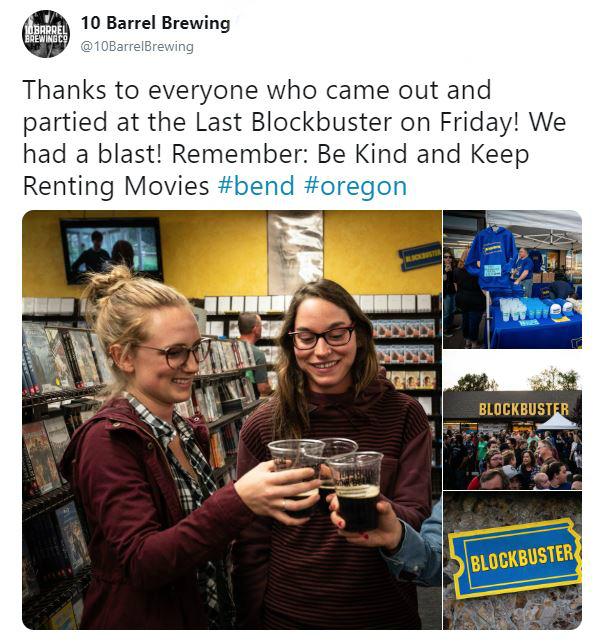 A lot of Bend, Oregon's citizens don't have high-speed internet access, and while they're out and about in town, running errands, people are attracted to the store's generous 7-day return policy. Couple that with constant special events and a cool staff, and the future of the store looks good.
Especially considering the growing social media following the store's Twitter account, which is definitely not corporate-approved, has amassed since becoming the very last Blockbuster video in the world.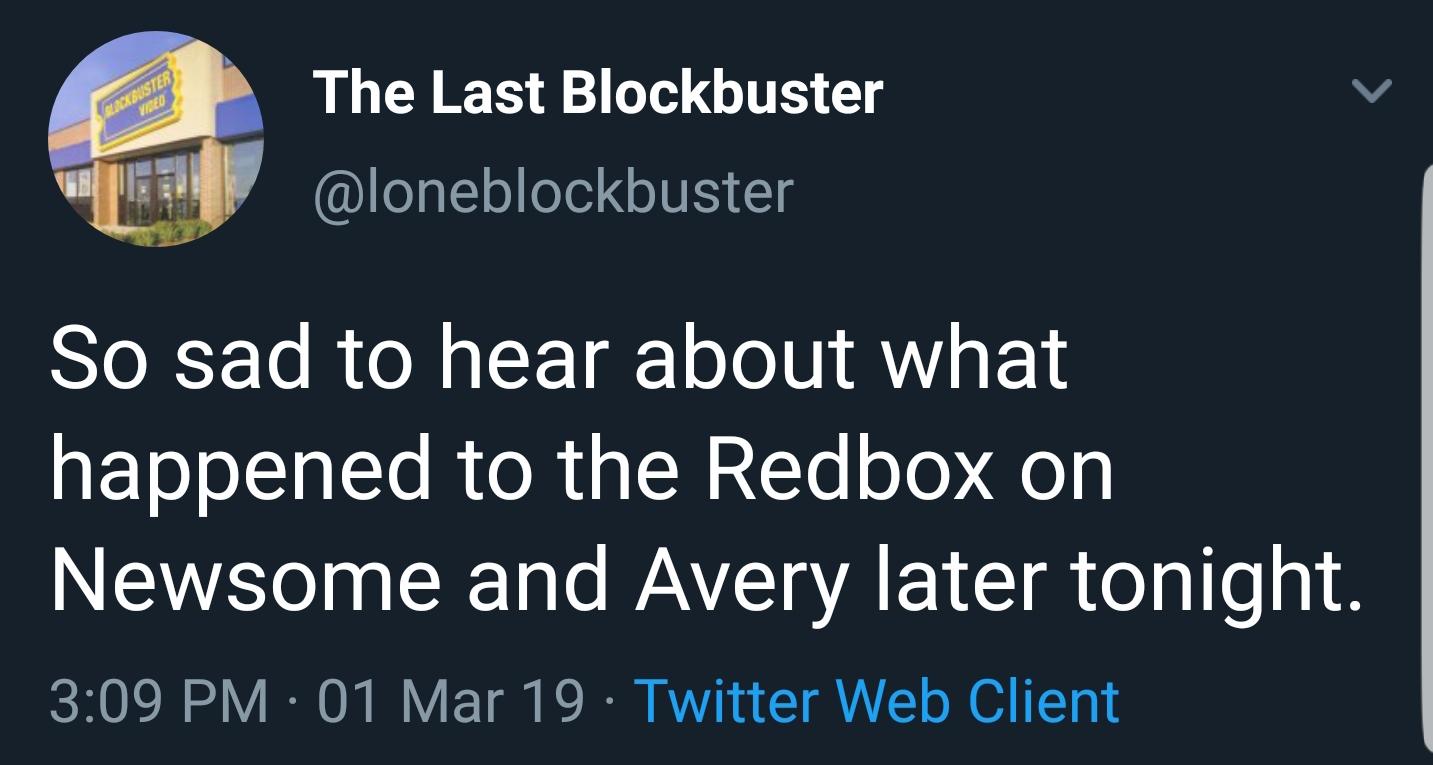 The tweets range from self-deprecating to downright hilarious. They're not lying about the Crystal Skull reference, either — it's that bad.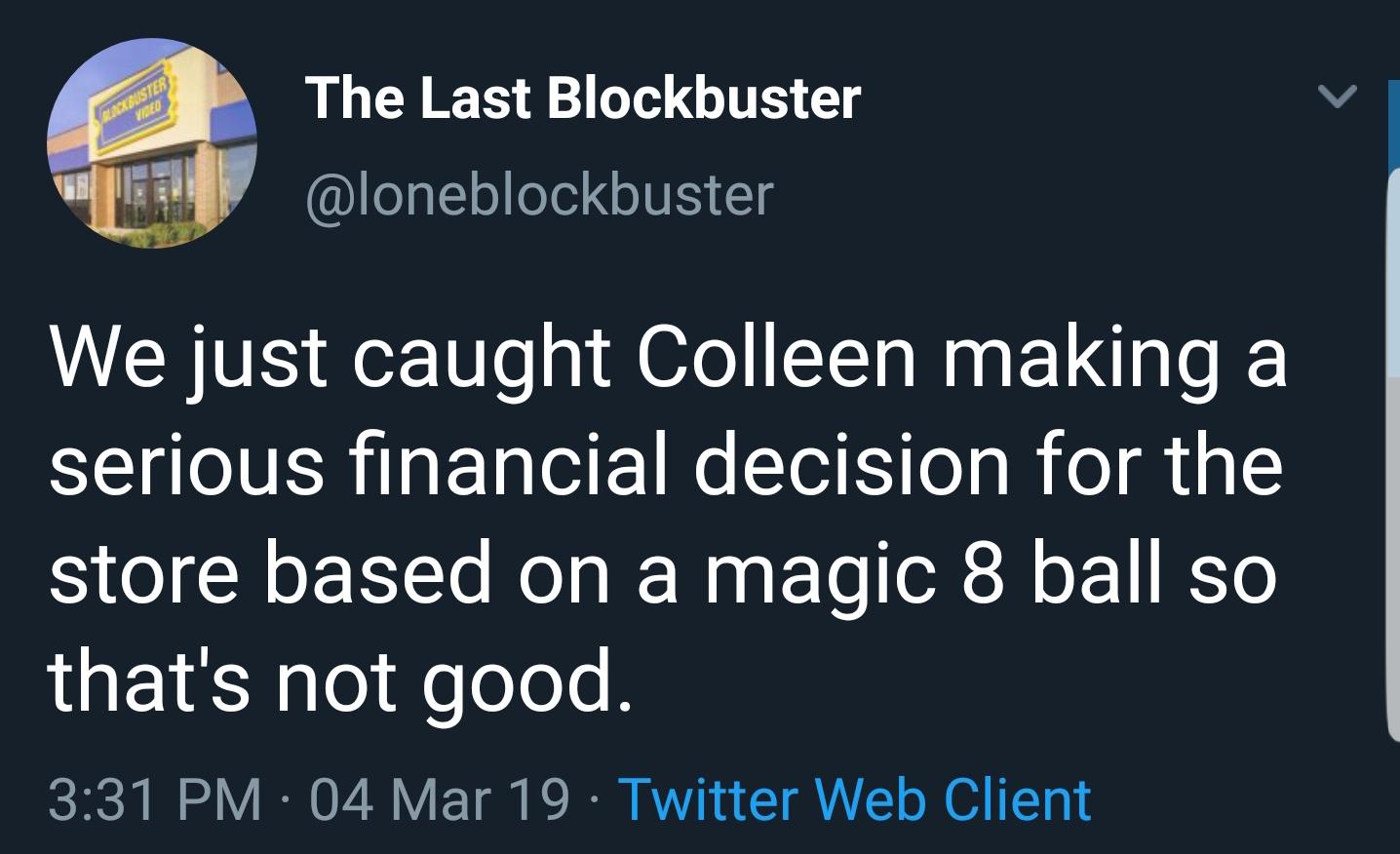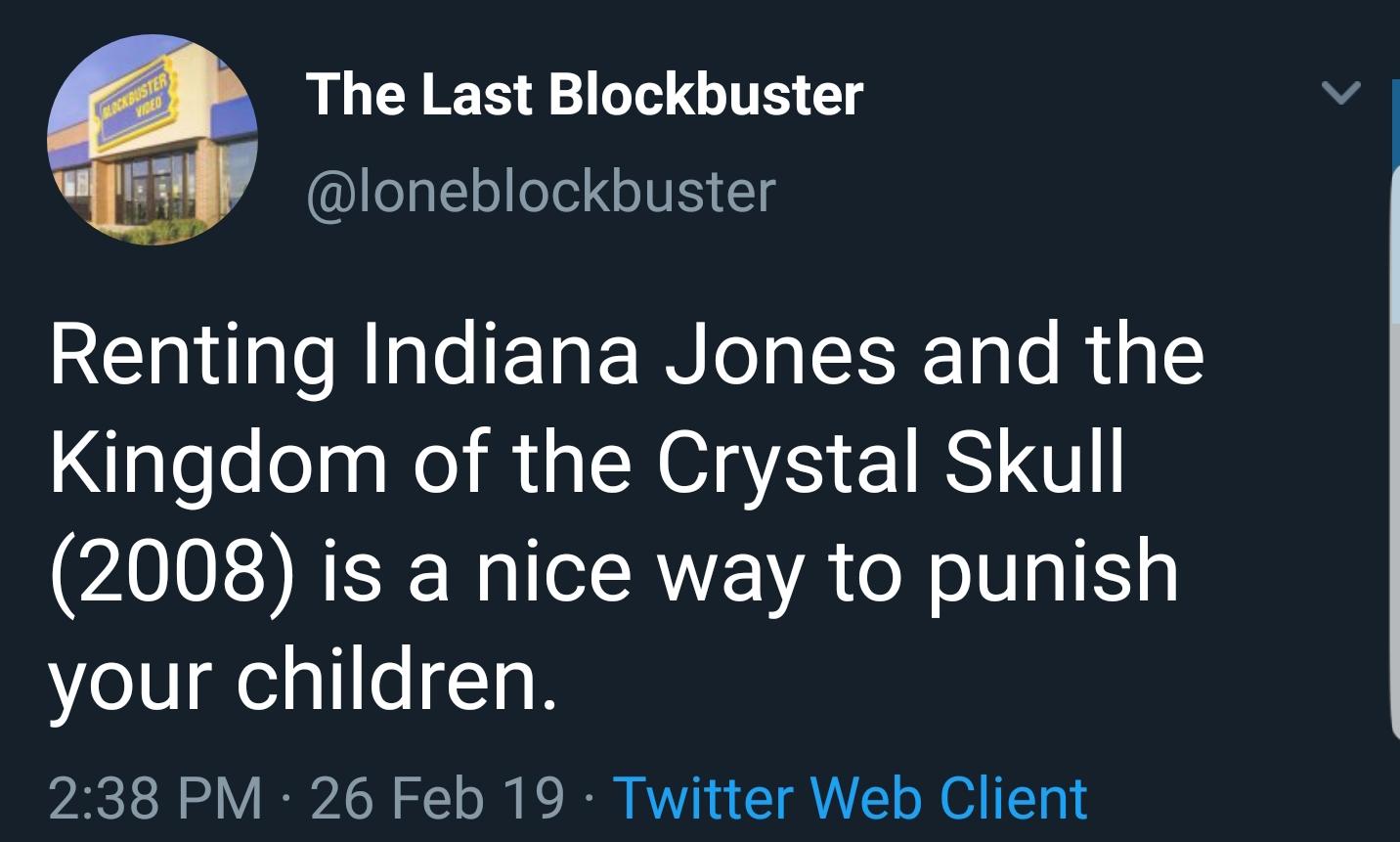 Some of their tweets are just simply cries for help, while others are warnings to customers who may have just spent their last quarter. Ever.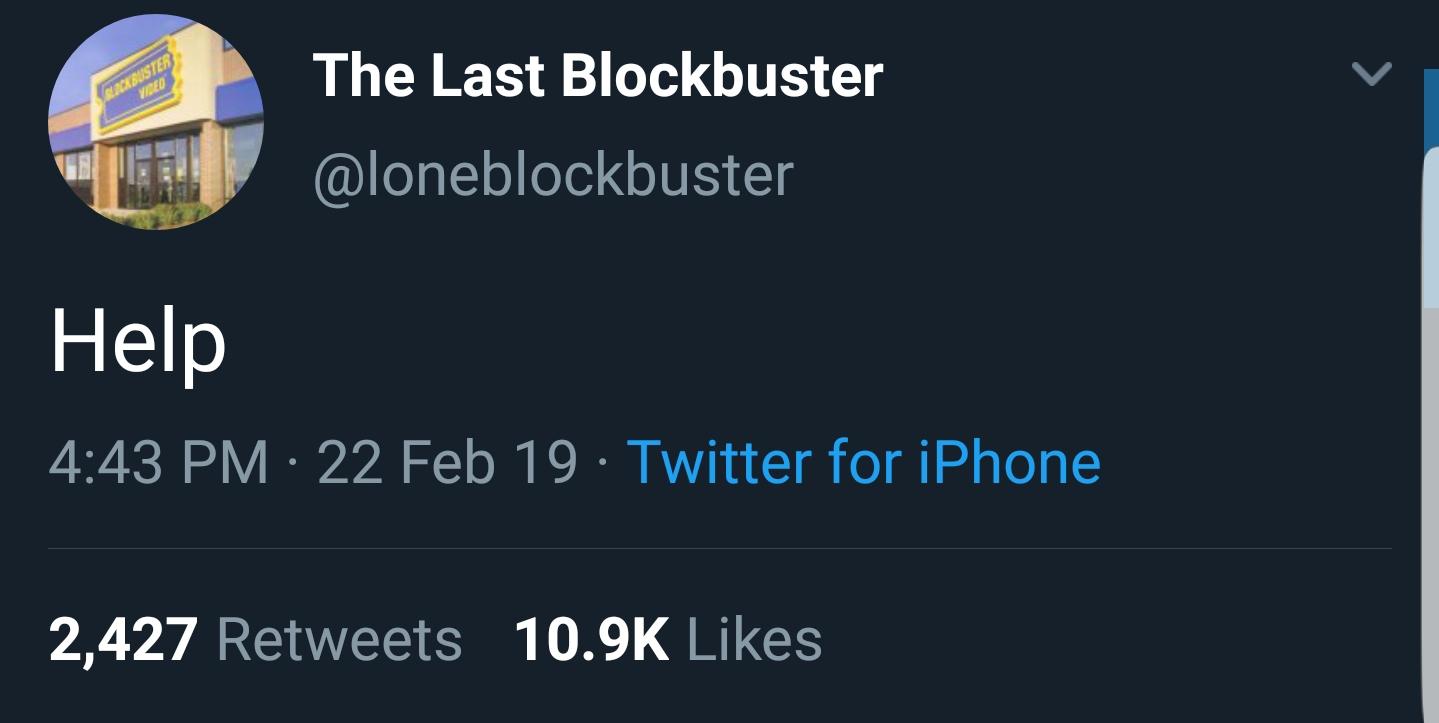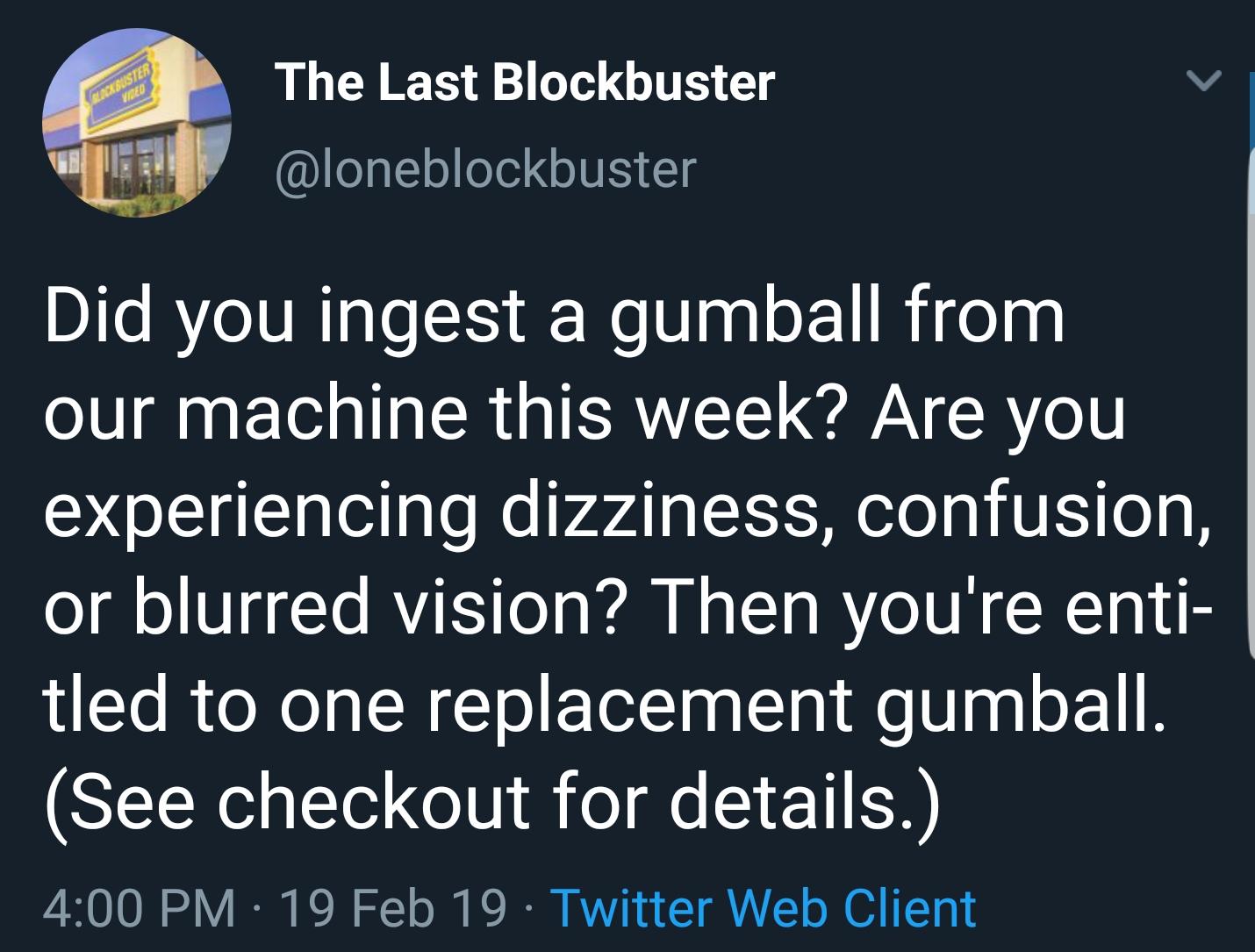 The account offers up all sorts of sage advice to customers, too. What kind of monster reserves White Chicks only to not rent it? Disgusting.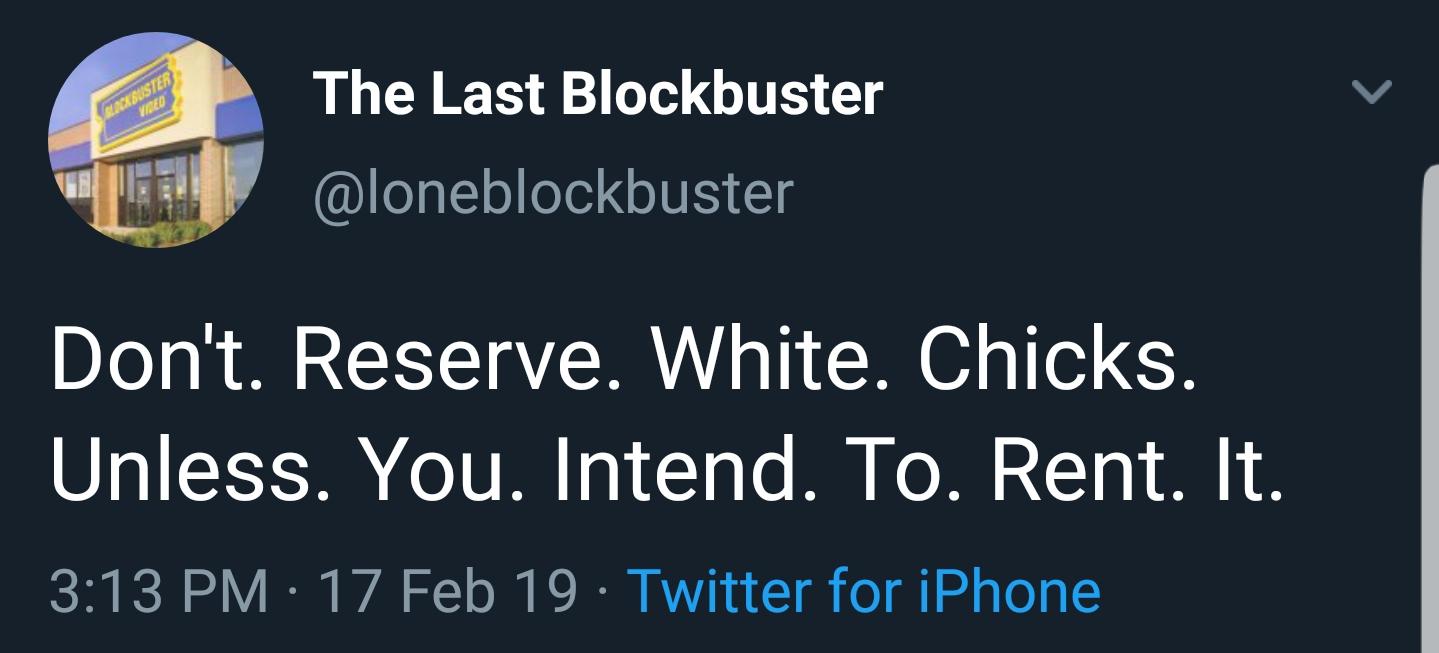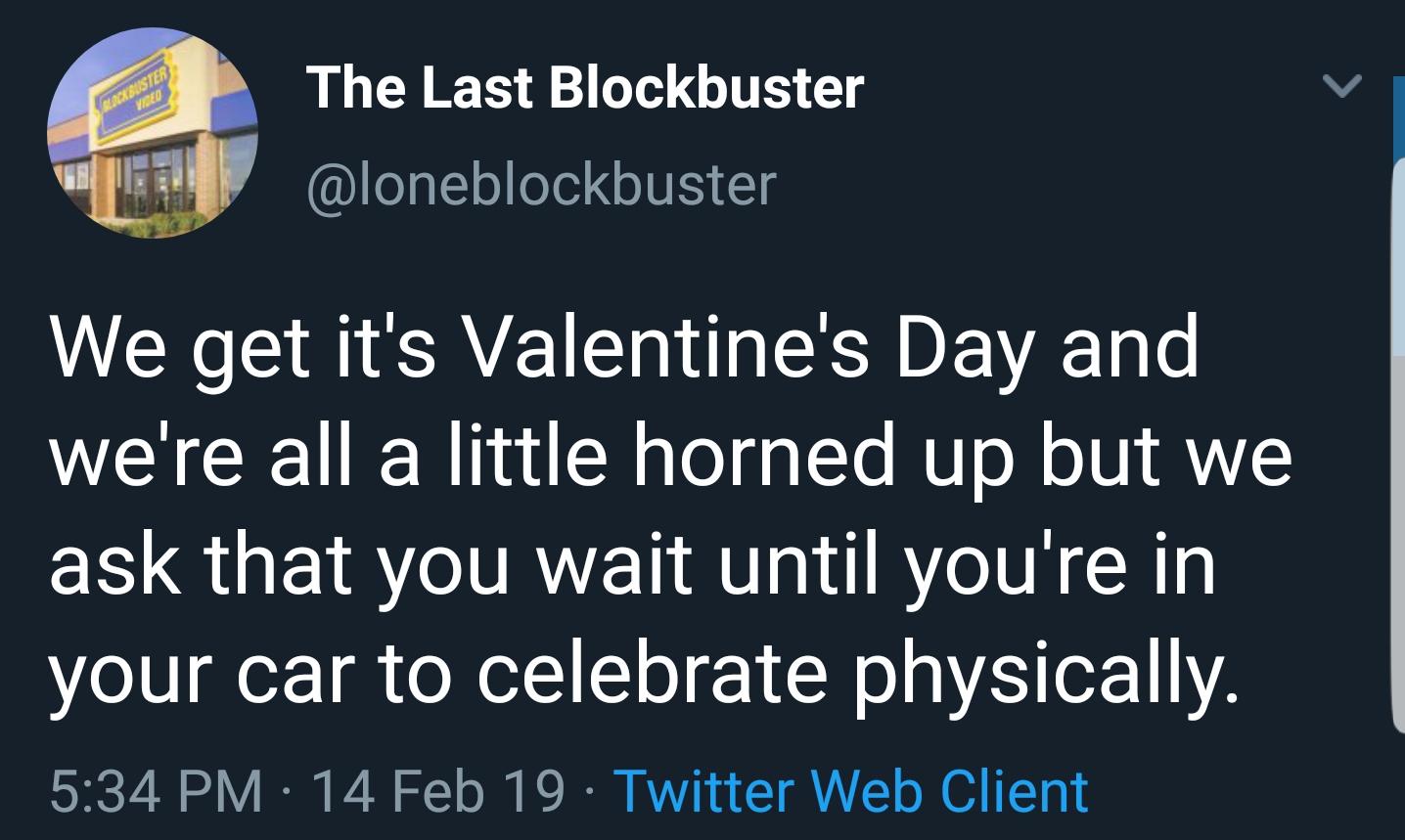 I don't know how to take this tweet but I'd like to think that there were a few employees doing whip-its in the back room. Man, that's a throwback within a throwback.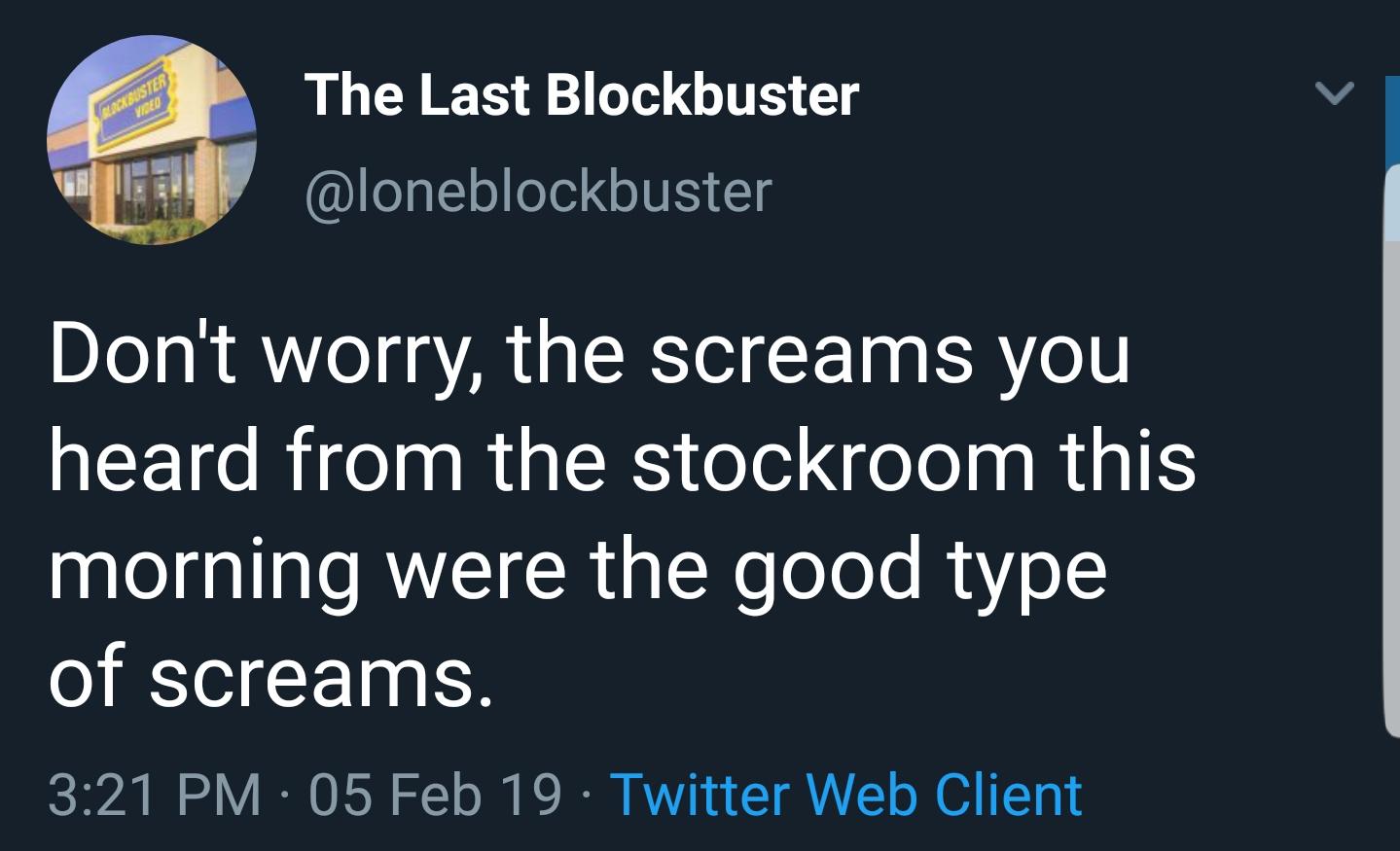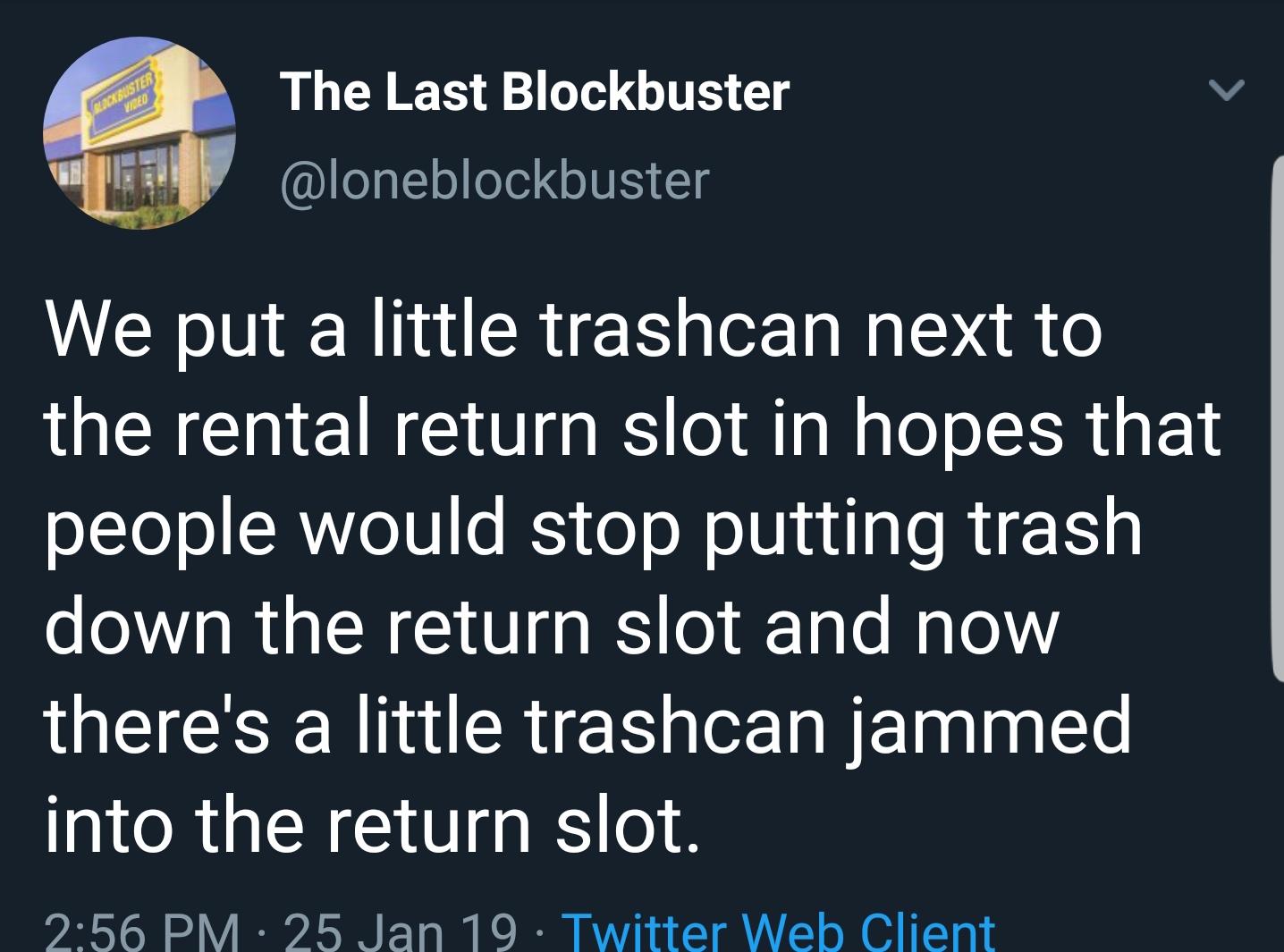 Things looked grim for the store in the beginning of the year and it was reflected in the tweets they were sending out.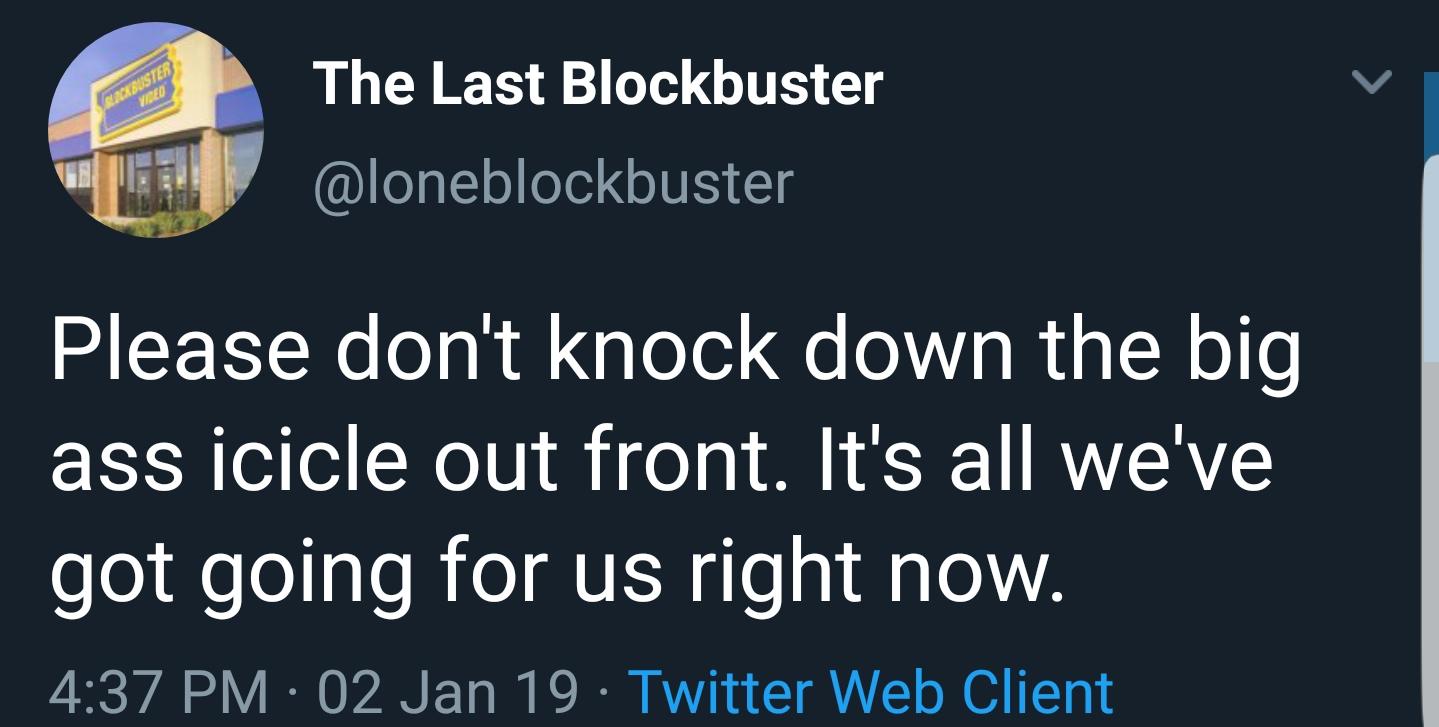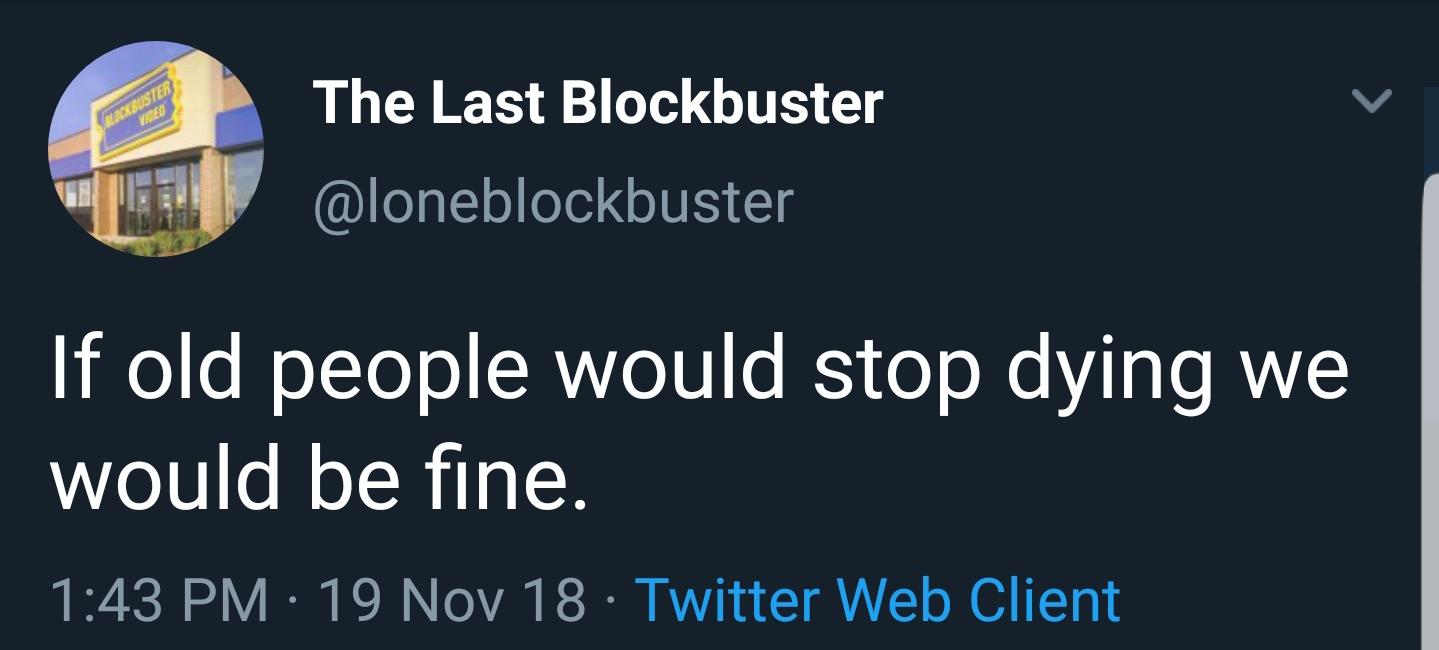 Blockbuster is just so good to us, and we really don't value them for their ant-killing abilities. In all seriousness, this tweet is too specific to not be real.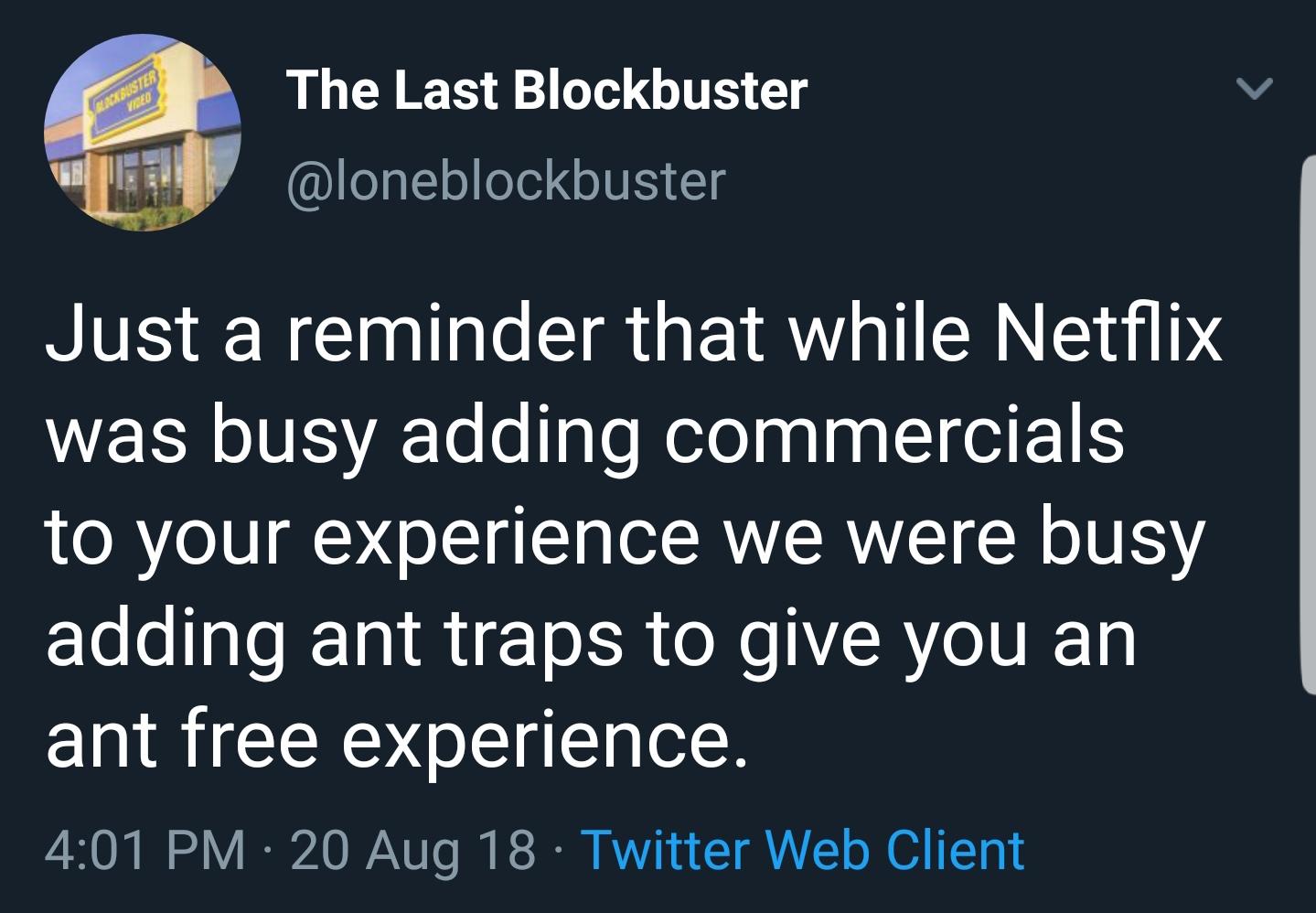 Please, please tell me that this story about Pierce Brosnan and the shouting match is real, I'd pay money to find out if it is and talk to the person who had a shouting match with him.


The other sad fact of renting stuff from video stores is that you're pretty much missing out on all the other exclusive content that streaming giants like Netflix and Amazon Prime offer.


Oh man, BB really got me on this one. My wife's currently planning a birthday party for our daughter who's about to turn 1 and it's going to be at a banquet hall. I really don't think the kid cares about the table assignments or the fact that you got a great price per head or catering-seasoned chicken Francese.


Who else remembers the struggle of putting the wrong tape in the box? I mean I never did that because I know how to read, but some people do make that mistake.


I said it once and I'll say it again, whoever's crafting these jokes is very, very good. I mean, can you think of two films that are any more different? You've got Schindler's List, and Corky Romano, one, a silly farcical piece of lazy filmmaking and the other, a masterpiece starring Chris Kattan.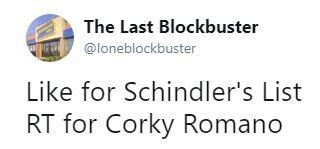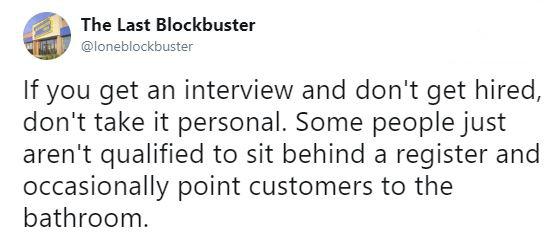 As much as I miss walking through the aisles with my brother looking for something good to watch, the convenient options always win. Maybe they should try to get a beer and wine license in the joint and kind of turn it into a hipster bar? Bring out some of the old-school video game stations and have the rentals be a form of auxiliary income. Just a thought.