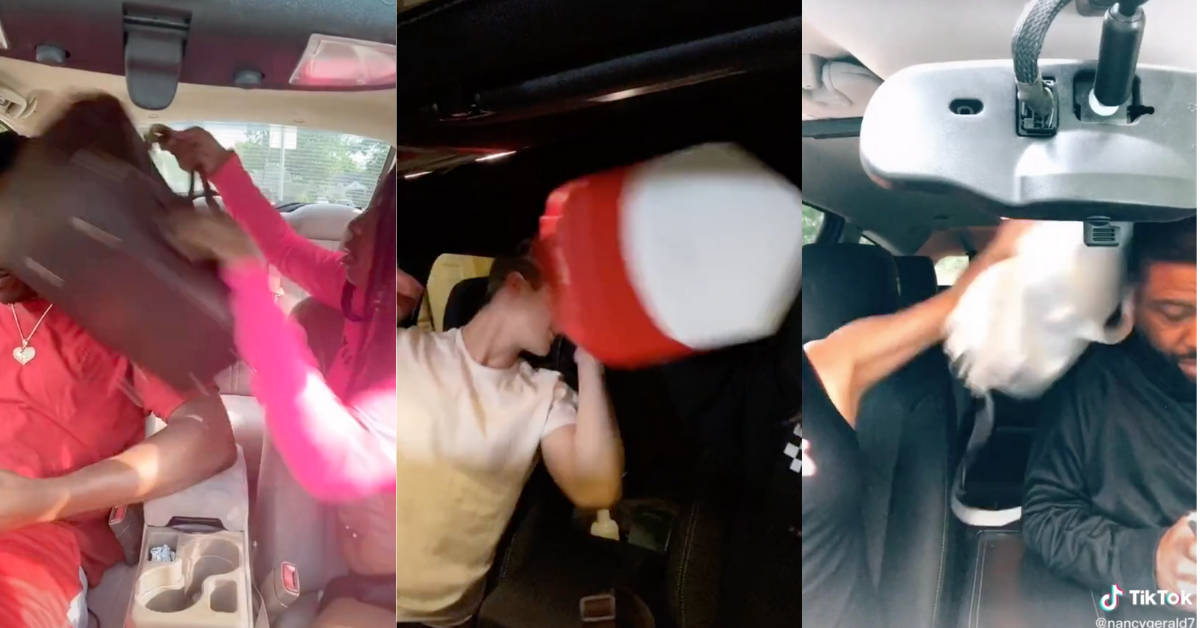 The Purse Challenge on TikTok Is Really Rude, but Also Really Funny
Quarantine just wouldn't be the same without the mega-popular social media app, TikTok. We'll tell our grandchildren that, yes, we scrolled for hours on end and tried out different challenges that made us make some sort of delicious coffee drink, try out some new dance moves, or even hit our significant other in the head with a purse for some laughs.
Article continues below advertisement
TikTok has gained huge popularity for many during the quarantine period who take part in video challenges and viral trends, this is including the latest challenge known as The Purse Challenge. If you've ever wanted to get some frustration out on your significant other, but weren't sure how to approach it, this is the perfect trend for you.
The Purse Challenge involves whacking someone in the head with a purse or bag.
The purse challenge involves two people sitting inside a car. Either the person in the passenger seat or driver's seat picks up a bag or purse from the backseat (pretending to just need to grab it) and then while bringing the bag to the front of the car, the joker then hits the other person in the head with it. This has to be done in a way that seems like it was unintentional and a mistake.
Article continues below advertisement
In most videos, girls are seen reaching out for their purse or bag kept in the back seat of the car. As they bring it forward, they hit the person sitting on the other seat with it on the head. Then to add to the annoyance of whoever was just hit in the head, the girl will then put the bag back in the backseat of the car and hit them in the head again.
Article continues below advertisement
The reactions range from shock to anger to dumbfoundedness.
Whoever is hitting their friend or significant other in the head is recording the reaction of the other person who gets hit secretly. As it is supposed to look like an unintentional and honest mistake, a result of clumsiness or negligence.
Article continues below advertisement
It's ridiculously funny and people cannot stop watching these challenges or making them. Reportedly, the trending videos on Tiktok have received more than 10.6 million views. In one viral video, @airekaandcasey, the woman wrote, "I used my biggest purse for this and it backfired." After she hits her boyfriend in the head with her bag for the second time, he throws what's left of his bottled water on her.
Twitter is weighing in on The Purse Challenge.
Once Twitter saw the viral TikTok trend, many users were posting their favorites to their timeline. One user wrote, "The tik toks of girls completely smacking the s**t out of their bfs faces with bags while in the car>>>> everything else."
Article continues below advertisement