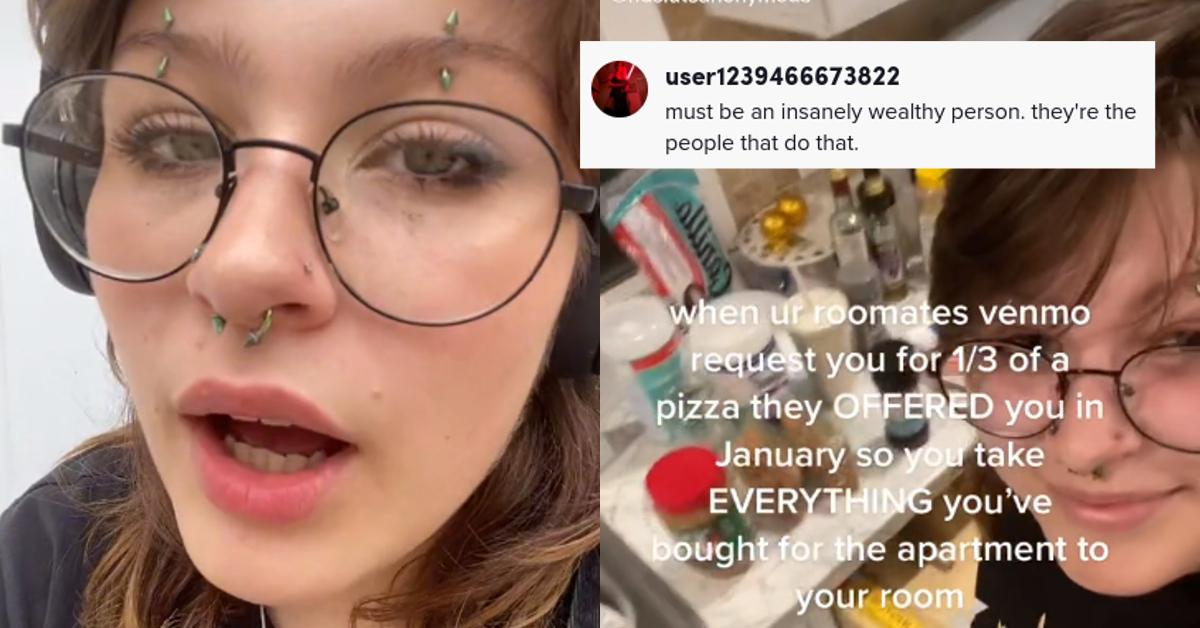 TikToker Gets Revenge on "Petty" Roommates Who Sent Venmo Request for Pizza Slices
Talking about money or divvying up funds for shared expenditures is often an uncomfortable topic of discussion for many. Depending on how you were raised or your own cultural mores, there are some behaviors/attitudes towards money that just become ingrained as part of your personality.
Some might even argue that these cues can be called common sense.
Article continues below advertisement
Like if you're going out to eat with a friend, it's not uncommon for one friend to pick up a tab every once in a while and if the other friend protests, maybe they'll be "allowed" to chip in for gratuity.
Now if you're the person who covered the bill, then it would be in poor taste for you to lord that over the other person's head.
Don't bring it up and don't expect them to return the favor. However, if you like to do it out of the goodness of your own heart, and the friend that you're buying stuff for is financially capable of doing so and seemingly has no problem going out to eat with you every once in a while, then it would be kind of messed up on their end to not pick up the bill.
And as a general rule of thumb, whoever is offering the food is the one who should probably be covering the cost of it, right?
Article continues below advertisement
Well, that's not what happened to a TikToker by the name of Asa who posts under the handle @hdslutsanonymous. She posted a TikTok that delineated her response to receiving a Venmo request from her roommates that asked for cash for a third of a pizza that they offered to her in January of 2022.
Article continues below advertisement

The TikTok was posted on May 13, 2022. This means that her roommates carried the crucible of that third of a pizza on their shoulders for four long months. In that amount of time, major corporations crafted and reported quarterly reports and then implemented any new business strategies influenced by said quarterly reports.
Article continues below advertisement

That's a LONG time for them to decide to make the charge.
Asa's roommates decided to use that time to dig into their charge history to find out what they paid for a pizza and then divide that into three to send a Venmo request.
Article continues below advertisement

Asa decided if the folks she shared a living space with wanted to be that pedantic about charging her for a few slices of pizza that they offered her, she would get petty herself. So she took every single thing that she purchased for the apartment to keep in her room for her own personal use.
Article continues below advertisement

She wrote in a text overlay for the video: "good luck making spaghetti with no pots, pans, spoons, or noodles."
In an update duet video she did with herself, she referenced the first video in order to shed more light on the situation.
Article continues below advertisement

Asa claimed that one of her roommates ended up sleeping with their landlord in an attempt to have her evicted from the room: "my roommates bangs the landlord and threatens to have him evict me <3."
She adds: "(when my parents died so i have no home AND i've payed my rent on time, everytime!).
Article continues below advertisement

In the comments section of the now-viral TikTok, many users began sharing awful roommate stories of their own.
Asa went on to call her roommates "heartless and money-hungry." As of this writing, she hasn't posted any other TikToks updating her followers on the situation.
Have you ever dealt with petty roommates and devised an even pettier way to deal with them? While some would argue that it's good to "go high" when someone "goes low," others would argue that it's better to go lower so you force people to want to play nice.