TikToker's Tiny House He Bought from Home Depot Has People Divided
TikToker Robert Langford sparked a viral debate on the feasibility of living in a tiny home after he showed off his decked-out Home Depot backyard shed.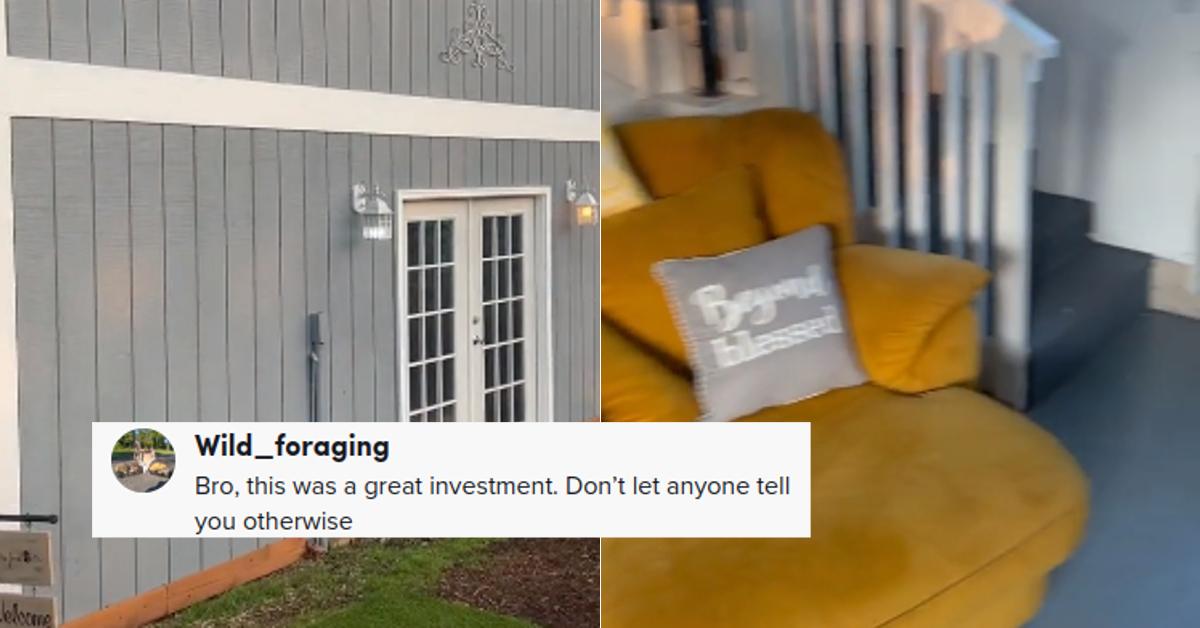 Owning a home in the United States is becoming a pipe dream for more and more citizens. In some parts of the country, unless you're completely debt-free and not only earning enough cash to afford a fat mortgage payment, along with having a high enough credit score to get approved financing in the first place, you also are expected to front the bill for constantly increasing property taxes.
Article continues below advertisement
This means that you have to pay even more money just for the privilege of owning a piece of property that you're already paying for in the first place.
Even if you're lucky enough to pay off your property, you'll still need to fork over annual taxes just to make sure that it isn't seized by the government and pawned off at a tax sale.
Article continues below advertisement
So not only is home-owning becoming prohibitively expensive, but those who are manufacturing/remodeling these homes are receiving an influx of complaints as to their quality. Meaning that the most costly purchase in someone's life oftentimes ends up becoming something that they don't even want in the first place.
Well, TikToker Robert Langford and his fiance Andrea Jones opted for a solution that many other folks are finding more and more attractive these days: tiny homes.
Article continues below advertisement
They highlighted a massive backyard shed that was being offered by the Home Depot, complete with installation and full building materials, that could be financed for around $252 a month. A Duet of the clip with fellow user Marcel Monroe reacting to the house and all of its amenities, conceding for that amount of money, it's a pretty darn good deal.
Article continues below advertisement
"Ya'll, there's a post going around saying apparently you can get a house from Home Depot now. You can't beat these prices at all. Inflation is on the rise. We about to go on a recession," Marcel said.
There are tons of materials and resources that have highlighted the pros and cons of Tiny Home life, however, it's hard to deny that it's definitely a more cost-effective solution than renting.
Article continues below advertisement
Some Tiny Homes are even built on towable hitches, meaning that folks can hook them up to a reliable car and drive around the country. With a boom of remote work opportunities available, many Americans could live like nomads and even shack up their towable trailers at campgrounds/RV parks for utility hookups.
Article continues below advertisement

Or they could build a stationary "shed house" like Langford, complete with the scaled-down amenities/necessities other, full-sized homes require. Robert said that the backyard shed took about five years to complete and cost him $50,000 to turn into its full homely glory.
Article continues below advertisement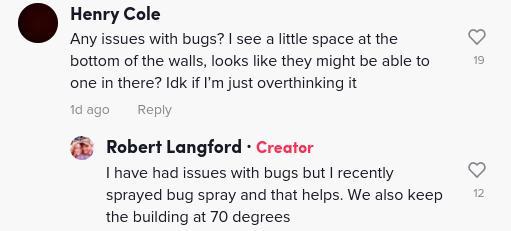 Tons of commenters thought that it was "sad" many millennial and Gen-Z people are having to seriously consider living in structures intended as sheds in the United States.
The Home Depot offers an array of different backyard shed and Tiny Home kits. If you're thinking about purchasing one, make sure to read the item description to itemize what exactly is being offered in the product package.
Article continues below advertisement

Some of the kits just sell aluminum framing for the tiny home, so make sure that the Home Depot you're buying from will also be willing to set up the basic structure for you. Of course, you'll need to mention that you'll want to have a fully functioning plumbing/electrical system and be forthright with your local retailer, to see how much of that work they can assist you with. Of course, if you're handy yourself, then you could probably handle the logistics of that yourself.
Article continues below advertisement

If you want to know what it's like to actually live in a tiny home, you can check out Robert's TikTok account where he posts a series of videos asking followers' questions. He built the Tiny House as a backyard studio, but many think it looks like a more-than-viable living space for their needs.
If you're a bit cautious about building a permanent structure, buying a piece of property and living in a trailer is also an affordable/practical solution.
Article continues below advertisement

With rental properties costing more and more every single year, saving up money to afford a home is becoming a more and more difficult prospect for many people. And it's not like that money you're renting with is building up any equity. So, investing that same amount of money you'd otherwise be putting into rent for a plot of land that you develop while living on said land in a tiny home, allows you to save up and build your "forever home" while you're there.
Article continues below advertisement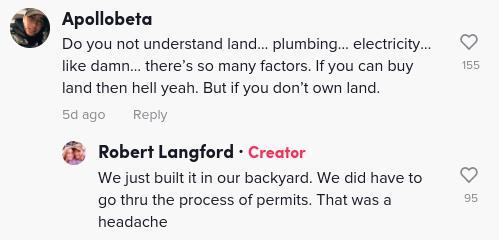 And if you decide while living in said tiny home that the scaled-down life is for you, then you can just spend your money on other things and continue living in your tiny house.