YA Debut 'Threads That Bind' Is a Fresh, Innovative Tale of Mystery and Mythology
Distractify reviews 'Threads That Bind,' author Kika Hatzopoulou's Young Adult debut Greek myth inspired murder mystery.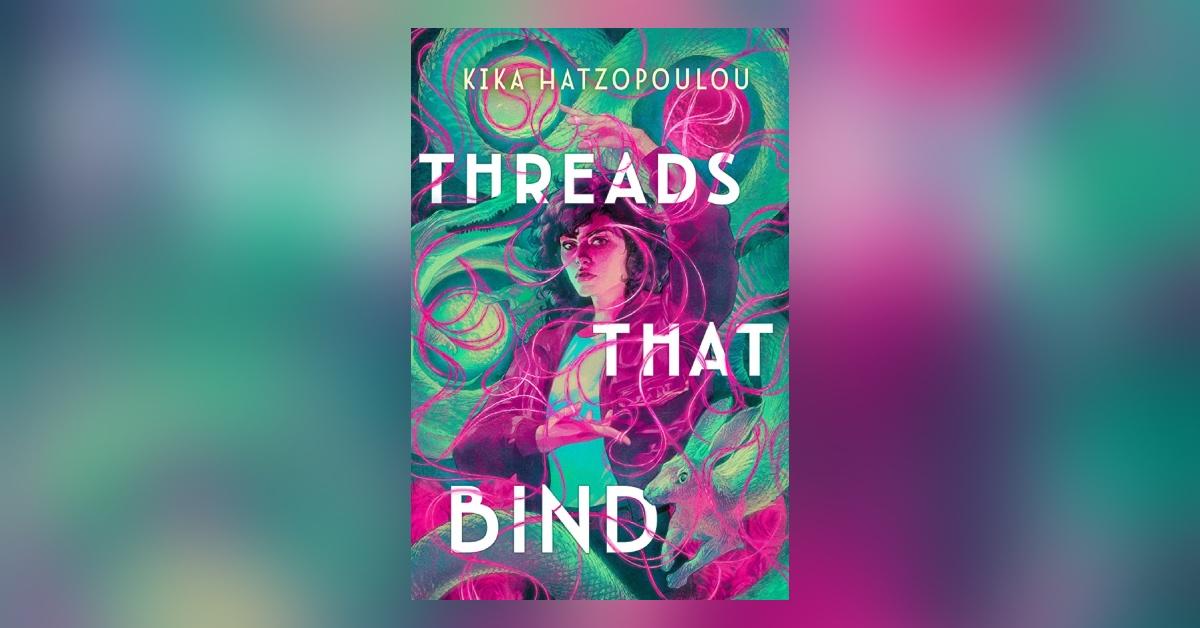 Since the publication of books such as Percy Jackson and the Olympians in 2005, Greek mythology retellings in the Young Adult literary space have only grown in popularity. Joining a growing list of titles such as The Song of Achilles, Lore, Ariadne, Lies We Sing to the Sea, Daughter of Sparta, and many more is debut author Kika Hatzopoulou's Threads That Bind.
Article continues below advertisement
While many would argue that over the years, the influx of Greek myth retellings may have played themselves out with familiar themes and tropes, Threads That Bind presents a new, unique take on the genre that addresses everything from the "soulmates" romance trope to complex philosophical questions such as fate vs. free will.
Article continues below advertisement
Threads That Bind
Our Rating
Threads That Bind is a brilliant debut from author Kika Hatzopoulou that weaves together innovative world building with a fresh take on the "fated soulmates" romance trope. An inclusive, creative noir that keeps readers turning pages.
Publication date: May 30, 2023
Author: Kika Hatzopoulou
Publisher: Razorbill
Pages: 352
Genre: YA Fantasy-Mystery
Price: $17.99
Readers of Threads That Bind find themselves immersed in a fantasy noir universe where the Sunken City of Alante is elevated on stilts to avoid flooding, and "other-born" individuals are demigods (Greek and non-Greek!). Parts of the essential world-building are woven throughout the text so that the information feels natural.
Article continues below advertisement
As descendants of the three Fates of Greek myth, Io and her sisters are "Moirae-born." As such, they can see the "threads" of life surrounding other people, but for Io, this also means the ability to cut those life threads in an instant. "Other-born" are feared and forced into the Kinship Treaty, a public registry that requires their names, abilities, and personal details.
Article continues below advertisement
Many powerful and complex conversations are embedded within the text of Threads That Bind. While these conversations aren't always what the story revolves around, the thoughtful socio-political world-building always adds a new layer to the already gripping plot. For example, there's a stigma against certain other-born powers, with Io sometimes ostracized by her people for having abilities more dangerous than others.
Other concepts touched upon in this book include: the concept of "necessary evil," discussion about immigration and how people often mistreat immigrants, emotional abuse and betrayal within the familial structure, social class structures (especially those between blue-collar workers like the Silt vs. wealthy residents on the Hill), and many more.
Article continues below advertisement
When Io, a private investigator, stumbles across a case that goes wrong, she learns that someone — or something— is creating zombie-like creatures that attack and kill those with gods-given abilities. The local mob boss commissions her to uncover the source of the problem. To prevent more murders, she must team up with Edei Rhuna, an enforcer and her secret soulmate.
Article continues below advertisement
Regarding the main romance in this book, Hatzopoulou flips the idea of "fated soulmates" on its head. Io has known since before the story starts that Edei has a thread of fate attached to her. Still, she doesn't want to take away his ability to consent to the relationship and believes he has a girlfriend, so she actively debates cutting the thread altogether to spare him.
In many other popular books, the idea of soulmates is often tied to a toxic masculinity "you belong to me" type of storyline, so it was immensely rewarding to see Io push back against that idea. Additionally, the romantic conversations connect back to a larger conversation about fate vs. free will at the heart of the book, which adds to both characters' arcs by the end.
Article continues below advertisement
Ultimately, Threads That Bind is a turning point for Greek myth retellings, and a welcome one. Readers who love action, quality world-building, a multitude of representation (diversity in characters and sexualities), and a blossoming romance will deeply enjoy this book.