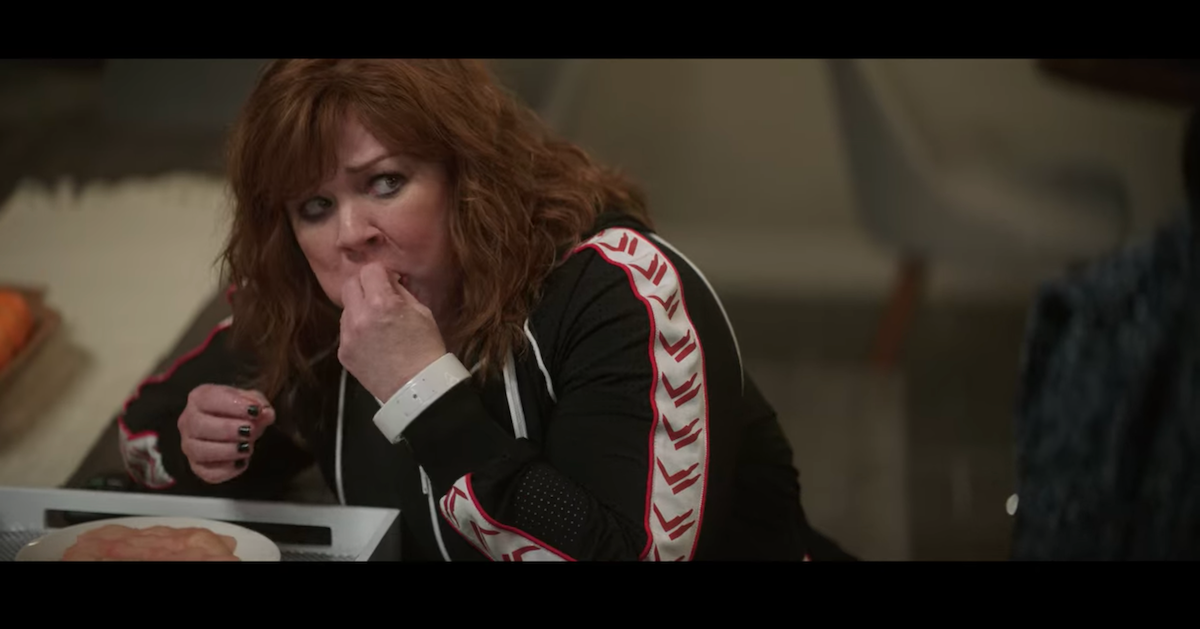 Melissa McCarthy Didn't Actually Eat Raw Chicken While Filming *That* 'Thunder Force' Scene
Since it came out on April 9, Thunder Force has been at the top of Netflix's trending list, but it's also been getting roasted by viewers online. The superhero comedy film has a star-studded cast — Melissa McCarthy (Lydia Berman) and Octavia Spencer (Emily Stanton) are best friends with superpowers, while the villains/"Miscreants" are a half-crab played by Jason Bateman, and "The King" aka Bobby Cannavale.
Article continues below advertisement
Those who watched the movie have been polarized about whether the plot worked or not, but there's one element that many agreed was disgusting: the raw chicken scene.
After Lydia gets her superpowers, Emily encourages her to eat a plate of uncooked meat. The scene has gone viral online, and many are sharing how they had a visceral reaction to seeing Melissa's character scarf down a full plate of it.
The actress herself has commented on the now-infamous scene, and she shared what she ate instead of the raw chicken.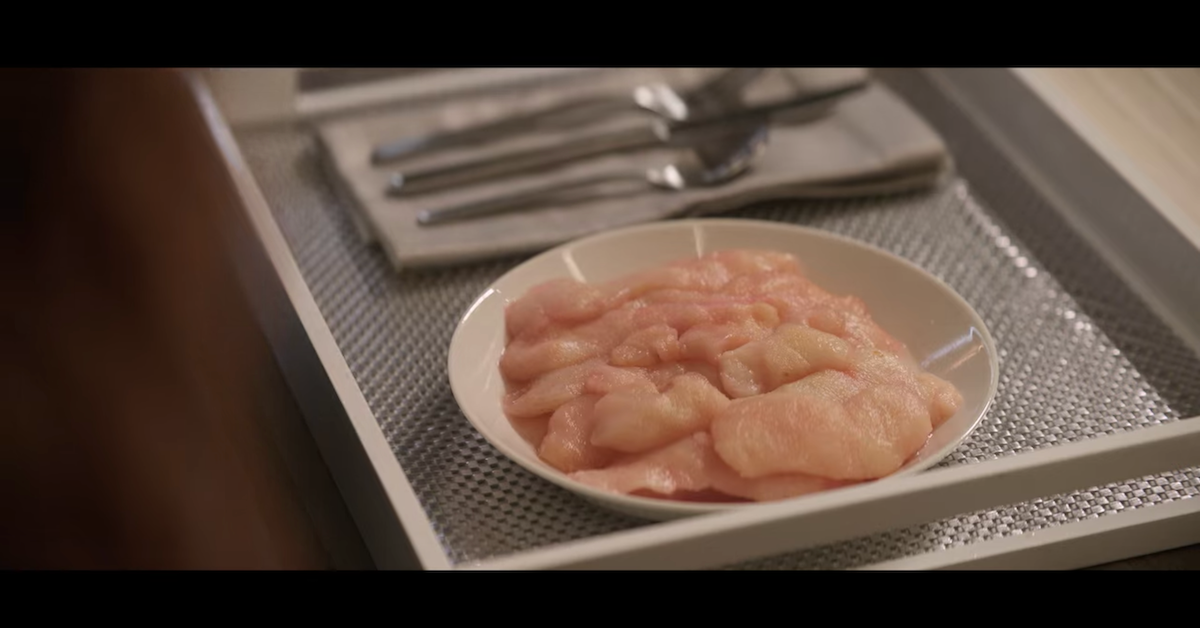 Article continues below advertisement
Why did Lydia eat raw chicken in 'Thunder Force'?
In the comedy movie, Emily has the ability to bestow super powers to others thanks to her work as a scientist. When Lydia tries to get Emily to leave work in order to attend their 25 year high school reunion, she touches something in the lab that gives her powers.
As Lydia adjusts to her newfound skills as a superhero, she loses her appetite for regular food.
"Nothing tastes right," she tells Emily. "I'm not — I'm not hungry."
After lamenting about her inability to eat, Emily advises her to try something that's has "pure, uncooked amino acids" and phosphorous due to her "body's rapidly changing chemistry."
What follows is, you guessed it, a scene that's about 20 seconds long of Lydia eating piece after piece of raw chicken from the plate.
Article continues below advertisement
Though some viewers hoped that the moment would be the end of the raw chicken content in Thunder Force, that isn't the case.
There's a callback to the poultry scene later on in the movie. As things heat up between Lydia and The Crab (Jason Bateman), the two bond over the fact that they love to eat uncooked chicken. The Crab even feeds some to Lydia at one point.
With such a unique interest in a dangerous eating practice, the two are clearly a perfect match.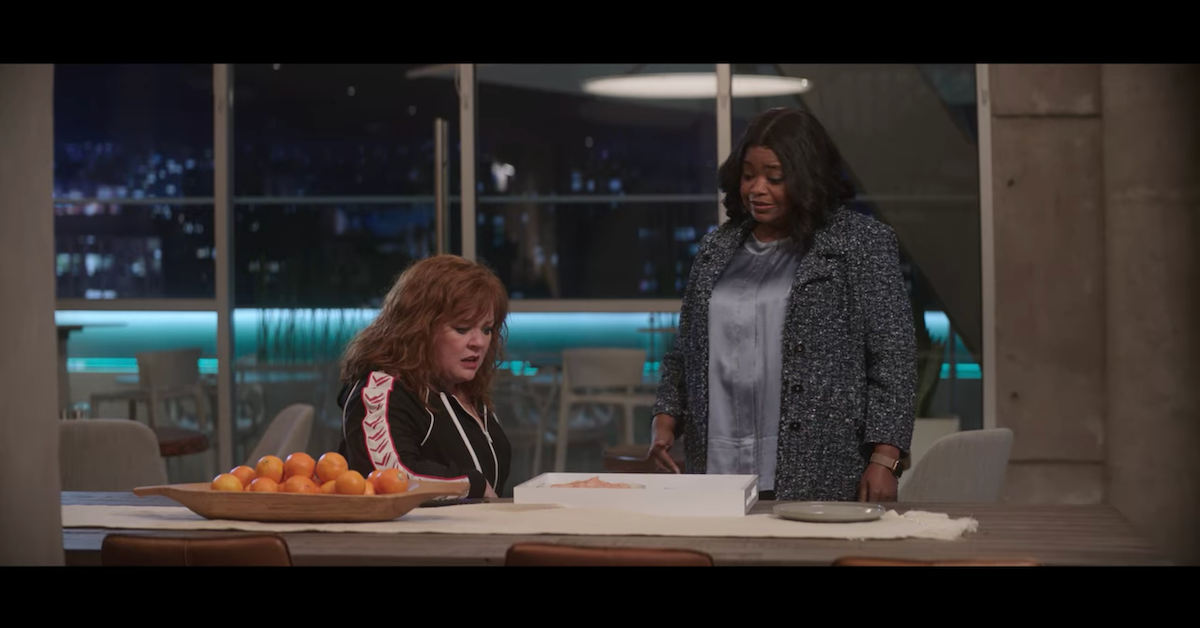 Article continues below advertisement
In 'Thunder Force,' what exactly was Melissa McCarthy eating in that raw chicken scene?
Though Melissa McCarthy is an Academy Award nominee because of her ability to really get into character, she did not actually eat raw chicken for Thunder Force.
Her husband and the film's director/writer/producer, Ben Falcone, confirmed that Melissa actually ate pears in the scene. The fruit, thankfully for squeamish fans, looked similar enough to raw chicken (plus, Melissa's hand obscured the fruit as she put it in her mouth).
"The raw chicken is actually really thinly-sliced pears treated with citric acid and food coloring," Ben shared in the Thunder Force press package. "It was so believable that we all got completely grossed out every time we saw it, as did everybody who had to eat it."
Article continues below advertisement
Eating uncooked meat was never on the table (pun intended) for the Bridesmaids actress, but Ben said it was still "difficult" for her to get through the scene without getting grossed out.
"Melissa was like, 'I know it's a pear, but it's just hard not to imagine it as raw chicken,'" her husband continued. "So that was difficult to get through."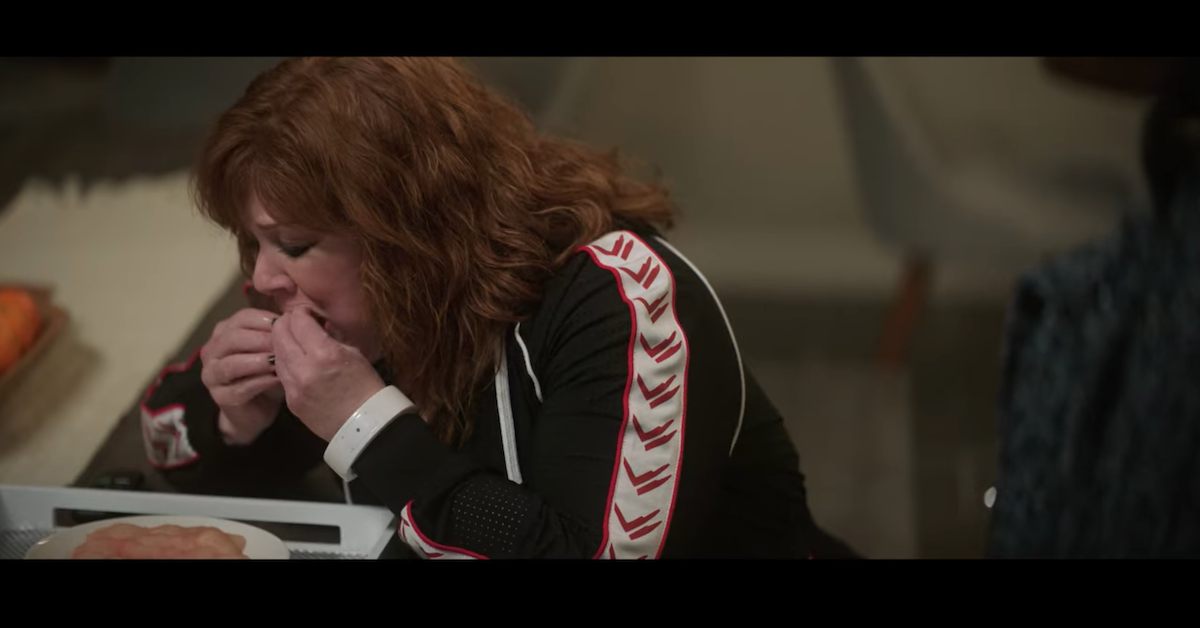 If you were skittish about watching the film because of those raw meat scenes, then you can now just remember that the actors are eating pears.
Thunder Force — with all of its uncooked chicken content — is available to stream on Netflix now.