A TikToker Is Alleging That Applebee's Cleaning Spray Put Her in the Hospital
A young woman on TikTok is alleging that an Applebee's employee accidentally sprayed her with a cleaning agent that triggered an extreme allergic reaction.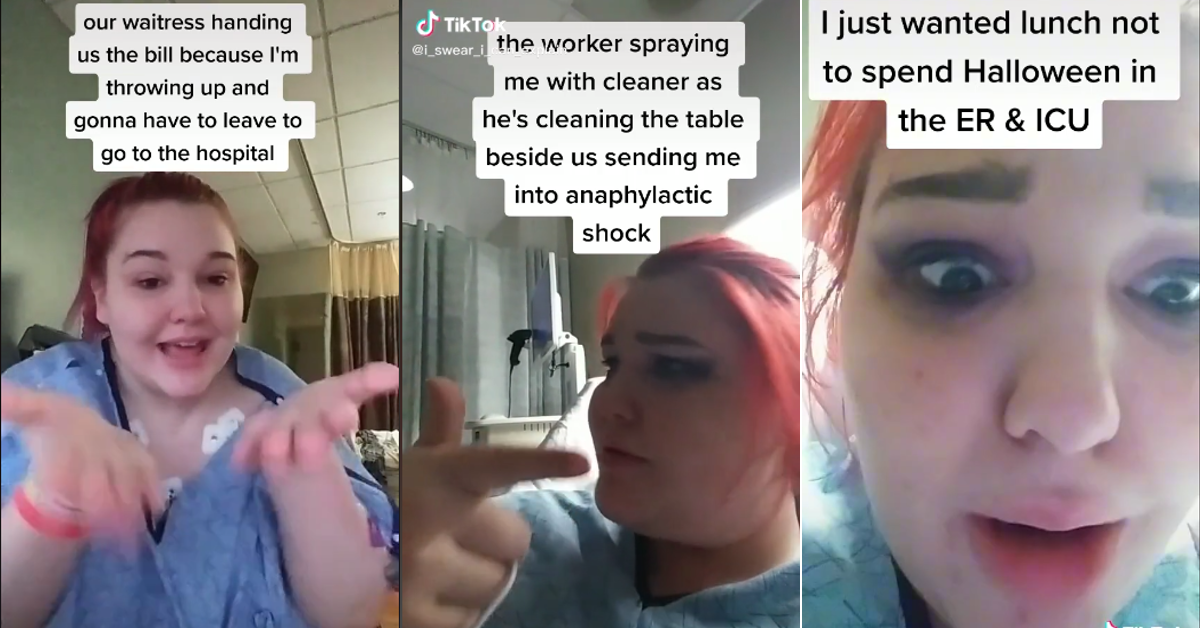 Thanks to the advent of social media there are a lot of people with ruined careers, young folks with body image and eating disorders, and a heck of a whole lot of folks pretending to be more fabulous than they actually are.
However, it's not all bad, as the mass sharing phenomenon of social media platforms allow people to get the word out about specific phenomenon or events that maybe wouldn't have gotten eyes on them.
Article continues below advertisement
And many TikTok-ers believe that this young woman's claim against Applebee's can certainly culminate in some legal action and a potential payout for the restaurant customer.
Sarah, whose username on the platform is @i_swear_i_can_explain, says that while she was at an Applebee's establishment, the actions of an employee resulted in her going to the emergency room.
Article continues below advertisement
According to Sarah, an Applebee's employee was spraying down a table adjacent to the one that the TikTok-er was sitting at. Allegedly, some of the spray ended up making contact with her skin.
Article continues below advertisement
Sarah has extremely sensitive skin and she believes that whatever ingredients were in the spray ultimately ended up setting off a severe allergic reaction. She spoke to management and stated that something in the spray was making her feel ill.
In her now-viral clip, Sarah said that the Applebee's manager insisted she was "fine."
Article continues below advertisement
However, Sarah says that hives began forming on her body and she began "throwing up, coughing, [and] almost passing out" until she ran to her vehicle to grab her EpiPen.
In the clip, Sarah also says that she had to cut her double date short and leave her meal to visit the hospital, but the waitress made sure to hand over their bill before she and her group departed.
Sarah's post sparked a ton of outrage online and throngs of folks have begun tagging the restaurant chain in their responses to her clip. One user, @_bwitchez_.
"Allergies or not they shouldn't be spraying it down with anyone in that close of a proximity," user @_bwitchez_ said.
Article continues below advertisement

Another individual who claimed to be a former Applebee's employee in the comments stated that there's a good chance the employee in question broke protocol: "As an ex-server, we're told to NOT spray anything when there's patrons around you."
Article continues below advertisement
There were a good number of folks who urged Sarah to sue the restaurant for the way it handled the situation, "Easy open-shut case where you'll be compensated for your hospital bills, any missed time from work, and pain and suffering," another individual commented.

Sarah did go on to say that she will pursue legal action as she, "just wanted lunch not to spend Halloween in the ER & ICU."