TikTok's Bra to Bralette Trend Is a New Way to Put Old Brassieres to Good Use
The TikTok Bra to Bralette trend is the new way to make use of your old brassieres. It involves deconstructing your bra to make a whole new garment.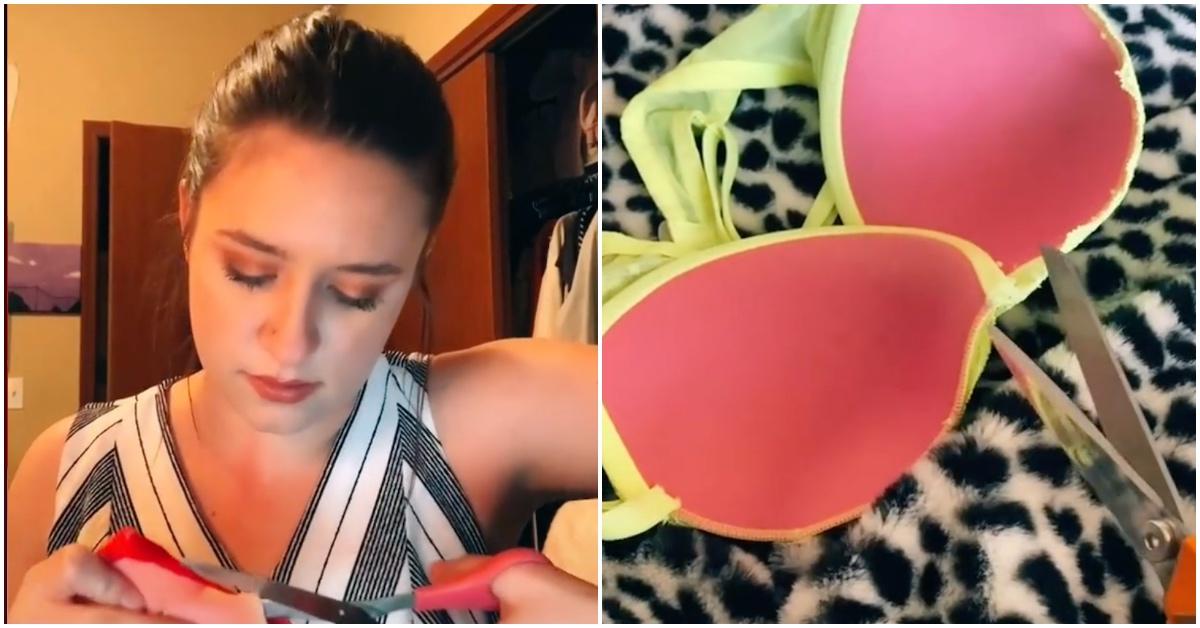 Whether you have a small or large bust to work with, we all have bras that have been moved to the back of our wearable undergarments lineup. While those brassieres are likely taking up space in your wardrobe and collecting dust, you've likely avoided throwing them away. But they don't have to remain bras that you avoid wearing — you can totally repurpose them. And the new TikTok Bra to Bralette Trend is showing us all the way.
Article continues below advertisement
There's no argument that TikTok has changed the way we tackle many things in our lives. From learning cleaning hacks to tasty recipes, the social platform has come in handy for quite some time. And the Bra to Bralette trend is living proof. While you may have reservations about the trend, it has proven to work wonders for many creators. So, keep reading on to learn all about the trend and prepare for your mind to be blown.
So, what is the TikTok Bra to Bralette trend?
Every girl knows how expensive bras can be. So, most women prefer not to experiment with the construction of their bras. However, the newest trend on TikTok has many creators reconsidering.
Article continues below advertisement
The TikTok Bra to Bralette trend is all about transforming old lace bras into unlined bralettes by cutting out the extra padding. And while the idea may seem like a disaster waiting to happen, it's actually proven to work.
Article continues below advertisement
See, creators start by using scissors to make a hole in one of the pads and cut around, making sure not to touch the lace and wire. Keep in mind, if the bra that you're working with has its padding separated from the lace, you'll need to find the little seam at the top of the bra and gently cut the thread. This will give you full access to the padding.
Article continues below advertisement
And once that step is out of the way, your handiwork is all done. You'll be left with a new garment to add to your wardrobe — a cute, lacy bralette to wear.
The TikTok Bra to Bralette trend has already become a huge hit on the platform.
TikTok is the hub of trends and challenges that almost always go viral. And the Bra to Bralette trend is no exception.
Since many women love bralettes due to the absence of underwires, the trend had already piqued their interest. And once creators saw that transforming a bra to a bralette can be done without any professional assistance, the rest was history.
Article continues below advertisement
As of late, the #BraletteChallenge has garnered almost 33 million views and counting. Not to mention, many creators are also putting their own spin on the trend and sharing tips for other users to try.
Article continues below advertisement
Sure, the idea of getting crafty with your expensive bras is risky, but the results are definitely worth it. Not to mention, this trend allows you to put the bras you've shied away from wearing to good use. And it doesn't feel as if you wasted your coins — which is always a plus.
With that said, if you're ready to hop on the bandwagon, it's super easy to try. Simply grab your desired bra and follow the lead of the TikTok creators.