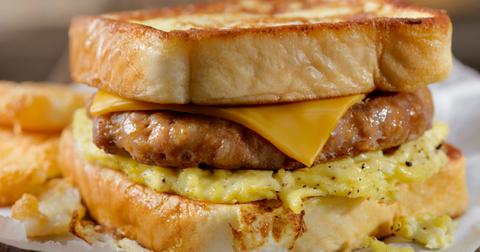 How to Make TikTok's World-Famous One-Pan Breakfast Sandwich
By Lizzy Rosenberg

Updated
Every seasoned TikTok user out there is well-aware that the app is secretly an incredible reference for food hacks, and get ready because the latest trend is bound to revolutionize your daily morning meal. The dish, known as the TikTok breakfast sandwich, is seriously game-changing for amateur chefs worldwide.
What is the secret behind the TikTok breakfast sandwich, and how does one go about recreating it? Here is everything you need to know regarding the seriously drool-worthy dish.
What is the TikTok breakfast sandwich?
Waking up early in the morning to make a full breakfast isn't always easy or possible, for that matter. Between the amount of time it takes to cook everything, and the effort it requires to clean up after, executing early morning fuel is quite a feat. But TikTok's latest breakfast sandwich hack, also known as the one-pan breakfast sandwich, has completely revolutionized the lives of on-the-go viewers across the globe.
The famous TikTok breakfast sandwich is also rumored to cure even the worst of hangovers, according to The Food Network, making it a little more enticing to the young and spritely users of TikTok. But the best part is that it's far less messy than most breakfast sandwiches. Plus, the combination of eggs, cheese, and sausage is seriously drool-worthy.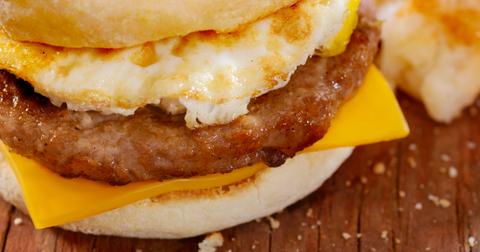 Here's how to make the TikTok breakfast sandwich:
The video, below, posted by TikTok user @aldentediva, gives step by step directions on how to create the famously easy breakfast sandwich. Start out by beating a few eggs, and pouring them into a pan on the stove. Coat both sides of two slices of bread with the uncooked eggs, and place them into the eggs over medium heat. When they're cooked, flip the egg-covered pieces of toast over.
Now, add a slice of cheese to both pieces of toast, and a few strips of already-cooked bacon or breakfast sausage. Continue by folding in the rest of the egg onto both pieces of bread, and close the sandwich. Add whatever hot sauces you need (I recommend Cholula) and enjoy.
Now, whip up some whipped coffee and you have yourself a full TikTok breakfast.
First, for the highly desirable whipped coffee, you'll want to head to your local convenience store, bodega, corner store, or grocery store. There, you will be required to pick up a few essential items, which include: instant coffee, sugar, and water.
Start out by grabbing your favorite mug, and proceed to measure out a teaspoon of instant coffee. Then, add exactly one teaspoon of sugar, as well as one teaspoon of water. Stir it all together for around five minutes, and once the concoction looks smooth and caramel-colored, add in some milk on top.
Between whipped coffee and the one-pan breakfast sandwich, you could have yourself a full TikTok-inspired breakfast in seconds. While you definitely aren't "on-the-go" right now amidst the quarantine, this is guaranteed to serve you well once we get things back up and running. Your morning routine will be seriously next level, if you ask me.