Thanks to TikTok, We Now Know Exactly How Disgusting Dishwashers Are
When's the last time you cleaned out your dishwasher filter? Thanks to TikTok, we now know how important it is to do it regularly.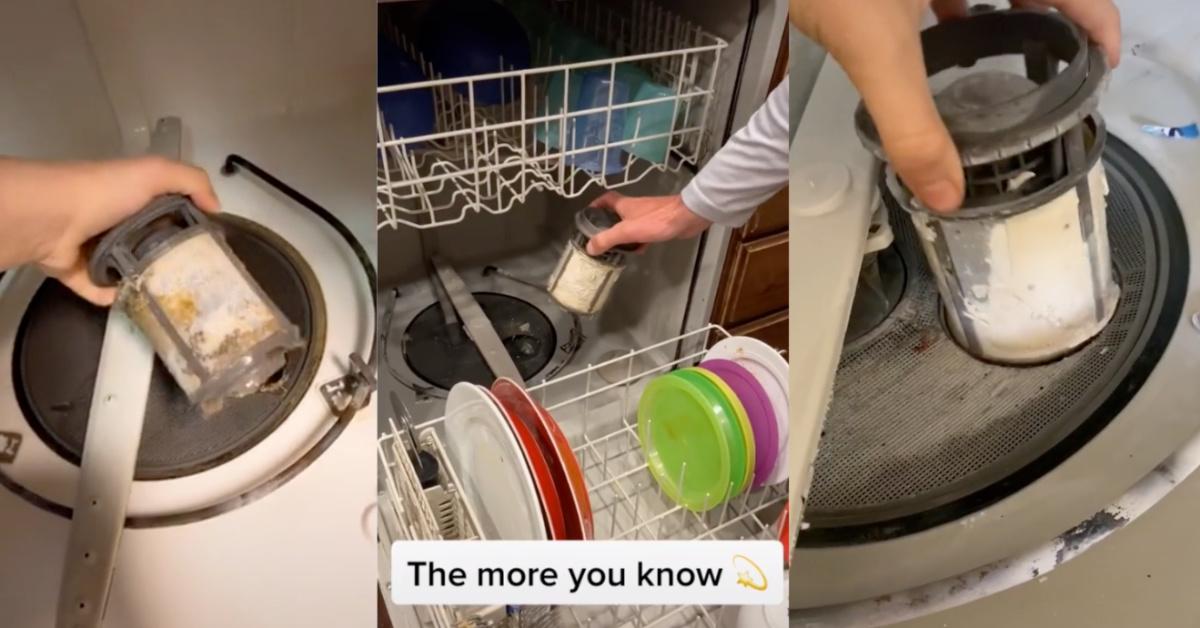 You can learn all kinds of things from the people of TikTok. Like how to close your cereal box so your food doesn't get stale. Or how to make fancy whipped coffee. Or how to curl your hair with a shampoo bottle. If there's a hack out there that makes people's lives better, you can rest assured you'll be able to find someone talking about it on TikTok.
Article continues below advertisement
However, you can also learn things on TikTok that will completely gross you out forever. Like the fact that bugs are probably living in your strawberries, for instance. Now, there's a new PSA making the rounds on TikTok revealing that your dishwasher — which you rely on to clean and sanitize the plates that touch your food — might also be much grosser than you think. TikTok's dishwasher filter videos have taken over the video-sharing app, and we couldn't be more motivated to start cleaning.
Article continues below advertisement
TikTok's dishwasher filter videos are super gross and super helpful.
Thanks to TikTok, we now know that all dishwashers have a filter in them that catches food particles and other grimy gross stuff. There's a good chance that if you didn't already know this, your dishwasher filter is filled with some kind of grime that you probably don't want swirling around the dishes where you also put food (which then goes into your mouth).
Luckily, it looks like most dishwasher filters are relatively easy to remove and rinse out so that you no longer have to deal with the slimy stuff. According to a bunch of the videos, you should actually be rinsing out this filter at least once a month. So...that's pretty concerning for a lot of folks who have had a dishwasher for years and are just now learning this information.
Article continues below advertisement
How do you clean out your dishwasher filter?
In most cases, cleaning out your dishwasher filter should only take a couple of minutes. You can usually access the filter by unscrewing a circular filter cap located at the bottom of your dishwasher (you might want to remove the bottom drawer of the dishwasher to gain easier access). Lift up the filter, marvel at your gunk collection, then dump any solid bits in the garbage and rinse the rest off in the sink.
Article continues below advertisement
Your dishwasher filter isn't the only filter you should be cleaning out regularly.
Now that TikTok has taught us to clean out our dishwasher filters, it's a good time to give the other filters in your house a quick cleansing. Air conditioner filters! Fridge water filters! The lint trap in your dryer! The vent above your stovetop! Vacuum cleaner filters! All of the filters! Don't wait until the next TikTok trend to realize you're living with some nasty bacteria infiltrating your everyday life.
Even though we're grateful to the TikTok users who taught us the importance of keeping the dishwasher filter clean, we're also pretty skeeved out by the videos. And yet, we can't stop watching them. Here's hoping the next viral TikTok trend is just a little bit less gag-inducing.