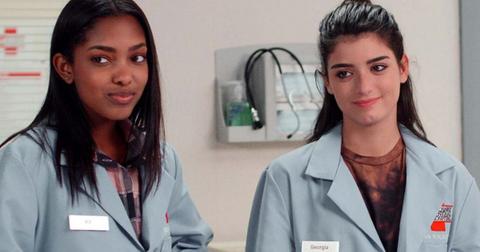 Everything You Need to Know About 'Attaway General'
By Devan McGuinness

Updated
If you had asked people 15 years ago what our entertainment was going to look like this far into the future, they probably couldn't have predicted this reality. We no longer have to catch our favorite show on a specific time during the week, no commercials to sit through, and there's a thing called "binging" where we can watch an entire TV series in one sitting.
Not only is all that true now, but we have so many choices it's hard to keep track of it all. Like, did you know there's a hospital show starring TikTok stars that airs on YouTube and other streaming platforms? Here's everything you need to know about it.
What is this TikTok hospital show you speak of?
We've heard that TikTok stars are able to make good money off their videos, when they get popular enough. Well, they've found another revenue stream too – television. Several popular TikTok personalities are taking their talent and love for the spotlight to new audiences.
According to The Hollywood Reporter, several TikTok stars have been cast in a new show on Brat TV called Attaway General. "Part of a spring slate of shows from Brat, Attaway General will follow a group of teen volunteers working at their local hospital," The Hollywood Reporter said.
The show boasts a slate of TikTok influencers, including Dixie D'Amelio, Gabby Morrison, Griffin Johnson, Diego Martir, Madi Monroe, Lauren Kettering and Eric Montanez.
According to IMDb the premise of the show centers around four teenagers who arrive at Attaway General Hospital. There, they have been accepted into the "prestigious volunteer program" and have to work together to "survive the program and make a difference in the lives of their patients."
So, basically it sounds like a really fun teenage drama — starring TikTok's most famous.
How can I watch 'Attaway General'?
Attaway General is an online show, so it can be watched totally free on Brat TV's YouTube Channel. The first episode, which premiered May 20, 2020, is where we see Georgia (Dixie), Kit (Gabby), Rosie (Lauren), and Jack (Diego) spend their first day on the job at Attaway General Hospital. Each episode runs for just under 10 minutes and is full of all the typical teen drama we expect from regular TV.
As of June 25, 2020, there have been six episodes released, each with views of over 2 million – in total it's close to 20 million views for all the episodes.
According to The Hollywood Reporter, episodes may also be streaming for free on Tubi, Amazon Prime, or Roku – but they're for sure on Brat TV's YouTube channel, with a new episode uploaded every Wednesday.
What are people saying about 'Attaway General'?
We know that the comment section of any social platform can be full of negative comments for the fun of it, so take this with a grain of salt. People can't seem to get past the bad acting on the show.
The comment section of the YouTube episodes is full of people complaining and even IMDb's review section is full of negative remarks.
"The best acting was the girl with the 3rd degree burn, because she didn't have to say anything," one comment read on YouTube.
"I made an account just to say how horrible this show is. It's just a bunch of talentless kids from tik tok which is the worst app ever created," an IMDb review said.
And Twitter wasn't much kinder.
I've watched 2 YouTubers talk about #attawaygeneral and that stupidity of a show is what you get when you idolize tiktok stars who are incapable of doing anything but acting. I cringe from very deeeeeeep within.

— Rachel (@rachel_parajuli) June 17, 2020
While these stars likely won't be getting any Emmys for their performances, it's great to see them take their passion from TikTok and funnel it into another platform, too. Also, judging by how many views these episodes are getting, there definitely are people coming back for more.