A TikTok of a Mom Dancing Next to Her Son in the Hospital Has Sparked Debate Online
Sometimes things on TikTok go viral for all the wrong reasons, and a woman who danced next to her baby in the hospital with RSV knows firsthand.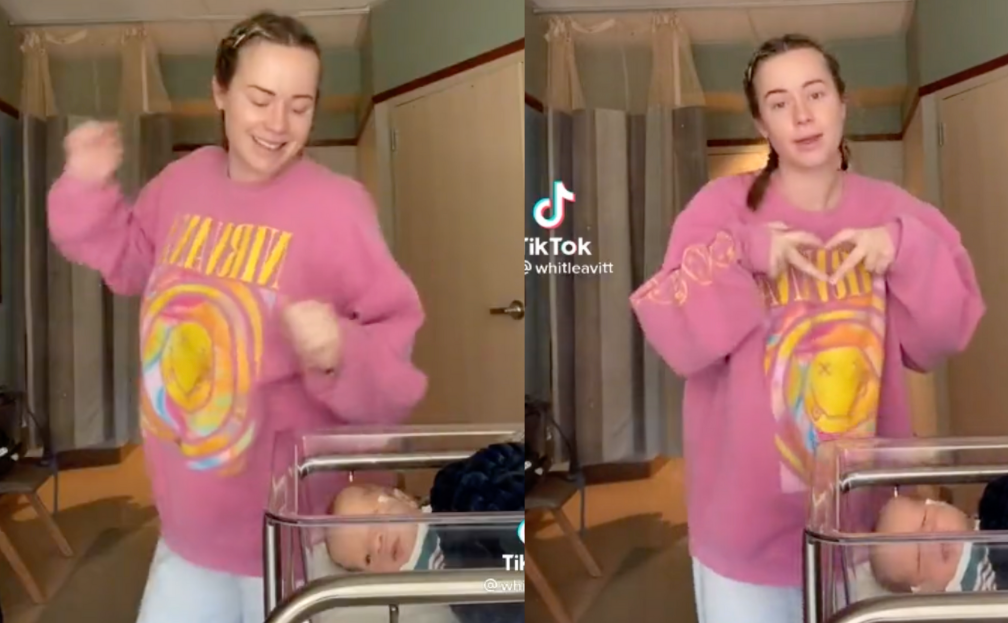 Even though TikTok might be known for its viral dances and hilarious content, things can get pretty serious on the platform as well. There are all kinds of different communities where people talk about things like abuse, trauma, and other situations where the videos can be hard to watch. One viral video concerning a difficult topic got one mom in trouble when people had a lot to say about how she was dealing with her child's illness.
Article continues below advertisement
A TikTok mom dancing next to her baby with RSV sparked backlash.
In December 2021, a mother named Whitney Leavitt (or whitleavitt on TikTok) posted a now-deleted video of herself dancing next to her son, Liam, in the hospital to Kendrick Lamar's "Love." It was made in response to a comment on a previous video where someone was asking what happened to him. She captions the video saying, "Lil Lee was taken in 'cause of low oxygen. He tested positive for RSV. Waiting for him to breathe better on his own. ️"
Article continues below advertisement
RSV (or respiratory syncytial virus) is "a common respiratory virus that usually causes mild, cold-like symptoms," according to the Centers for Disease Control and Prevention. Although most people recover in one or two weeks, it can be serious — particularly for babies and older adults. In the case of this TikTok, it was preventing Liam from breathing properly.
After the video was posted, Whitney got a lot of backlash in the comments section, and the conversation has poured over onto Twitter. "Yeah, I'm sorry, but using ur dying child to get clout on TikTok definitely qualifies you as a bad parent," said one tweet. "Dancing in front of your hospitalized infant for TikTok is [thumbs-down emoji]," said another in part. This tweet also talked about how Whitney posted the video on a public platform and she should have been aware that anything she posts has the chance to go viral.
Article continues below advertisement
On the other hand, there are also plenty of people defending Whitney saying that there's only so much she could do since she was already in the hospital and the dancing could be used as a way to cope with what's happening. "People can be like 'what has the world come to' but she knows exactly what's going on with her kid," said a tweet. "There's nothing they can do but wait, and she's hitting every beat of her TikTok dance."
Article continues below advertisement
Some people shared videos of other people dancing in similar situations. One features an EMT dancing in the back of an ambulance. Another response has a screenshot of someone making a TikTok back when it was Musical.ly; there's an older man in a hospital bed in the background.
The mom has spoken out on the hate she's gotten.
In a follow-up video posted on Dec. 19, 2021, Whitney addressed all the hate she had been getting. She started off by saying that she understands why so many people didn't like the video. "I just want to be clear and communicate that that was me just trying to be positive," she said. "I think it's important to not just assume what someone is going through." She also says that she took the original video down because she "could see where somebody could get the wrong idea."
Article continues below advertisement
After that, Whitney posted another video saying that people "think they know my story" and she wanted to speak for herself about the situation. At the time of the first video, Liam had been in the hospital for two days. By then, they knew that he had RSV and how they would treat it. "It was the first good news we had received," she said. But by the time she had seen the way people had taken the context of the original video, she felt like it was too late to clarify.
Also, Whitney clarifies that the second video is not an apology because she's not sorry. "The comments and direct messages that I have been receiving are far worse than the context that people took that video," she said.
Despite all the backlash, Whitney is still regularly making TikToks with her family and talking about her experiences with her pregnancy. Many of them are responses to people leaving comments asking about her experiences, and a lot of people think she's a great dancer.