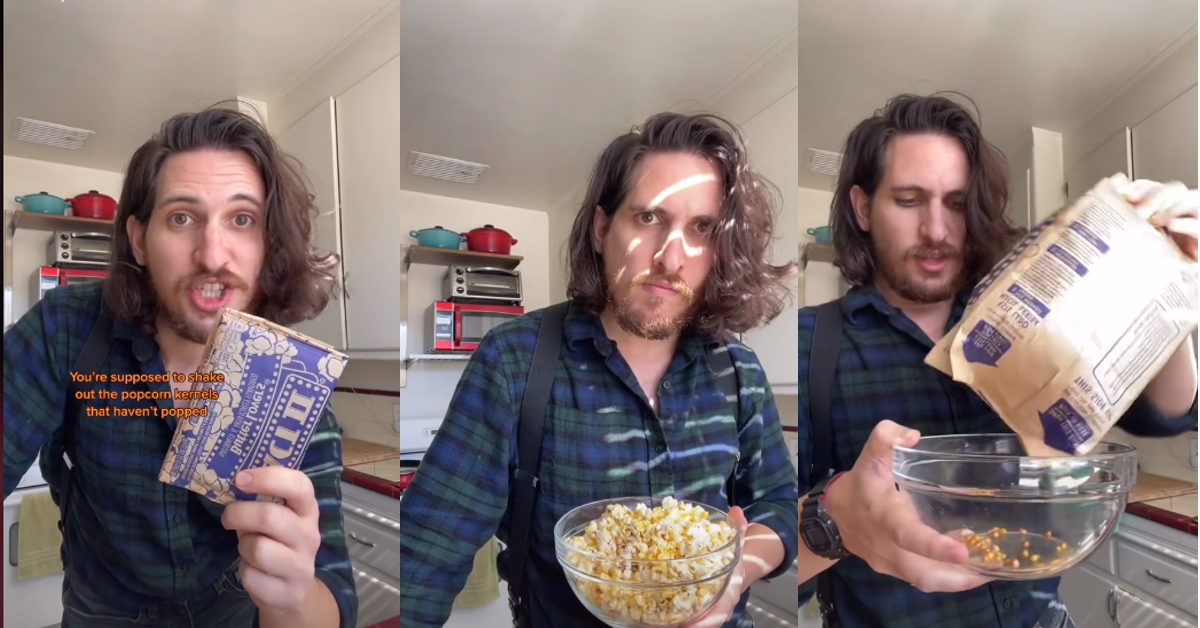 TikToker Reveals We've Been Eating Microwaved Popcorn Wrong This Whole Time
The microwave. An appliance adored by the lazy and careless all the world over. Its ease of use and relatively quick warm-up time makes reheating food or cooking entire low-maintenance meals has made the device a staple of kitchens everywhere.
Even if you aren't cooking eggs (although you totally can) or other complex meals inside your nuclear box, there's a good chance there are some microwave staples you enjoy.
Like popcorn.
Article continues below advertisement
Thirteen billion quarts of the little dried kernels are sold about every year. It's cheap, it's delicious, and it's versatile. While there are tons of crazy ways people like to eat their popcorn, it's hard to argue that there's a more classic combination than a warm and buttered/salted version of the stuff.
There's something about shoveling the snack into your mouth as if you're a hungry sow jostling for position at a trough that's so satisfying. For some, it's a ritual to heat up a bag of microwavable popcorn before they watch whatever garbage superhero or rebooted intellectual property or binge-able show at home. But nuked popcorn always has one drawback: the friggin' unpopped kernels.
Article continues below advertisement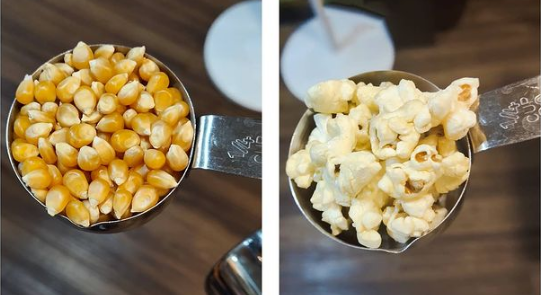 They get stuck in your teeth. They chill on the bottom of your bowl or even worse, sometimes get stuck in between your little airy balls of deliciousness. You ever crack a tooth on one of these bad boys? It's definitely not a good time.
You could sift through the bag to ensure that the kernels don't stay there, but let's be real: You're microwaving the stuff in carefully packaged convenient little pouches for a reason.
Article continues below advertisement
So what's a popcorn eater to do? Rest assured there is a solution and you won't need to change your lazy habits in the slightest. TikToker @sidneyraz discovered a wonderful usage for the curious little open slit that naturally forms on the end of the microwavable popcorn bag.
Article continues below advertisement
Usually, we just tear that bad boy open and get to work, but that's because we're doing it wrong. All wrong. What you're supposed to do, actually, is keep that little opening structurally intact. DO NOT OPEN THE BAG RIGHT AWAY. Instead, get a bowl, and then, with the bag not fully opened, pour the contents of the bag into the bowl.
The hole is just big enough for the little kernels to pass through, allowing you to reheat them in the microwave separately or use them in your blowgun or part of a crafting project because you're weird like that. Do whatever the heck you want with them, it's a free country.
Article continues below advertisement

Now, what you're left with are just the glorious, fully puffed pieces that you can eat without a care in the world as you watch scripted relationships and scenarios that are better than your own. The sound of the uninterrupted-by-kernels-munching drowning out the deep-seated loneliness you have as you stave off the horrifying truth that lies between you and your partner: your shared love of The Office wasn't the basis for a strong relationship and you've both grown all too comfortable and settled for the person you're with.
Article continues below advertisement


Fellow TikTokers loved the hack and were shocked as well that it took so long for them to discover the "pop secret" that eluded them for so long.
Did you know about this little trick? Is it blowing your mind? Or do you prefer to watch movies in silence, deeming conveniently popped corn kernels beneath you and ruinous of the viewing experience?