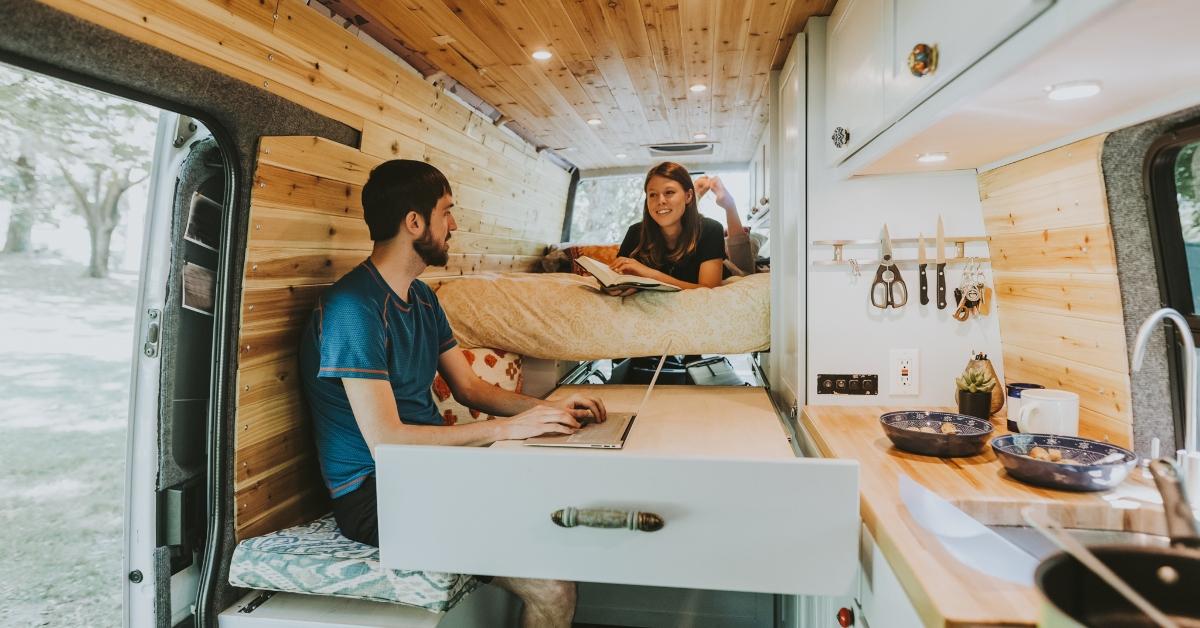 Ready to Live off the Grid? Check out These 5 TikTok #VanLife Renovation Hacks!
Are you daydreaming of quitting your typical 9-to-5 job? Do you wish you could travel indefinitely? While the nomadic lifestyle has been around for, well, a long time, 2020 sparked a whole new interest in #vanlife.
If you've scrolled through your social media pages, you've probably stumbled across someone who is living out of a renovated van. But these campers are no ordinary vehicles...
Article continues below advertisement
Many TikTokers have been showing off their van life renovations, complete with decked-out sinks, showers, beds, and more. Instead of spending their earnings on rent, these individuals are making money and traveling to some of the most beautiful destinations across America.
So, are you ready to purchase a cargo van or bus yourself? Well, if you're getting ready to begin a DIY van life project, Distractify has rounded up a few renovation hacks that will help you build a better van life experience for yourself (and possibly, your travel partner).
Check them out below!
Make your van feel like home.
Though off-the-grid living may seem like a dream, it can sometimes get a bit lonely, at least according to Sydney Ferbrache, aka @divineontheroad. This solo van life TikToker has documented her experience of living in a van with her two dogs. But as she mentions in the video, she doesn't always want to feel like she's living out of her car.
To make your van feel more like home, Sydney offered her followers some key renovation tips that will make your overall #vanlife experience more pleasant.
"Create a separate workspace as an 'office' versus just your bed," she explained to her followers, showing that her van has a table that extends outside of her home on wheels. She also shared with viewers the benefits of having a refrigerator with a freezer and investing in a "big cozy bed."
Article continues below advertisement
Heated shower in a van? Yes, please!
If you've been following some of your favorite nomadic #vanlife travelers, you already know that many people use pop-up shower tents to bathe or use a public facility, such as a Planet Fitness, to take a quick shower.
However, some people have built-in showers in their van. While this can be a more expensive option, a full-size heated shower is a nicer accessory.
TikToker Deanna Dunn gave step-by-step instructions for how to build the luxury item — and it's beautiful!
Article continues below advertisement
Installing a ceiling fan is a must.
Linnea has been documenting her van renovations throughout 2020. One of the most interesting additions to her van is a ceiling fan.
The TikToker showed a short clip of the process on her social media page, and uploaded a lengthy video on her YouTube channel explaining what tools she used and the mistakes not to make when inserting the ceiling fan.
Article continues below advertisement
You don't need a small sink.
When you sign up for #vanlife, you know that space is limited. But, this TikToker demonstrates that you do not need to have a small sink to live off the grid. Instead, Georgia Broderick shows that your large kitchen sink could actually be used for extra storage space and can be converted into an additional countertop.
Basically, smaller is not always better...
Article continues below advertisement
Velcro everything. Yes, everything.
Once your customized van is complete, you probably can't wait to accessorize and decorate the space. Well, TikToker @leavethemap shared a few hacks that will "make your life easier." First, make sure that you velcro everything in the van "so nothing moves around." You should also add clips to cabinets and drawers so nothing will open or break while you're driving.