"Glamping" Should Be on Your Travel Bucket List — Check out These Amazing U.S. Locations!
What is a glamping pod? The unique travel experience combines camping with a luxury hotel accommodation. Check out these amazing glamp sites in the U.S.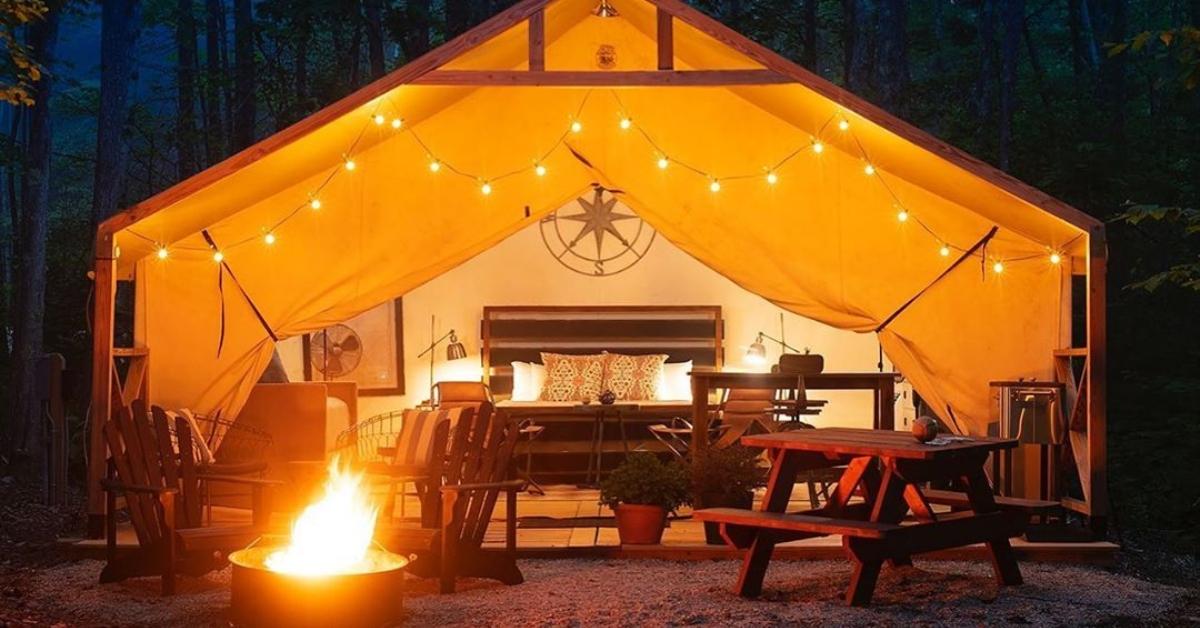 Are you looking for an escape from the the hustle and bustle of city life? Do you want to experience everything that nature has to offer ... but without the hassle of having to pitch your own tent or sleep on the ground? Well, you may want to consider staying in a glamping pod. The unique travel adventure combines the elements of camping and a glamourous hotel stay aka "glamping."
Keep reading to find out more about glamping pods!
Article continues below advertisement
What is a glamping pod?
Many glamping pods or teepees are typically made out of wood or a strong fabric, with many even including electric and indoor plumbing. Yes, you will not be forced to hike to the bathroom and dig a hole to do your business.
These luxurious pods usually offer you the comfort of a hotel stay, such as a bed, chairs, a small table (or two), lights fixtures, pools, and more.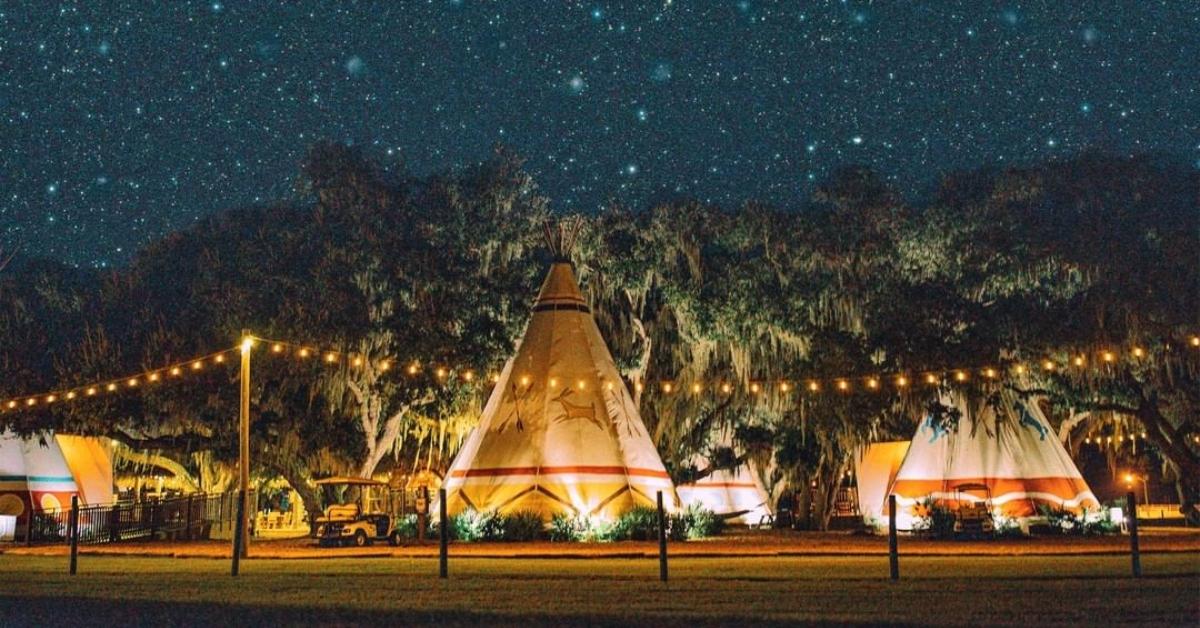 Whether you're hoping to be close to the desert, mountains, a waterway, or completely enveloped among the trees, glamping makes it possible for even the most basic camper to have an overall fun experience.
Experience the magic of glamping — visit these 5 campsites across the U.S.
If you're looking to have a romantic getaway with your partner, take a road trip with your friends, or even unwind on a family vacay, check out these awesome glamp sites we've found in the United States.
Westgate River Ranch Resort & Rodeo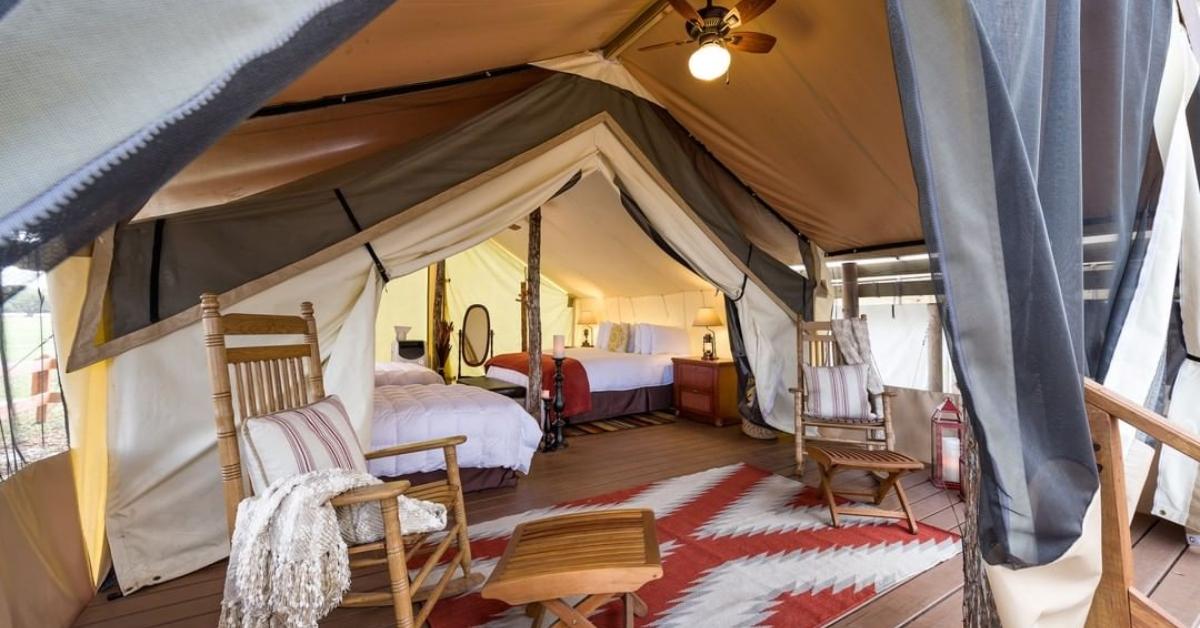 Located just south of Orlando, Fla., Westgate River Ranch Resort & Rodeo is hoping to capture the lifestyle of the Wild West. Those interested in staying at the glamp site have the option of sleeping in a luxury tent, cabin, or even at the lodge itself.
The resort also offers people a ton of on-site activities such as horseback riding, fishing, swamp buggy rides, a Saturday Night Rodeo, and more. With dining options available on the property, it's definitely a place where you won't have to step off the resort to find something to do.
Under Canvas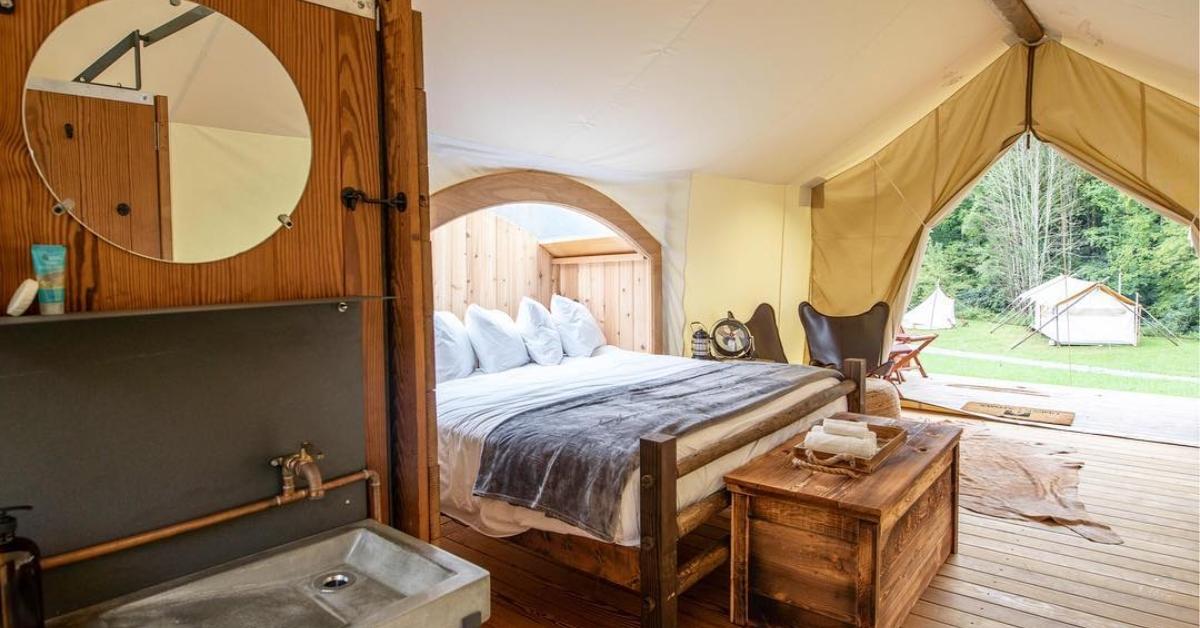 Under Canvas features campsites close to many National Parks, including locations at Yellowstone, Moab, Zion, Great Smoky Mountains, and more.
With nature just outside your door, people are able to completely immerse themselves in everything these beautiful parks have to offer, including hikes, horseback riding, whitewater rafting, and much more (depending on which location you choose).
Guests will also have daily housekeeping, room service, and on-site dining available. Seriously, Under Canvas is a five star hotel experience!
The Resort at Paws Up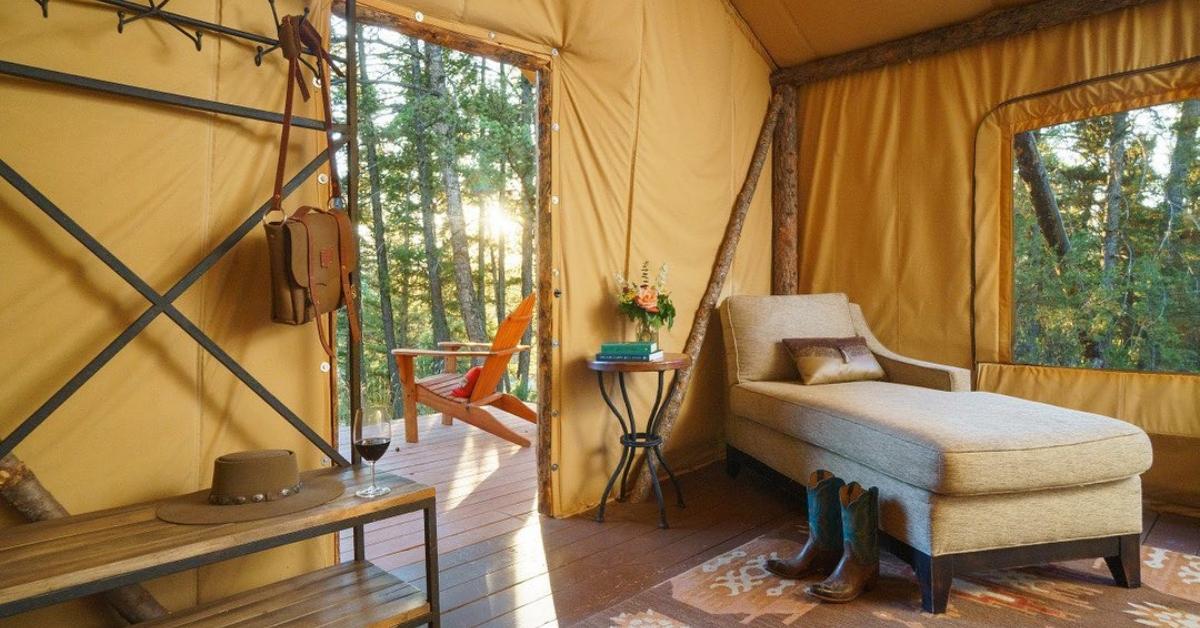 Escape to Montana to enjoy a secluded stay at The Resort at Paws Up. With 37,000 acres of property, this luxury glamping experience will definitely be a highlight of your year. During your stay at one of their glamorous teepees or cabins, you and your group can go fly fishing, hop on ATVs and go exploring, take a sleigh ride around the resort during the holiday season, or experience one of the camp site's numerous events happening throughout each month.
Article continues below advertisement
Fireside Resort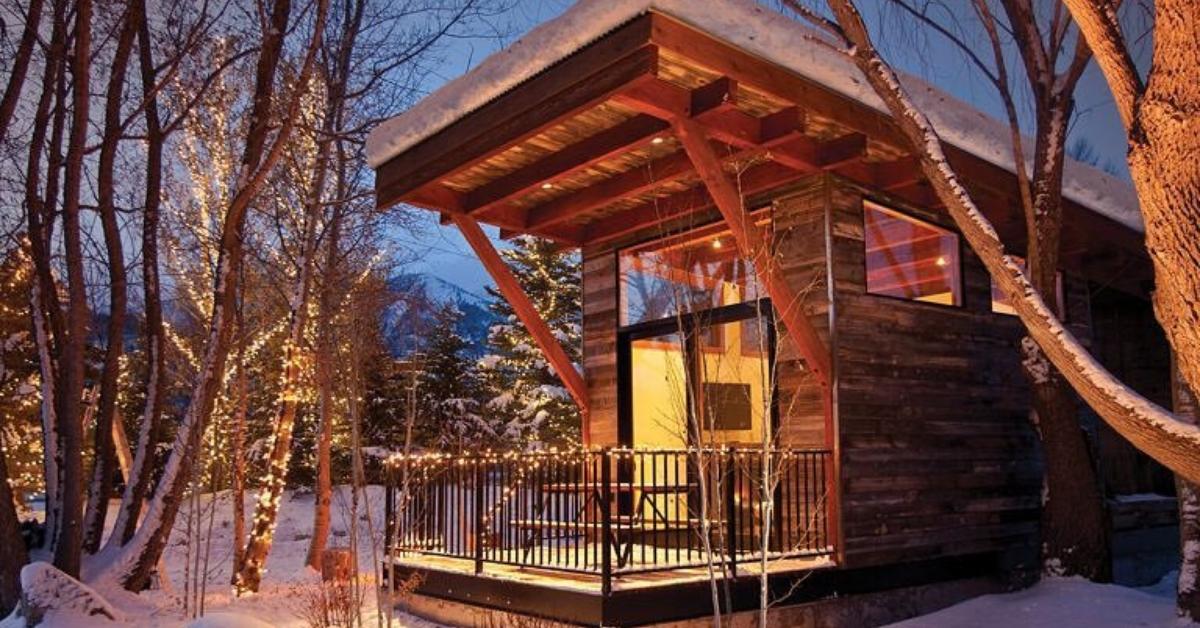 Head to Jackson Hole, Wyo., to relax under the stars at the Fireside Resort. During the day, head out to hike the trails, or take a dive in a natural hot spring. Back at the resort, enjoy the amenities your quaint cabin has to offer, such as a rain shower, heated floors, and meals prepared by top chefs.
It's cozy and definitely a great place to unwind.
Article continues below advertisement
Sandy Pines Campground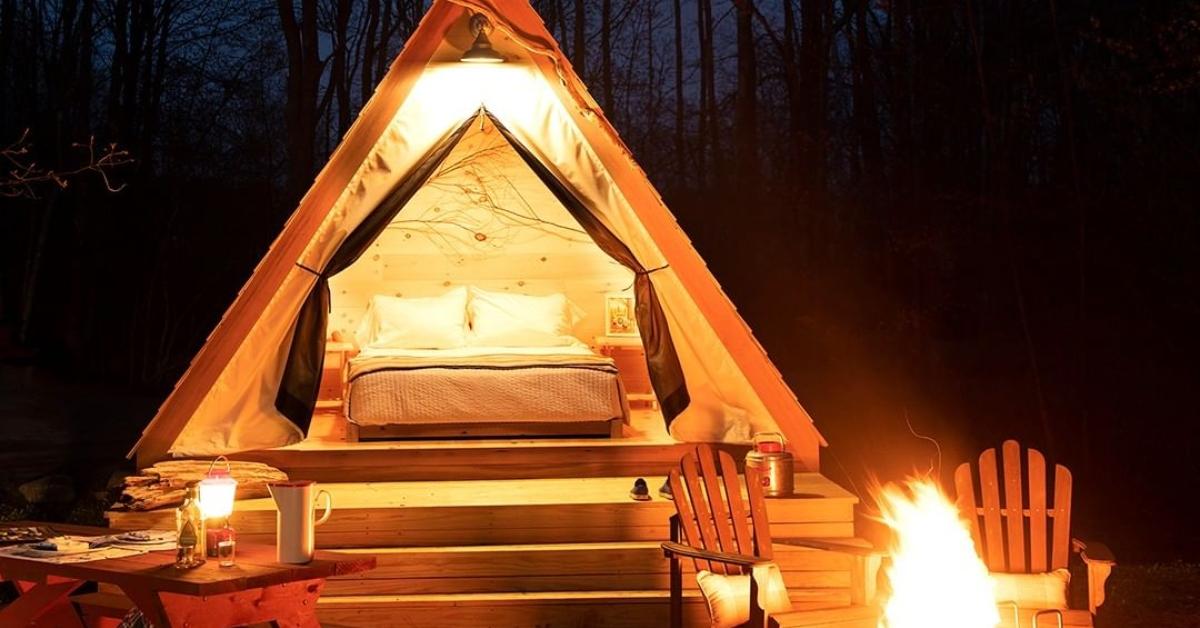 Located in Kennebunkport, Maine, Sandy Pines Campground offers a unique experience as guests can choose to stay in one of their rentals, such as different trailers, wagons, cottages, huts, and decked out tents. Additionally, the campground's amenities include a heated saltwater pool, kayaks / paddleboards to rent, lawn games, bikes for rent, and more.
Guests also have the option to take their adventures outside the campsite and explore everything that the small coastal town of Kennebunkport has to offer. You definitely won't be disappointed.