Woman's "Hack" for Getting Out of Jury Duty Goes Viral, Sparks Debate
A TikToker chronicled how they were able to get out of jury duty by wearing a Patrick Star hat, cat paw gloves, and cat t-shirt to the courthouse.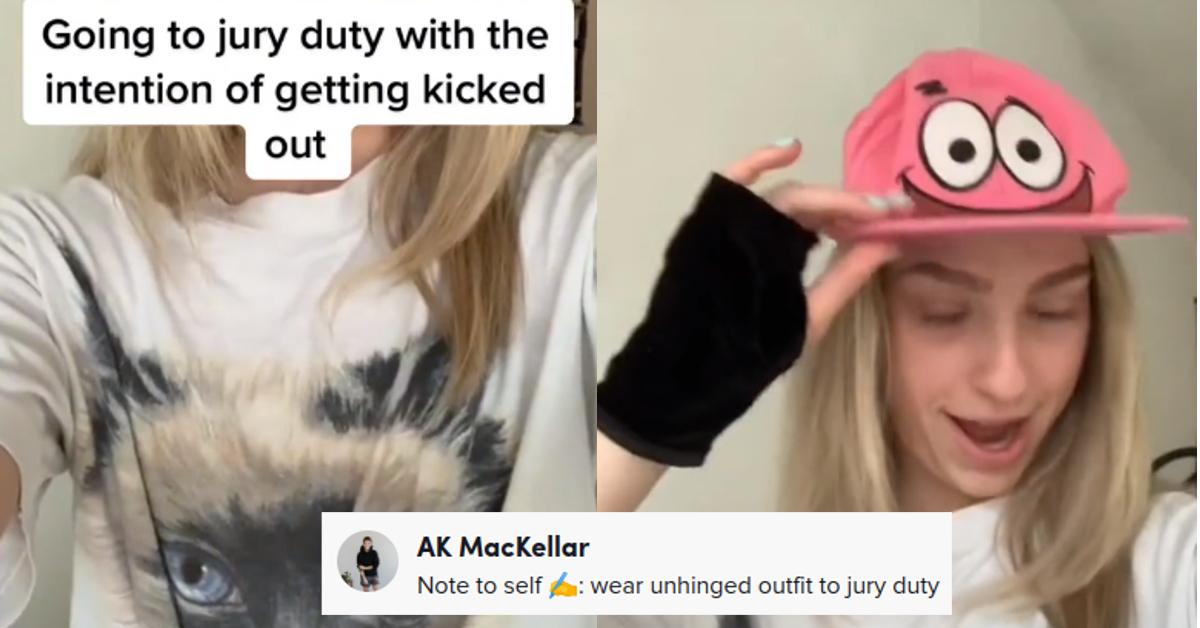 Unless you're Pauly Shore's character in this 1995 classic, Jury duty is definitely a raw deal. Not only are you forced to sit in a stuffy law office, hearing out technical arguments pertaining to a case you probably knew next-to-nothing about before being called in to fulfill your civic duty, but you really aren't getting paid all that much for it.
Article continues below advertisement
Which is something that can have some really awful implications for your bottom line, something that this TikToker was quick to point out in a now-viral clip that's caused a bit of a stir in the comments section of her now-viral video.
Kayla, who posts on the popular social media sharing platform under the handle @kittykatkayla69, writes in a text overlay of the now-viral clip, "Going to jury duty with the intention of getting kicked out."
In the clip, she jokes about getting out of Jury duty, but further explained the impetus behind her clip in the comments section.
Article continues below advertisement
"I'm paid hourly and cannot afford to take off more than 1 day from work [and] I wouldn't be able to keep my mouth shut."
So how did she get out of jury duty? She rocked a pink Patrick Star hat (definitely not proper courtroom attire) along with a cat shirt that looks like something you'd either get bullied or celebrated for wearing in Middle School, depending on how lame/awesome your student population was. She was also rocking finger-less gloves that were designed to look like cat paws.
Article continues below advertisement

Different states sport different laws when it comes to jury obligations. In New York, for instance, if the amount of money that you're earning at your job on the day that you've been called into work is more than the $40 a day stipend the state provides for you, then you don't have to go. Other states pay even less than that, however, with Arizona reportedly only giving Jury duty attendees $12.
Article continues below advertisement

Article continues below advertisement

As of March 8, 2022, it was reported that some 64% of Americans were living paycheck to paycheck, a day off of work could ultimately be fiscally disastrous for some.
Kayla says that while she ultimately went to the courthouse in her outfit ready to fulfill her "civic duty" she was ultimately dismissed.
Article continues below advertisement

Many commenters on Kayla's video applauded her handiwork.
"They saw you coming in and was like 'helllll just cancel the Damn thing'"
"THIS IS SO SMART"
"Lmaooo how is this not viral, the cat paws pushing the court doors open"
Article continues below advertisement
Others expressed that they were very much interested in attending jury duty:
"but why? im too nosy and i would decide what sentence someone gets JUST FOR THE TEA"
"I been waiting my whole life to be on the jury."

Article continues below advertisement
Kayla isn't the first TikToker to document her attempts at getting out of Jury duty while wearing an outfit intended to make herself look like she wouldn't be fit for such a serious task.

Article continues below advertisement
User @miagravess said that she had no intention of serving on a jury, so she decided to rock a t-shirt that reads: "I [heart symbol] shoes, booze, and boys with tattoos."
She posted a video with the caption: "Sound off below with how you think I should con my way out of jury duty."