TikToker Served Sriracha-Covered Shortcake After Complaining About Her Meal
A TikToker is claiming that they were intentionally served a cheesecake with Sriracha and not strawberry sauce after complaining about D&B food.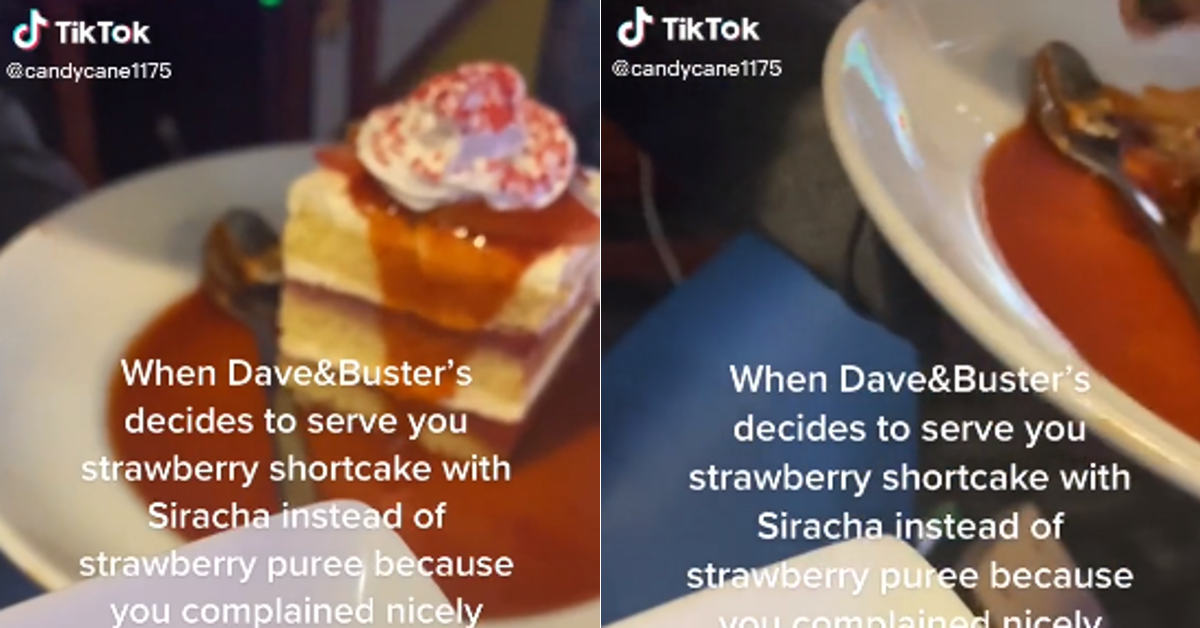 It's a fear that many of us have: complaining to a restaurant about our food order and the cooks in the kitchen working up some kind of devious revenge plot against our palates. Sure, this diabolical scene from Road Trip may have something to do with our trepidation in terms of sending our meal back, but how many of us have actually requested what we actually ordered or complained about our meals when they arrived at our tables and weren't what we wanted?
Article continues below advertisement
Personally, I'm not ever really going to send something back unless there's a massive turd in my dish or a mound of dead flies when I specifically ordered the maggot soup. Even then I'd probably just get my check and leave without eating my meal.
But if my kids or someone I know who has a food allergy gets served something they can't eat, I'll probably pipe up for them.
And even then I'd probably worry that whoever's working in the kitchen will concoct some sort of retribution plan against our party for having the nerve to pipe up about not receiving what we paid for.
A post by TikToker @candycane1175 has people thinking that vengeance was on the menu when she asked for one of the meals on her table to be replaced at a Dave & Buster's location.
Article continues below advertisement
In the now-viral video, she can be seen moving a plate of Strawberry Shortcake around that is covered in a reddish sauce. The cake typically is served with a puree made of strawberries, but as the text overlay in the video indicates, her dessert was covered in Sriracha hot sauce.
Article continues below advertisement
While there are some weirdos out there who would probably go for that kind of strange flavor combination, it's not what the TikToker ordered. The text overlay on the clip reads: "When Dave&Buster's decides to serve you strawberry shortcake with Sriracha instead of strawberry puree because you complained nicely."
Article continues below advertisement
So what did her "nice" complaint consist of? In a second video further explaining the incident, she says that her table ordered two children meals, both of them without tomatoes. When the dishes arrived, one of them had tomatoes, "So we asked for a new one," she wrote in a text overlay.
Article continues below advertisement
That's a simple enough request, right? The manager at the restaurant had said that the sauces were accidentally switched in the back, but only after they first said, "there's no way that's hot sauce."
Article continues below advertisement

What's more, is the TikToker claims the manager attempted to remove the dish from the table before she could start recording the dessert to question just what the shortcake is doing slathered in the spicy topping.
Article continues below advertisement

@candycane1175 says that the conversation between her and the manager made her child uneasy: "My son who is autistic was becoming uncomfortable with the situation escalating."
She says that she reached out to Dave & Buster's corporate office to inform them of the incident, but as of this writing, no update or resolution to the incident has been shared on her account.
Article continues below advertisement
What do you think? Was the Sriracha job done out of spite? Or is this just a case of a kitchen that was mobbed and/or undertrained, as evinced from the fact that one of the orders she initially put through didn't come back correct?