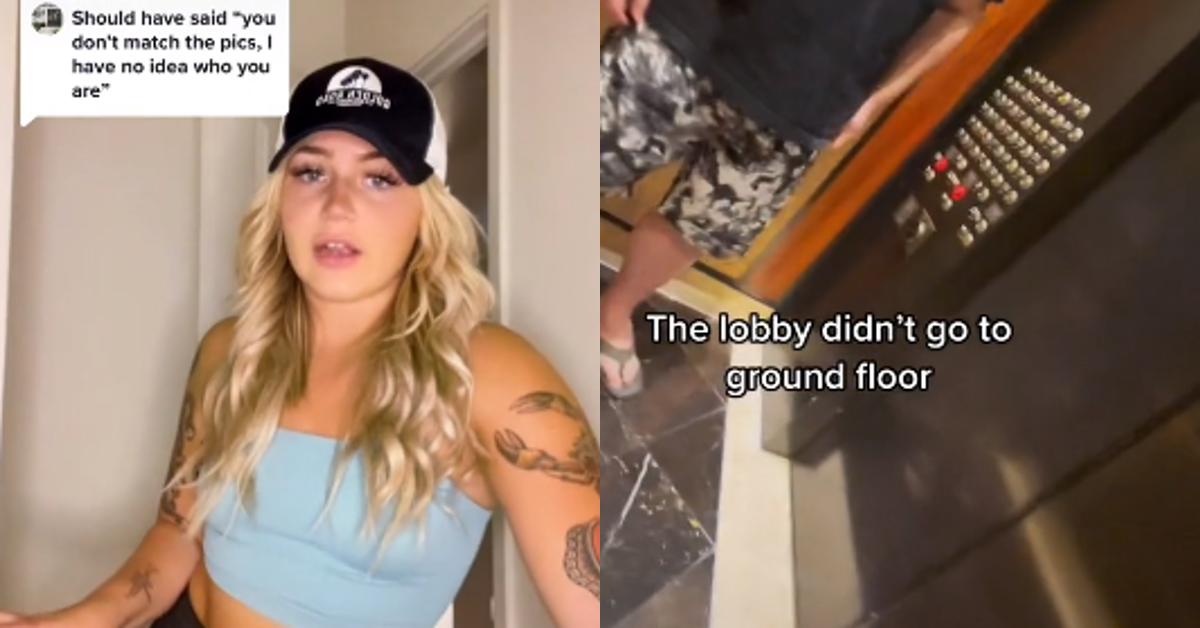 Woman Says "Ugly Man" Catfished Her and Wouldn't Let Her Leave Date in Viral TikTok
Navigating romantic relationships is tough for a multitude of reasons. First off, modern dating can be a mixed bag...and I don't mind like a trail max with m&m's and peanuts, some cashews, and a few stale raisins, I'm talking a bag of hard turds, soft turds, green turds, wet turds, straight up diarrhea, and maybe one Cracker Jack Box ring that you only get to after channeling your inner Andy Dufresne.
Article continues below advertisement
Hopefully, most of our dating misadventures stop at just boring conversations, crumby bar/restaurant choices, poor hygiene, and a terrible realization that it's probably never going to work out between you and this other person.
But sometimes, we can get involved with full-blown clingers who just won't leave us alone, and their attitudes range from annoying and harping to...well...downright scary.
Article continues below advertisement
Sure, you can nitpick the fact that she told everyone on the internet she thought that the guy was "ugly" when she met him for a first date, but when you look at what she recorded during their entire, you can feel how tense things are between the two of them.
Article continues below advertisement

TikToker @sharkbaitoohahah titled the video "Catfished by an ugly man" and it starts with her walking away to an elevator. The man follows the woman asking, "Why are you leaving?" even though she tells him he doesn't need to come down with her.
Article continues below advertisement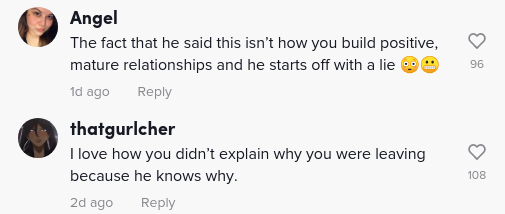 He proceeds to follow her into the elevator anyway and she presses the button for the ground floor. He hits the lobby button (MSN writes that the TikToker met up with him at a top-floor restaurant).
When he asks her again why she's leaving, she says "Because I want to go. Can I not go if I want to go?"
Article continues below advertisement

"Yeah you can I just wanted to hang out with you a little bit you came all the way down here," the man says.
"Yeah but I want to leave," she says as she exits the elevator, only to discover that there's no exit via the lobby, meaning she has to walk back to the elevator to go to the ground floor to leave the building.
Article continues below advertisement

The man asks her again why she's going and repeats that he would like to speak with her. She tells him again that she's leaving because she feels like it, "Is that not a good enough reason?" she asks.
The man replies, "Not really. No, it's really not — not if you're going to be a mature adult that builds positive relationships."
Article continues below advertisement

The TikToker added that the man had continued to follow her to the Uber that she called. In a follow-up video she provided more context into the incident, stating that she had matched with the man on Tinder where his photos showed a completely different man.
Article continues below advertisement

"I matched with this guy on Tinder. He was supposed to be taller, like semi-fit, Hispanic. Definitely a completely different dude than the guy that actually met up with me in person. So we match that same day. It was like 10 a.m., maybe—it wasn't at night. It was the middle of broad daylight, so I didn't feel that unsafe."
Article continues below advertisement

In the video, she states that she agreed to meet up with him at a hotel restaurant located on the top floor of the building. He had already ordered food for her, a move that she suspects he did to "guilt trip" her into staying. Upon seeing he wasn't the guy she matched with she asked to go to the restroom and then ordered an Uber.
Article continues below advertisement

She had the Uber drop her off at a public place in case he followed her car so he wouldn't know where she lives. The original video began when he noticed she was slinking off. She says that the man thankfully didn't follow her to the public place and she unmatched him on the app and she never heard from him again.