We're Terrified of Buying Used Furniture After Seeing This Man's Roach-Filled Chair on TikTok
A TikToker went viral after posting footage of a used chair they bought that's apparently filled with roaches.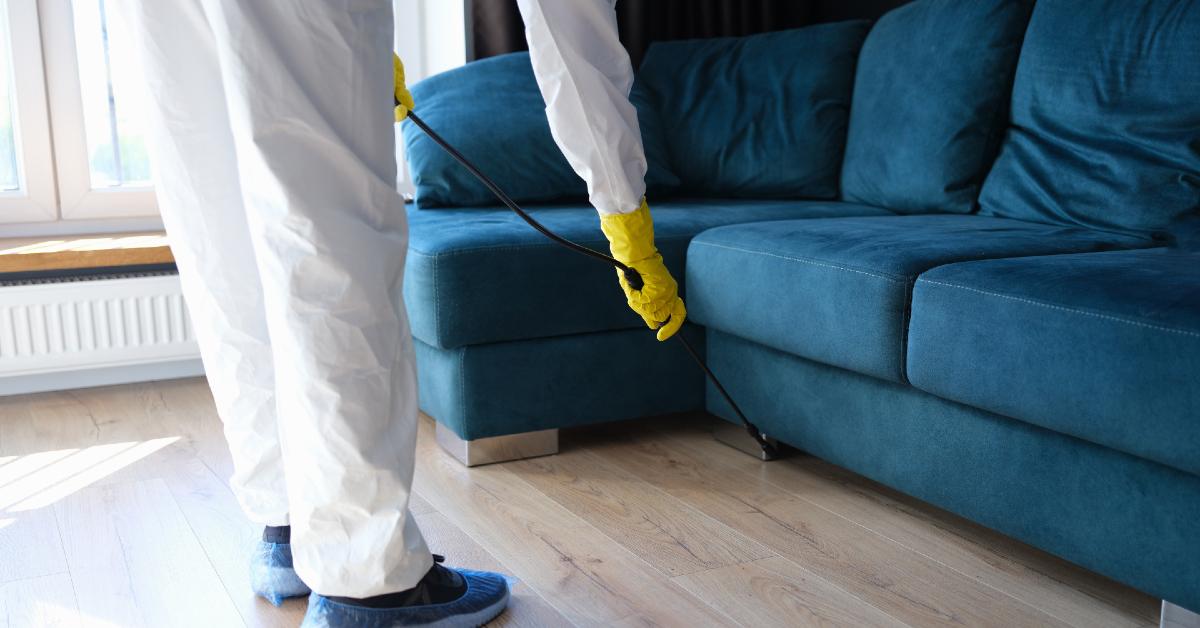 Many people love swapping out the furniture in their home every so often to update the look of their home. Oftentimes, there's nothing really wrong with these items per se and, as the saying goes, one man's trash is another man's treasure.
Article continues below advertisement
OK, maybe treasure is a bit of a stretch when it comes to describing the exhilaration of finding a used coffee table that could totally work in your living room, but it's definitely a relief when you don't have to shell out a ton of money for furniture you would've otherwise had to buy brand new.
Thankfully, there are tons of places where you can find used home decor at a steep discount, and in some cases for free as long as you've got a truck and a someone willing to help you move it out of their place.
However, as one TikToker recently demonstrated, you might end up bringing home a piece that comes with some unwelcome extras.
Article continues below advertisement
In a now viral clip posted by a user with the handle @blocheadkg, the creator shows a chair he bought on Facebook Marketplace. In the beginning of the clip, it looks like a run of the mill chair in decent enough condition.
Article continues below advertisement

However, when he lifts the chair up and slams it against the ground, a mass of roaches falls to the pavement and begin scurrying about, suggesting the home he bought it from was infested with the critters. He did all of this while outside, and hopefully it was before he brought the chair inside his own house, giving him a nightmare pest problem.
Article continues below advertisement

He writes in a caption for the post: "This why you don't [buy] used furniture from facebook marketplace. [House] could have been full of roaches."
A text overlay in the video reads, "THIS IS WHY YOU [DON'T] BUY USED Furniture... FULL OF Roaches"
Article continues below advertisement

Other TikTokers expressed their disgust at the person who sold the chair to @blocheadkg. Some mentioned that they had similar experiences buying used items online, which unknowingly infested the home with pests that were extremely difficult to get rid of.
Article continues below advertisement

"I [would've] went back swinging," one commenter said.
"Imagine [doing] this in front of the person you're buying from," another said.
"No really. Please guys beware," someone else warned. "We did this and it was nearly impossible to get rid of them. I still have dreams about them sometimes too."
Article continues below advertisement

"You better hope none went in your house and [multiplied]!" warned another viewer, while some were more concerned about the rest of the neighborhood.
"That boy released an entire threat to the community in one sec." Agreed another, "Now the whole complex bout to have them."
Article continues below advertisement

Many home decor experts list items you should stay away from when purchasing used furniture. Generally speaking, it's a bad idea to buy used items that hare heavily cushioned and upholstered, because they can contain damage, pests, or mold that you may not be seeing.
Article continues below advertisement

What do you think? Do you have an issue with purchasing used furniture from sites like Craigslist or Facebook Marketplace? Have you done so and had only great experiences?