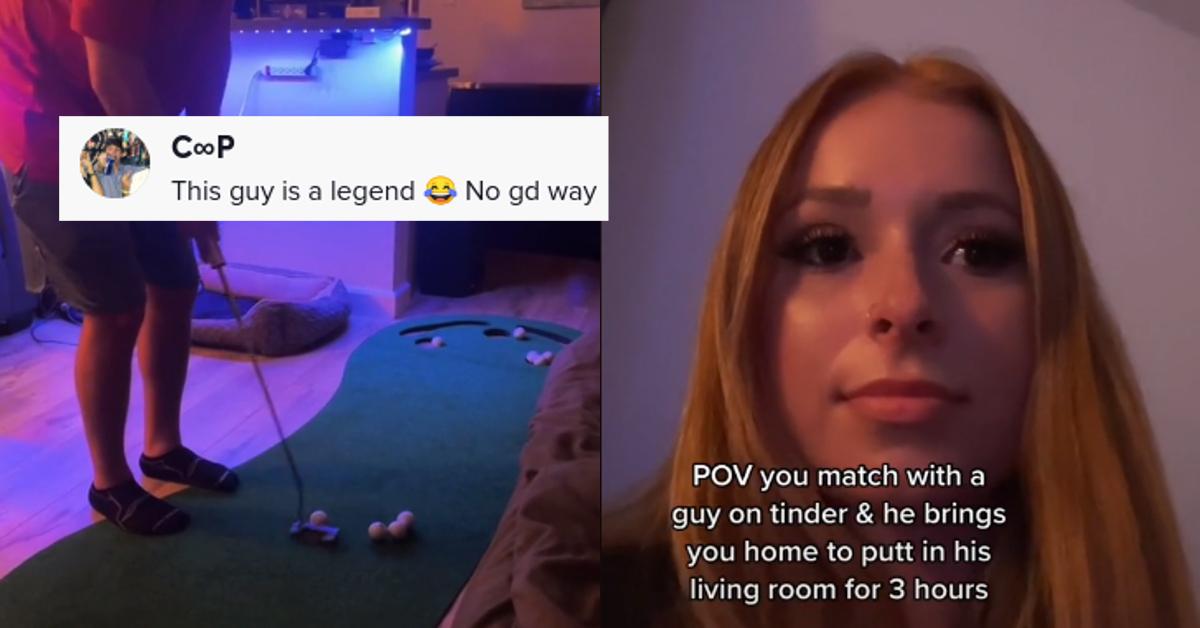 Woman's Tinder Match Plays Mini-Golf for 3 Hours in His Living Room on First Date
Going on a first date can be a really daunting experience, especially if you're in a situation where you think that whoever you're about to embark on a potentially romantic encounter with is out of your league.
So you start to panic and formulate plans in your head.
Article continues below advertisement
You painstakingly go over all of the potential dating ideas/options that you could pursue. What's the weather going to be like? Is there a great outdoor activity that you could plan? Do they like outdoor activities? Do you want to make sure that you don't get too sweaty? Would you rather meet them at a good but inexpensive eatery so you don't feel like you're trying too hard? Or is coffee better?
A lot of these fears in dating can probably be best summed up by Jennifer Coolidge's character in The White Lotus who exasperatedly decides to just let all of her crazy out to a guy that she likes at the onset of their relationship in an attempt to not waste any time. If that craziness is going to push him away, then he's not the one for her. And if he's down for it, then, hell yeah let's ride.
Article continues below advertisement
Which is what many are arguing was the thought process behind this one woman's Tinder match who decide that a great date idea would be to bring her back to his place and then whip out a golfing mini green right in his living room and get to putting. For three hours straight.
Article continues below advertisement

She uploaded snippets of the experience to TikTok without exposing the guy's face or revealing his identity and it's clear to see that the's having a heck of a time playing golf.
Article continues below advertisement

She placed a text overlay in the video that read: "POV: You match with a guy on Tinder, and he brings you home to putt in his living room for three hours."
The video shows him both putting the golf ball and cleaning up the green with a miniature vacuum cleaner. Which honestly shows just how dedicated he is to his craft.
Article continues below advertisement
But it also was one of the more awkward parts of the dating experience for the woman, who said that the reason why he cleaned the green was because she "stepped on it with [her] shoes, and he nearly had a heart attack."

Article continues below advertisement
While the TikToker, who posts under the username @taypole, probably wasn't too enthused to discover that her date with her Tinder match ended up being a 180-minute long golf practice, there were several people who thought that the entire situation was hilarious.

Article continues below advertisement
Some were convinced that the man in question had to be a troll and that he maybe had to play mini-golf in his living room for three hours as part of a dare or fantasy league punishment from his group of friends.

Article continues below advertisement
Others speculated that he intentionally didn't put his best foot forward out of the gate and decided to get as absolutely nerdy as possible over something he's passionate about from the outset (the White Lotus technique) and if it's that much of a turn-off for someone then "good riddance."

Article continues below advertisement
Well, whatever he did ultimately was charming, probably because he was having honest fun and excitement because @taypoole did decide to go on a second date with him.
"[He's] smart, funny, and cute." Well sounds like she got herself a real...hole-in-one with this fella (I'll see myself out.)

And guess where the second date is? You already know: a golf course. She has to know that if she ends up with his guy, she's basically going to be a mistress to his golfing habit. Which wouldn't be so bad if he is or goes pro.