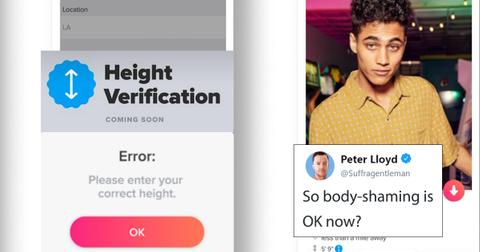 Guys Got Really Upset About Tinder's Height Verification Joke
By Mark Pygas
Yesterday was April Fools, and perhaps one of the best announcements came from Tinder. They jokingly announced that they were introducing "height verification" to stop men adding a few extra inches on to their profile.
Tinder dropped the news a little ahead of the ball on Friday, leading many to believe that the feature was actually real.
"It's come to our attention that most of you 5'10ers out there are actually 5'6," the statement read. "The charade must stop. This type of dishonestly doesn't just hurt your matches — it hurts us, too."
They added that the feature was intended to "require everyone under 6' to own up to their real height. We're bringing truthfulness back into the world of online dating."
And as predicted, everyone under 6' seemed to get really upset by the prospect. "Cool with this," one guy wrote. "Just add a weight verification as well for the ladies who love to show those old pics!"
"So body-shaming is OK now," another user asked. "Can't weight [sic] for you to weed-out fat women with silicone tits, tattooed eyebrows, fake tan and dyed hair!"
While another guy added: "Stop shaming men for their height. Women would be OUTRAGED if tinder released WEIGHT verification, something far more important, because height is never due to lack of personal care. If you get height verification, we want weight. Sincerely, a verifiably 6'3" male."
"Women care about height much more than men," another user wrote. "Men care about weight much more than women. "If men asked for weight verification, we'd be vilified. It's all superficial bulls**t. Just love the hypocrisy."
Though to be fair, some guys actually had a sense of humor about the whole thing.
And it wasn't just girls getting excited about it. Some dudes had a good sense of humor:
Don't worry guys, it's all just a joke. Maybe next year they can get their revenged.