'Tiny Creatures' Director Says Animals Were "Treated Like Royalty"
'Tiny Creatures' came out on Netflix only recently, but viewers are already up in arms about the show. Does it depict scenes featuring animal abuse?
According to some, Tiny Creatures serves as proof that it's possible to shoot nature documentaries during the lockdown. As others claim, however, the new Netflix series features blatant instances of animal abuse, and as such, it should be boycotted. So, what's the truth? How was the series produced?
Article continues below advertisement
Netflix addicts claim that 'Tiny Creatures' glorifies animal abuse.
Directed by Emmy-Award-winning cinematographer Jonathan Jones, Tiny Creatures champions an unusual approach toward documentary filmmaking. In the course of eight episodes, the series offers a rare glimpse into the day-to-day struggles faced by some of the least popular animals out there. The cast comprises of a rat, a mouse, a tarantula, and a garter snake, alongside many others.
Article continues below advertisement
Unlike any other nature documentary series out there, Tiny Creatures heavily draws on anthropomorphism, attributing human feelings to each of its stars. This might explain why it has already garnered a great deal of criticism on Twitter, with worried viewers denouncing the series for its unashamed depiction of animal abuse.
"Tiny Creatures on @netflix is the most blantant [sic] display of intentional animal abuse I have seen on TV, masquerading as an "animal documentary". Predators deliberately boxing in prey species and dangerous human interactions involving motorbikes and guns. What were you thinking!?" tweeted a person.
Article continues below advertisement
"If you plan to watch Tiny Creatures on Netflix, be careful or reconsider if you're triggered by animal abuse (or bad editing/fake nature docs). Idk how much is CGI but they had a dude drive a dirt bike & another dude shoot guns at a kangaroo rat just tryna survive," wrote somebody else.
Article continues below advertisement
What some viewers might not recognize is that the series is the result of masterful editing. Tiny Creatures is set in the U.S., but the majority of the footage was shot in Jonathan's studio located in the backyard of his home in Hingham, England.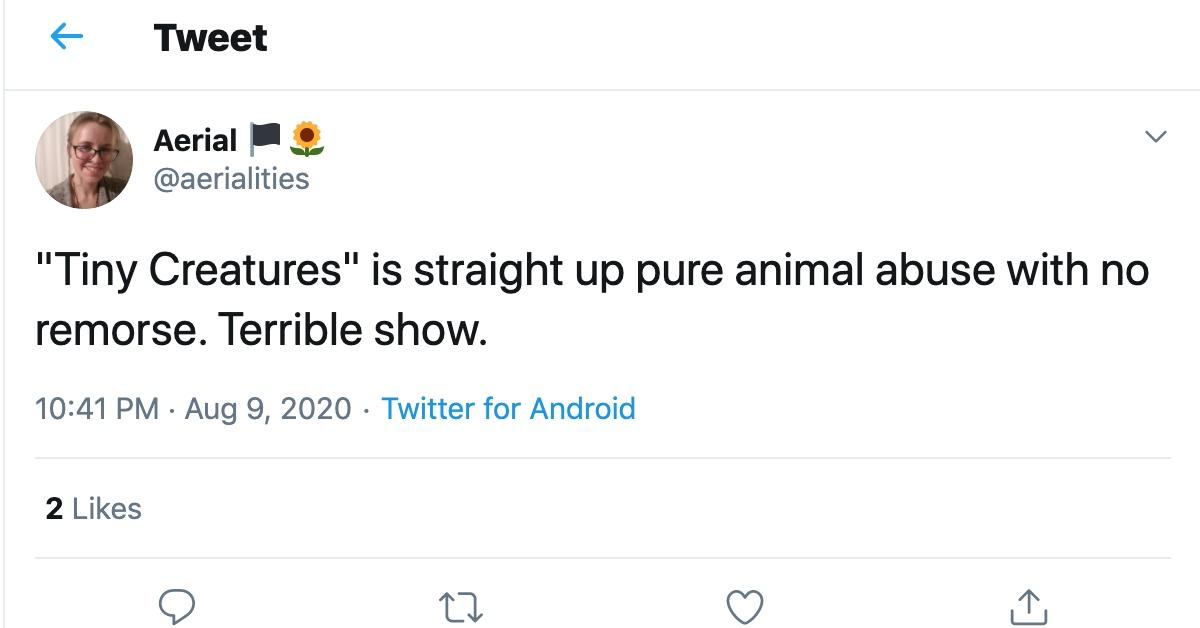 Article continues below advertisement
To adhere to social distancing rules, he worked in close collaboration with animal handlers who helped transport different species to the set on specific days.
Created by a relatively small crew, the series offers a fictive retelling of what specific animals act like in their natural habitat. Although most of the footage appears as though it was shot in the wild, this is far from the case. The self-contained environment enabled Jonathan to exercise even stricter control when it came to handling the animals.
Article continues below advertisement
To ensure that the stars would make it through without suffering any harm, he aimed to shoot scenes featuring predators and their prey on different days. What may seem like animal cruelty in the finished product is the result of borderline genius directing and after-effects.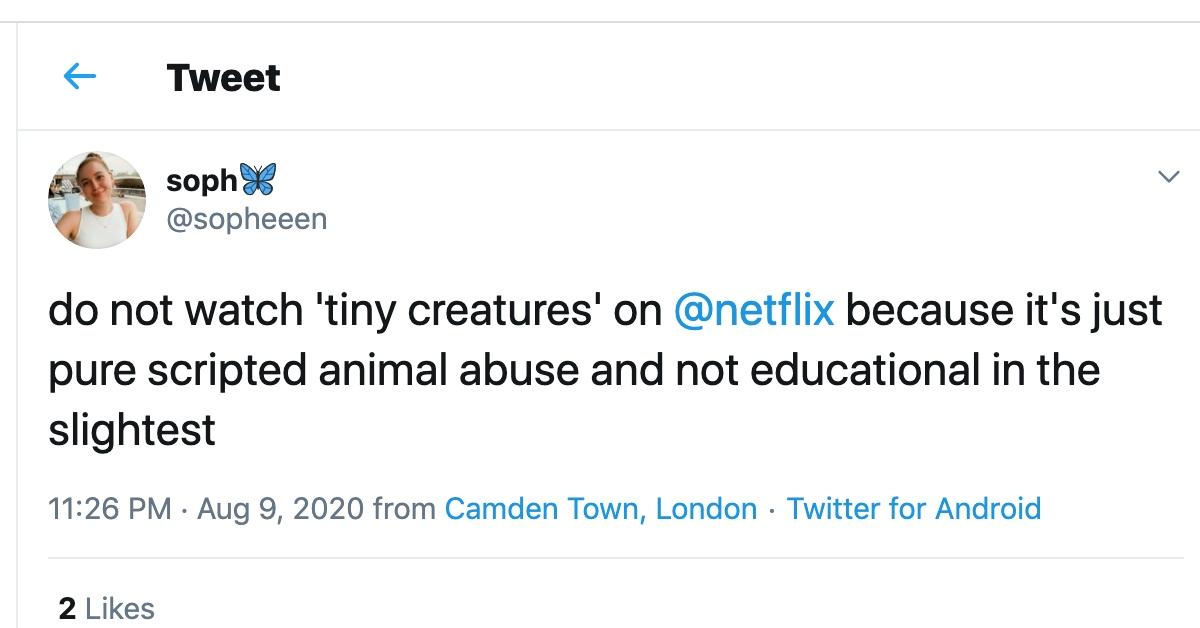 Article continues below advertisement
"The hawk and the kangaroo rat, for example, were not in the same space at the same time [...] We filmed the hawk and worked on its eyeline so that it was looking down. That footage was not very dramatic but when you put together the hawk looking down and the rat running you create a different scenario," Jonathan told the Daily Mail.
"We were very strict about always maintaining animal welfare [...] They are our actors, so we treated them as if they were celebrities!" Jonathan explained in a separate interview with The i.
"They [got] fed incredibly well. There was lots of peanut butter and jam on set. They got treated like royalty," Jonathan added.
Season 1 of Tiny Creatures is available on Netflix now.