If You're Interested in the Tradwife Life, These Influencers Can Get You There
There is nothing wrong with being a stay-at-home mom and these tradwife influencers are showing the way. Is it in to be this devout?
Just the Gist:
Tradwives are stay-at-home moms and housewives who are typically subservient to their husbands.
Most tradwives are Christian conservatives.
These tradwife influencers are fueling the movement via social media.
Article continues below advertisement
What if we lived in a world where everyone was free to do whatever they want, as long as their personal choices didn't hurt themselves or others? Wouldn't it be neat if merely existing wasn't somehow a personal affront to others? Unfortunately, there is a lot of privilege involved in being able to choose what you want to do. For example, most people would probably be artists if capitalism didn't force them to work themselves into exhaustion.
And perhaps more folks would be a single income household with one parent staying home, if paying one's bills didn't often rely on a two income system. That's just one of the many issues I see when I look at the tradwife movement. It's easy to wax poetic about being a stay-at-home mom when you can afford to do so. If you aren't familiar with this new phenomenon, these tradwife influencers can show you the way. And, they'll probably do it with fresh-baked muffins.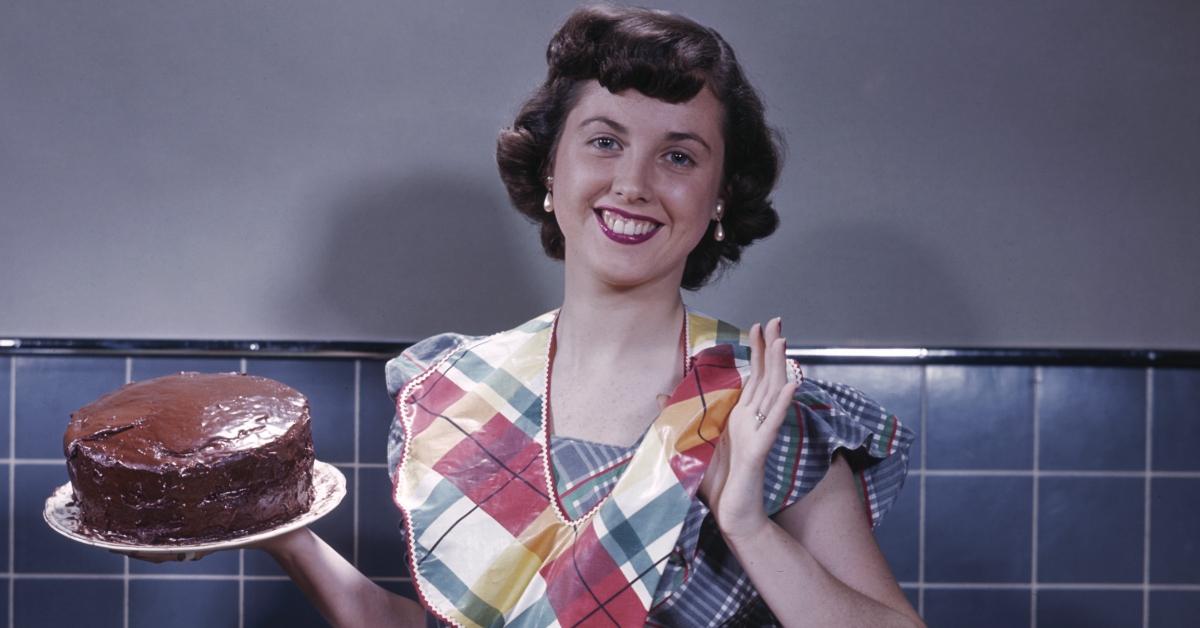 What is a tradwife?
A tradwife, which is short for traditional wife, is a woman who embraces more conventional gender roles in a marriage. They usually don't work outside the home. Instead, they stay home to care for their children and make sure the house is in tip top shape. More often than not, they are Christian conservatives who are subservient to their husbands. It all sounds very Stepford Wivesesque. Let's take a look at some of the tradwives dominating social media.
Estee Williams
Estee Williams is probably the face of the tradwife movement. Dressed as a pinup girl from the 1950s, she perfectly encapsulates what it means to be a traditional homemaker. And although she says it's a choice and she supports any woman who wants to work and be a mother, she said, "As a woman your top priority should be wife and motherhood." Sorry to anyone who doesn't want those things. Estee only supports some choices.
Cynthia Loewen
Cynthia Loewen uploaded a video to her YouTube channel where she debunked the myths of being a tradwife and honestly it's far more grounded than what Estee Williams peddles. Once you get past the fact that she keeps saying "masculine man," Cynthia's approach is far less judgmental. She also claims the tradwife movement is far more diverse than what most people stumble upon via social media. She's Canadian so that does change things a bit.
Article continues below advertisement
Rachel Joy
Rachel Joy appears to have taken a left at cottagecore and headed straight for tradwife. She's more like Estee than Cynthia as noted by one TikTok, where she claims feminism has tried to put a stop to "soft hearts, a longing and/or love for motherhood, and a desire to be lead, protected, and provided for by the husband." One thing I'm noticing is, some tradwives get very upset when they feel judged about their choices but they have no problem judging everyone else for theirs.
Article continues below advertisement
Sarah Wild Mothering
Not that it needs to be said, but Sarah Wild Mothering's tradwife approach really emphasizes the mother part. That's unfortunate because there are a multitude of reasons why people choose not to have children, and some of them don't involve a choice at all. Sadly Sarah seems hyperfocused on motherhood and doesn't really leave room for anyone who isn't about that life. She even did that thing where she said her life's purpose began with becoming a mother. Surely her life had meaning before that.
Article continues below advertisement
Daisy Cousens
Daisy Cousens is aggressive, and I don't mean in the way men say women are aggressive simply because they uttered an opinion. This Australian YouTuber is very conservative and even boasts a Make America Great Again hat in one of her videos though I don't know how she'll do that from Australia. In one video, she claims women are jealous of tradwives. Daisy also suggests that women's lib has made them more angry, not happy. I'm sure it has nothing to do with women's right constantly being stripped away.
Article continues below advertisement
Ekaterina Andersen
What Ekaterina Andersen does feels like the most cosplay yet. Here's the thing, why do some tradwives feel as if they have to also dress like it's the 1950s. If you truly only believe in conventional gender norms, then why does that also mean wearing the most uncomfortable clothing. She also has some wild ideas about sex and feminism. For example, she thinks the sexual revolution is the worst thing that could have happened to women. That's the worst thing? She needs to watch some true crime documentaries.