Wife Refuses to Make Her Husband's Meals — After He Refuses to Help Her With the Kids
In a viral post, a wife reveals that she is refusing to cook for her husband because he doesn't help around the house or take care of their kids.
When it comes to stay-at-home moms (SAHMs), they constantly receive plenty of criticism. Some folks think SAHMs have got it easy, while others believe they're lazy and don't contribute much to society. However, that couldn't be further from the truth — but this husband in the "Am I the A------" (AITA) subreddit doesn't see it as something valuable in his home.
Article continues below advertisement
The original poster, who goes by the handle u/Ladybug0308, revealed that she is no longer making her husband his meals because he refuses to help around the house and doesn't take care of their kids. Ugh, what a jerk!
Read on for more details. Plus, stick around to hear what the internet has to say.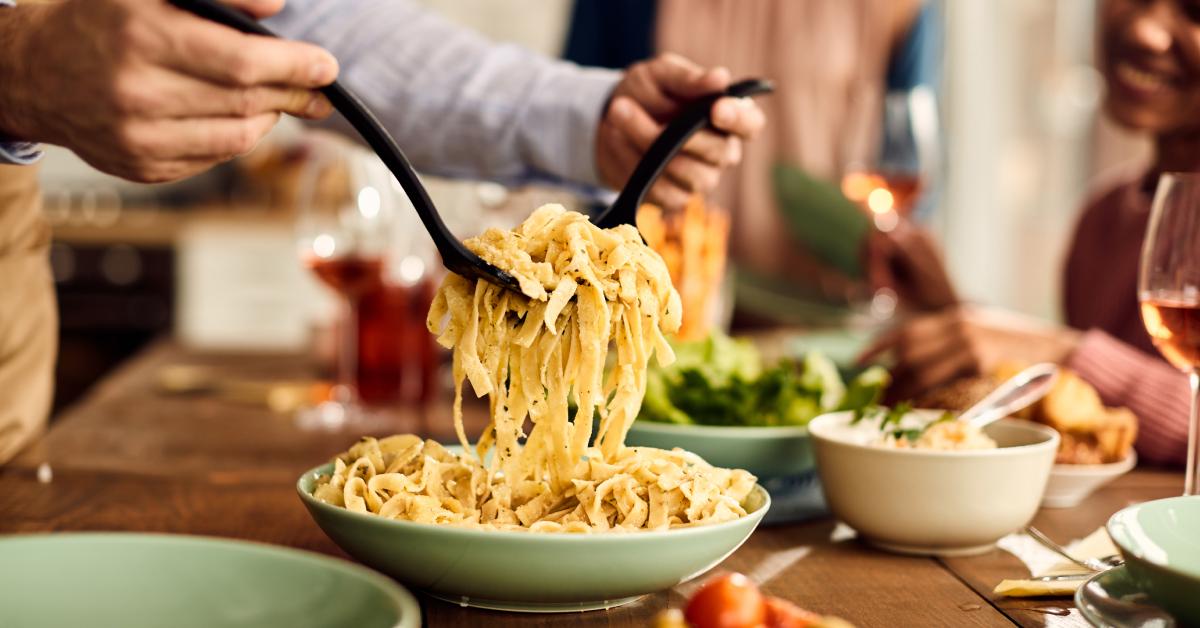 Article continues below advertisement
This "useless and horrible" wife is refusing to make her husband's meals.
The OP revealed she and her husband have three kids, with a fourth on the way. She left her job to become a stay-at-home mom, which her husband should greatly appreciate — but he doesn't. In fact, he belittles her and devalues her contributions to their family because she doesn't "work outside the house."
And since he works a "real job" all week, he believes it's the OP's responsibility to take care of all household chores, such as "cooking, cleaning, laundry, shopping, homework, school activities, and drop-offs." On top of that, the OP's husband also expects her to cook all of his meals. OK, who the heck does this man think he is?!
Article continues below advertisement
The OP said she's recently become so tired from entertaining their kids all summer, and she's having a hard time with her pregnancy. Unfortunately, her husband didn't offer any moral support. He told the the OP, "Life's tough, this is your job," before offering zero sympathy for her situation.
Article continues below advertisement
As a result, the OP didn't make her husband dinner two nights in a row — and he had the audacity to act like it was the end of the world. He pretty much acted like the OP was a "useless, horrible wife," a nasty sentiment that many people would strongly disagree with (including us). She does a lot more than her loser husband gives her credit for.
"Why can't he stop at the store after work and pick himself something up? Or look at what we have in the fridge and make something?" the OP questioned. "When he's hungry, he'll constantly say, 'I'm starving, I'm so hungry, etc.,' being passive-aggressive to let me know he wants me to make him something."
"I'm completely undervalued and unappreciated," the OP added — and we couldn't agree more!
Article continues below advertisement
Reddit couldn't believe the OP's husband's behavior.
To no one's surprise, fellow Redditors rallied in support of the OP and declared her husband the AH.
"NTA. Unless your husband is working 16 hours a day, he had better start stepping up," reads the top comment. "You're doing the work of babysitter, cook, cleaner, and personal shopper. How many jobs is he doing?"

Article continues below advertisement
"So he is supposed to work 40 hours a week while you work every waking hour, while pregnant? F--- that," one person wrote. "You DO WORK. You do HARD work. ... Sorry, but your husband is a s----- husband and a s----- dad. Most people are more compassionate and helpful towards complete strangers than your husband."
"Your husband stinks," another Redditor pointed out. "I'm sorry you're dealing with such an insufferable man who truly has no concept of how much [unpaid] work goes into all you take care of. I would go on strike, lol. Stop making him anything to eat. Stop cleaning. Just make sure the kids are good but nothing else."
Article continues below advertisement
The same Reddit user continued, "Maybe if you ask him to give you one weekend where he handles everything that he expects of you. Let him see how hard it is. ... This guy sorely needs a lesson in gratitude and showing appreciation to your spouse who does so much for you and your family."

On the other hand, some Redditors deemed the OP the AH — what, why?! Well, for having four children with this bad guy. Many told the OP her circumstances won't get any better, so either she keeps her foot down or accepts that this awful dynamic will be around for the rest of her life.