Boss "Demands" to See Woman's Phone After She Was Late to Work Because Her Kid Was Sick
A woman said that her boss demanded to see her phone when she arrived to work late because he didn't believe she sent him a text explaining why.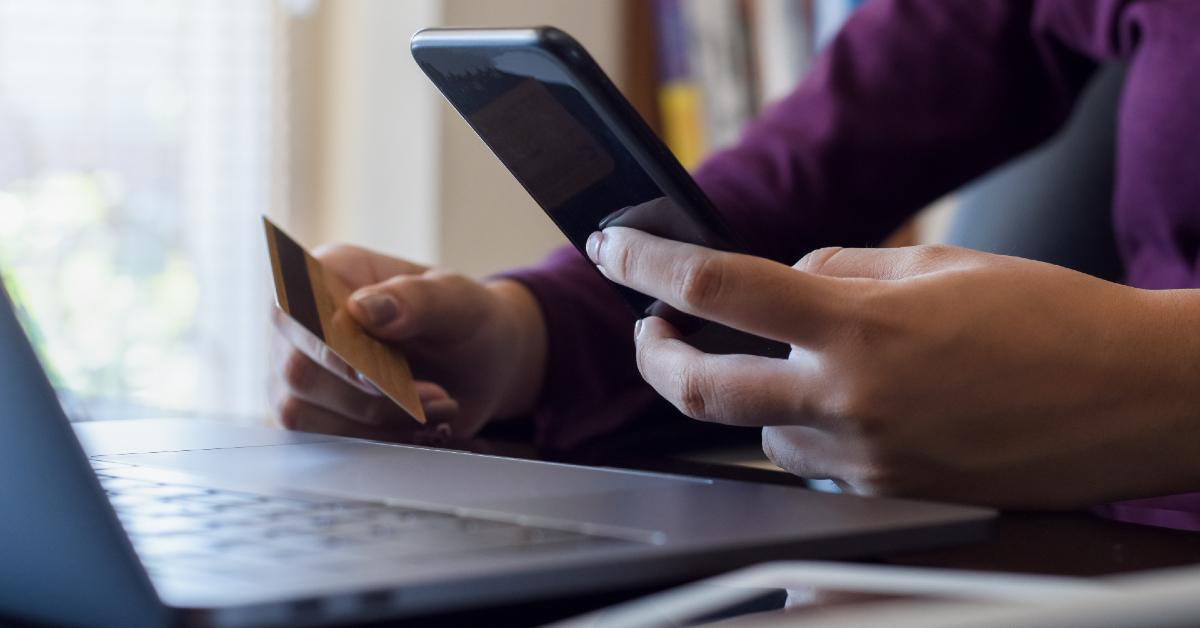 Article continues below advertisement
Cell phone providers will often cooperate with authorities requesting data such as call records, but there are instances where folks, whether they're working for the FBI, your local police department, or TSA, cannot gain access to your device. For instance, if you're detained by the TSA or the police, they can make you use fingerprint unlock on your device, but they cannot ask for your password.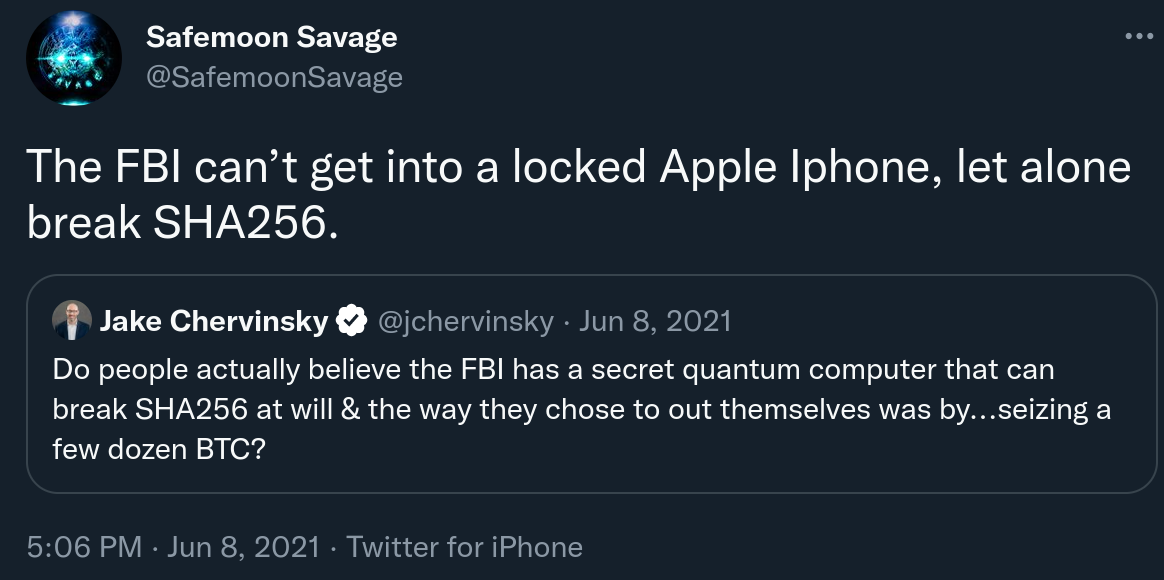 Article continues below advertisement
Privacy laws are in your favor, however, when it comes to an employer demanding access to your device or monitoring it, even if it is for work purposes. According to employment law firm Weisberg Cummings, "Employers need your permission before they can monitor texts on a personal device. The Fourth Amendment of the U.S. Constitution prohibits unreasonable search and seizure and may offer additional protection to public sector employees."
This Redditor's boss should've been privy to this information, however, before asking to access their device. User @throwabossproblem11 penned in a viral post on the social media platform about her boss demanding to see her iPhone after she went into work late.
Article continues below advertisement

OP says she was running late for work one day because her 3-year-old son was sick and had to be taken to the hospital, which caused her to be an hour late for her shift. When she got to work, her boss asked her to step into his office to discuss her tardiness.
Article continues below advertisement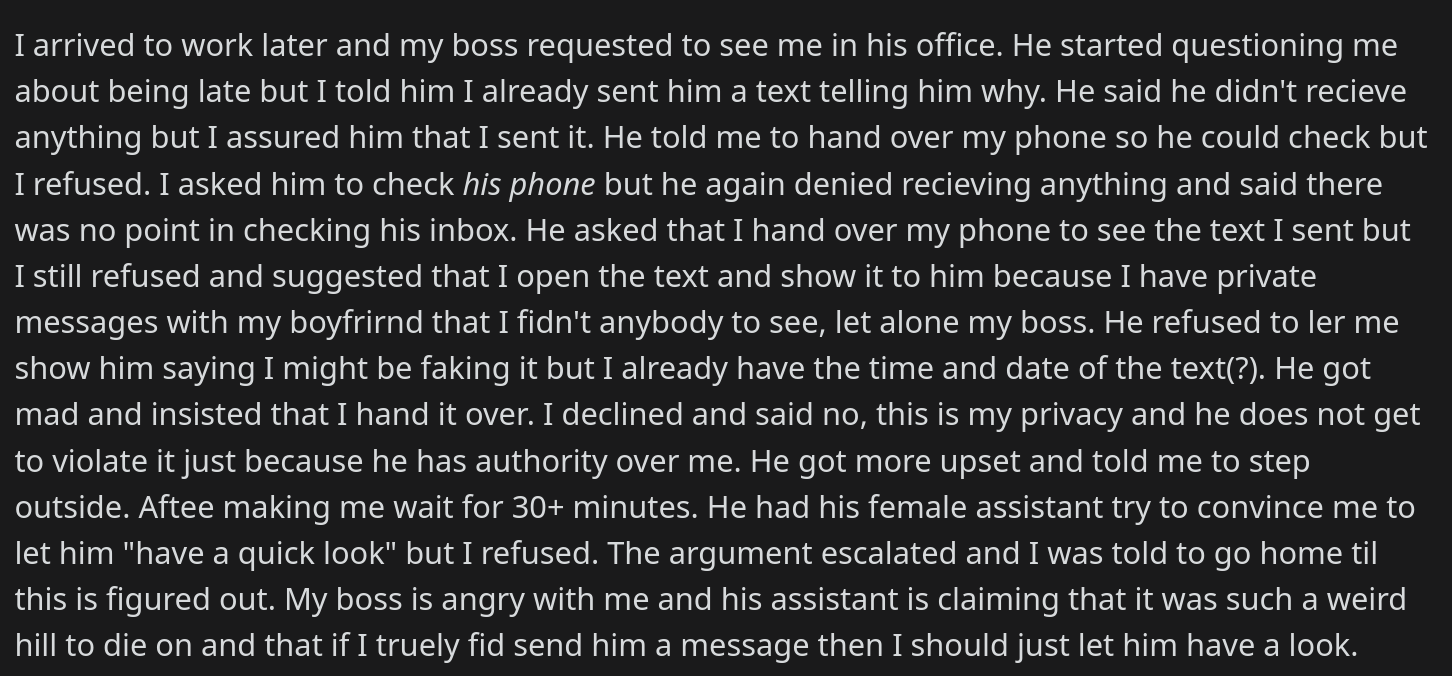 He asked why she wasn't on time for her shift, and she said she had already sent him a text explaining. He said he never received the text and demanded he see her phone to confirm she had really sent the message.
Article continues below advertisement

OP said she wasn't comfortable handing over her phone and recommended he check his text history, which he outright refused to do and again demanded to see her phone.
Article continues below advertisement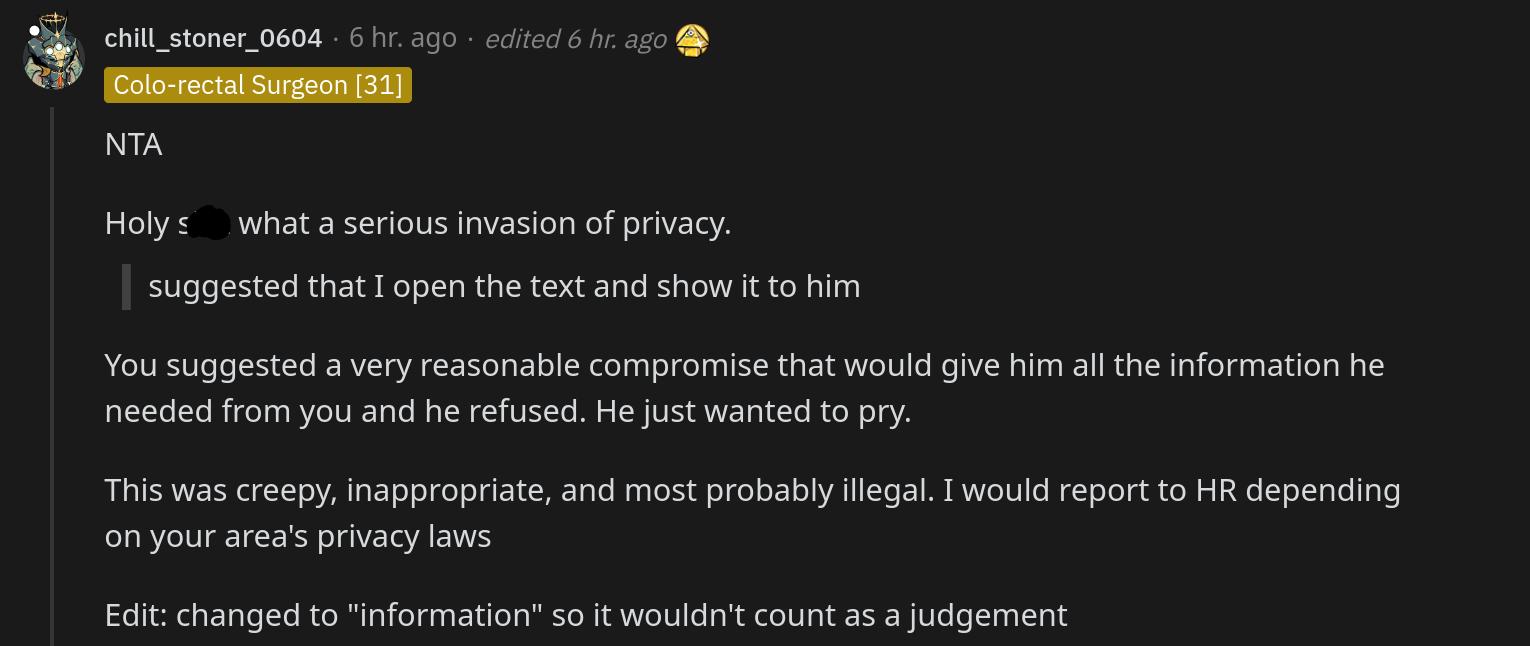 OP declined, because she had private messages on her phone that she sent her boyfriend and wasn't about to let someone else, especially her boss, take a gander at them. As an alternative, she offered to open up the message and show it to him, but he suggested she could possibly be "faking" whatever she was about to show him.
Article continues below advertisement

Ultimately OP's boss sent her home, so she asked Reddit if she was in the wrong for not simply handing her phone over, despite her privacy concerns.
Article continues below advertisement

Tons of Redditors said she wasn't in the wrong at all and called her boss' behavior an "invasion of privacy." Many suggested she report her superior to HR for demanding she hand over her personal device so he could scroll through her conversations carte blanche.
Article continues below advertisement
Others thought there was another reason her boss wanted to grab the phone for himself: to delete the text message and gaslight her into thinking she never sent it in the first place, perhaps so he could write her up or try to save face.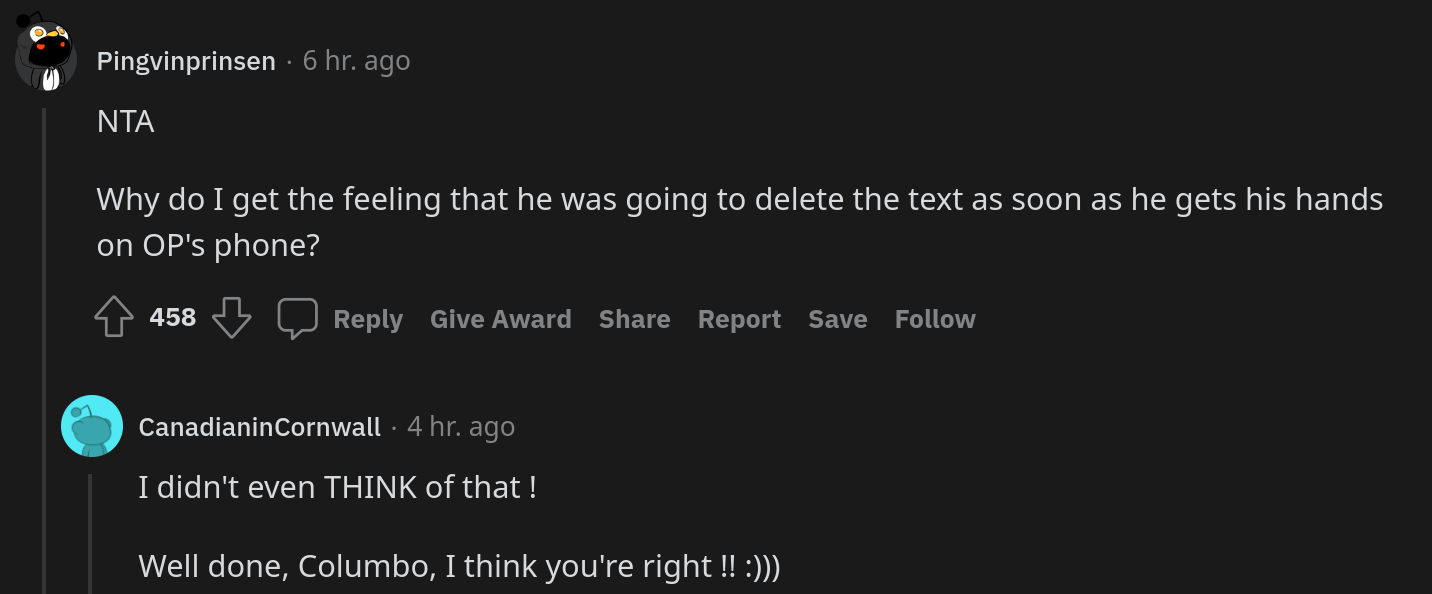 Others suggested she take a screenshot of the message with a timestamp and send it to her boss as well as the assistant he involved in the conversation.
What do you think? Was the boss out of line? Or should she have just forked over her phone to end the discussion right then and there?