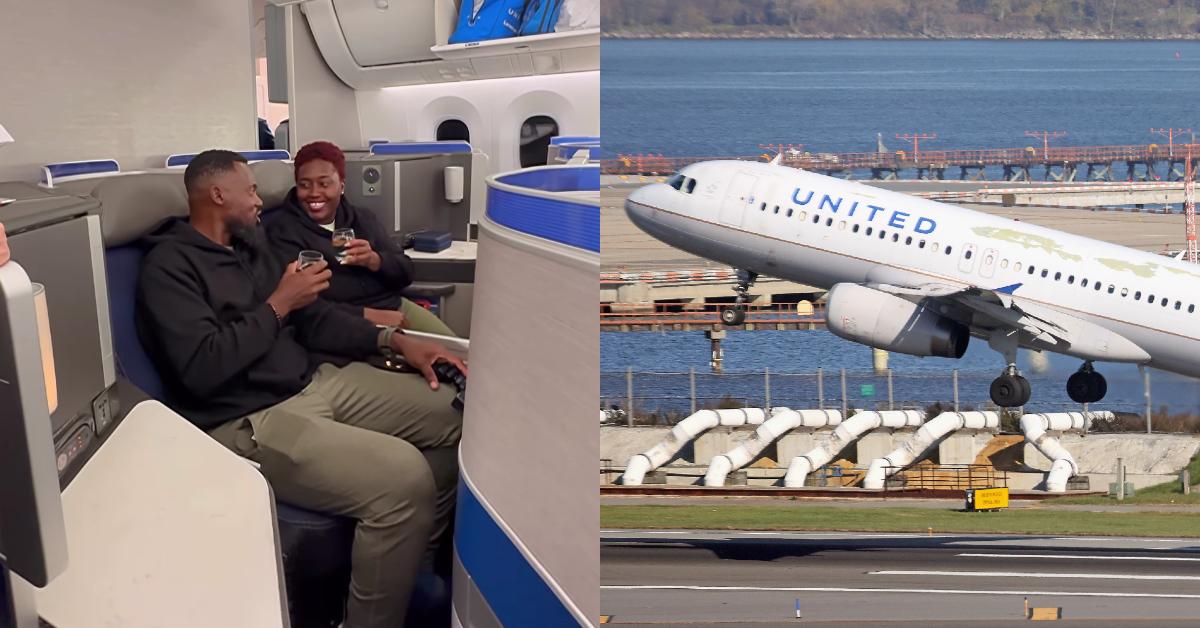 Influencer Leaves 10-Yr-Old Son in Economy After She Receives Business Upgrade, Sparks Debate
A Travel Influencer sparked an online debate after stating her and her husband left their 10-year-old in Economy to enjoy seat upgrades for themselves.
Children are the future: that's an incontrovertible fact. Our biological need to care for them at all costs is something that's deeply ingrained in our brains in order to preserve the future of our species.
Article continues below advertisement
It's one of the reasons why crimes against children and their exploitation of them are so particularly heinous and get folks so angry whenever they hear of them.
There's also the added fact that they can be pretty darn amazing, adorable, and encapsulate a way of thinking that is refreshing to hear oftentimes, especially if you're constantly surrounded by a bunch of pseudo-intellectual adults who are too pre-occupied with fitting in with certain groups or niche modes of thought that they've forgotten how to address the elephant in the room or really think for themselves.
Article continues below advertisement
But all of this has been said to ask one very simple and fundamental question: does this mean that a child should be awarded a free flight upgrade from Economy to Business Class instead of one of their parents?
Article continues below advertisement
That's the question posed by social media Influencer @themomtrotter who was traveling with her husband and 10-year-old son had for her followers after both she and her husband were offered a complimentary Business Class upgrade.
That's because they both had United Premier 1K status while their 10-year-old was just some flying n00b who didn't have the requisite points/spending history with the airline in order to attain the status.
Article continues below advertisement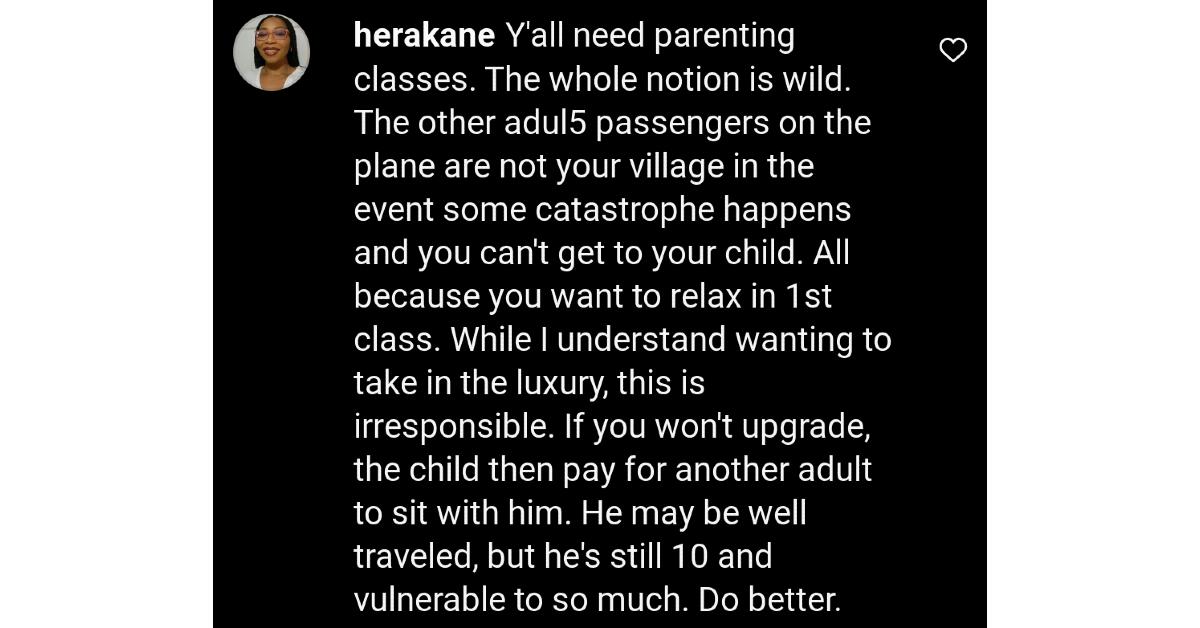 She writes in a caption for a video featuring her and her husband enjoying the luxuries of business class with one another as they toast glasses and smile: "POV: Enjoying business class with my husband on a 13-hour flight while our 10-year-old sits in the back in economy class because he doesn't have United Premier 1K status like we do and didn't get a complimentary upgrade."
Article continues below advertisement
She adds "sorry son" in the caption along with several laughing emojis. She also posed three options for her followers to consider and asked which one would they take while aboard the 13-hour flight: "1. Take the business class upgrade and leave your child in economy 2. Give your child the business class upgrade and sit in economy 3. Decline the upgrade so that you can all sit in economy together"

Article continues below advertisement
Her post received a litany of different replies. One Instagram user joked that they would allow their son and husband the benefits of enjoying Business Class on their own, as they would get to be alone in Economy, which is an upgrade all on its own: "I would give the child and my husband the upgrade and I would take the economy seat. Thirteen hours of alone time IS an upgrade."
Someone else said that it was pretty gnarly of the parents to leave a 10-year-old unattended for that long of a flight as the child has now become the responsibility of both flight staff and fellow passengers just so they could enjoy the luxuries of Business Class themselves.
Article continues below advertisement
"As someone who has sat beside children who's parents did this many times I have no respect for you. There is no way a 10 year old will not need some attention during the flight and I resent you pushing that responsibility off on me and the airline staff."

Article continues below advertisement
Then there was a commenter who replied that while the child would probably be safe on the airplane during the flight, even though it is a long one, there is an "emotional" aspect to two parents leaving their 10-year-old by themselves for so long to himself.
"Safety is one thing. I'm sure your kid will be fine on a plane that you're also on alone at 10. But it seems like you're completely ignoring the emotional aspect of this. Imagine how a 10-year-old feels on a big plane when the two people who are supposed to love him the most and give him unconditional affection leave him alone in a cold, sterile environment (versus alone time at home) to go sit in business class together. That's emotionally traumatizing and is what causes attachment issues later in life. As a kid I would feel super lonely if my parents did that, and I think you're ignoring that to give yourself an opportunistic date."
Article continues below advertisement

What do you think? Which option would have you selected if you were given an upgrade on a long flight with your significant other and your kid? Would you choose to instead alternate seats so everyone got a chance to sit in Business class for a bit?