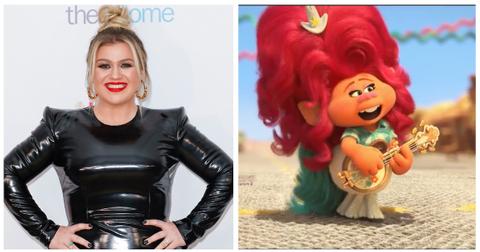 The Cast of 'Trolls World Tour' Is Loaded With Familiar Faces — See the Photos
By Michelle Stein

Updated
The highly-anticipated sequel to the 2016 hit movie Trolls — starring Justin Timberlake and Anna Kendrick — has finally arrived. That's because Trolls World Tour officially dropped for everyone's streaming pleasure on April 10. (For rental, at least). Originally, the film was supposed to hit theaters at this time. But in response to movie theaters closing because of the novel coronavirus pandemic, families can now enjoy the movie from the comfort of their couches.
If you've already watched the second installment of the Trolls franchise, then you undoubtedly noticed a slew of brand new characters — along with some seriously familiar voices. Let's take a closer look at the Trolls World Tour cast, as well as photos of the actors behind behind the lovable new characters.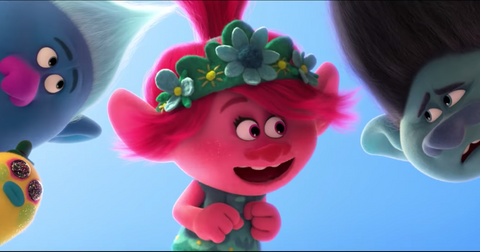 Poppy: Anna Kendrick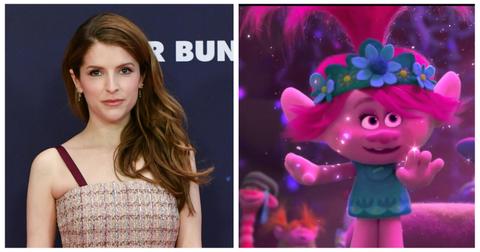 Anna Kendrick reprises her role as Poppy — Queen Poppy, leader of the pop trolls, that is — in Trolls World Tour. Will she learn to listen to those around her and become an amazing queen?
Branch: Justin Timberlake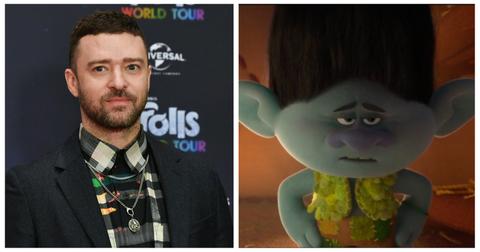 The angelic voice of Justin Timberlake brings the grumpy, yet level-headed Branch to life in Trolls World Tour. This time around, however, Branch is also working through his feelings for Poppy.
Barb: Rachel Bloom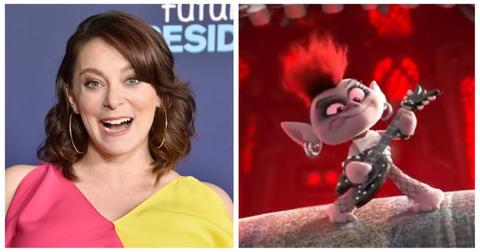 Rachel Bloom is a newcomer to the Trolls franchise, and she voices the queen of hard rock, Barb. If you ask us, she totally nails the part of the hardcore villain. (Her singing is on point, too!)
Biggie: James Corden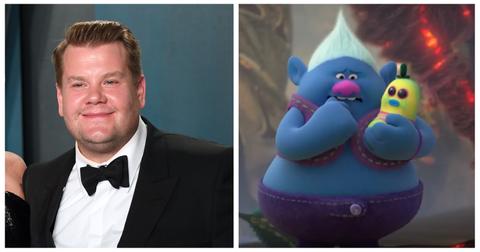 Just as he did in the original Trolls movie, James Corden plays the lovable Biggie in Trolls World Tour. He's the big, blue troll who is always has his pet/BFF, Mr. Dinkles, by his side.
Hickory: Sam Rockwell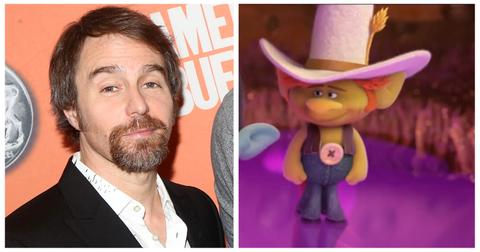 Sam Rockwell is the voice behind Hickory in Trolls World Tour. You might recognize Sam as Captain Klenzendorf on Jojo Rabbit, or perhaps as Dixon on Three Billboards Outside Ebbing, Missouri.
Delta Dawn: Kelly Clarkson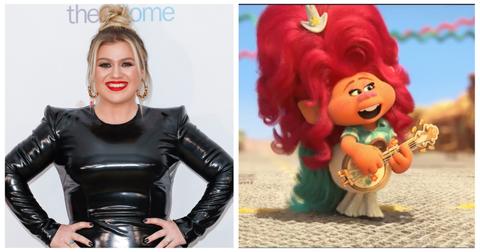 We knew we recognized that voice! The leader of the country tolls, Delta Dawn, is voiced by Kelly Clarkson. And although his troll has an amazing voice and seems nice at first, viewers soon discovered she has a not-so-nice side, too.
Cooper: Ron Funches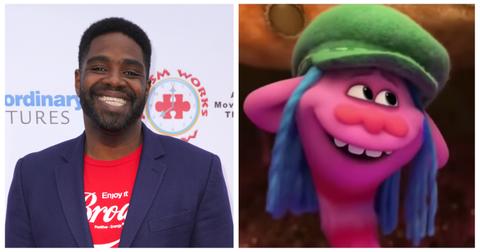 Cooper is voiced by Ron Funches. (If Ron looks familiar, you might recognize him from the TV series Undateable.) This cupcake-pooping troll's four-legged physique always seemed a little out of place among his two-legged peers — and in Trolls World Tour, viewers finally find out why. It turns out, he's actually the son of King Quincy and Queen Essence.
Guy Diamond: Kunal Nayyar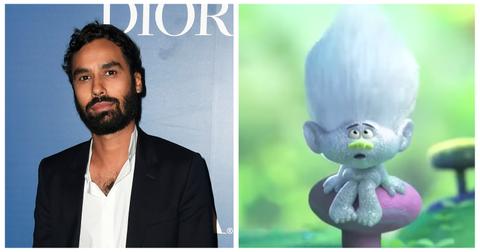 Kunal Nayyar has returned for Trolls World Tour to reprise his role as the voice of Guy Diamond. Guy is everyone's favorite glittery, naked troll — and he goes through a major life change in this Trolls sequel. (Kunal is best known for his role as Raj on The Big Bang Theory.)
Tiny Diamond: Kenan Thompson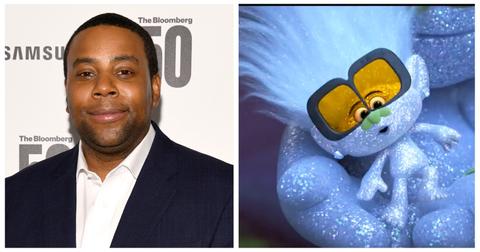 In Trolls World Tour, Guy Diamond "gives birth" to a baby via his hair — and Tiny Diamond is voiced by none other than Kenan Thompson. He's a hip-hop troll, and thanks to the talents of the SNL star, he's got a whole lotta personality going on.
Chaz: Jamie Dornan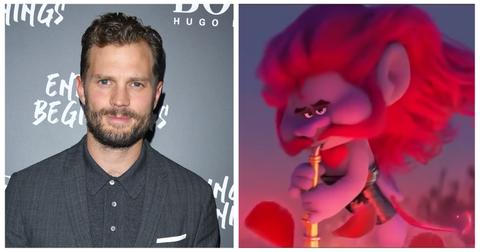 Jamie Dornan is the voice of a smooth jazz troll named Chaz, who is a bounty hunter out to capture Poppy for Queen Barb. It makes sense that Poppy and Branch are totally enamored by his smooth jazz skills — and that Dornan is also the actor behind Christian Grey.
Satin and Chenille: Icona Pop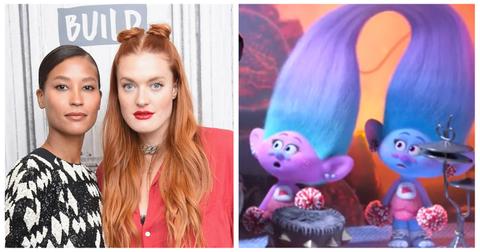 Fans first met Stain and Chenille in the original Trolls movie. These conjoined twin sisters — who are joined by their hair — are voiced by Icona Pop. More specifically, Caroline Hjelt is Chenille and Aino Jawo is Satin.
King Quincy: George Clinton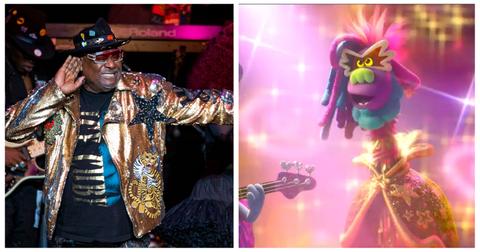 King Quincy is the ruler of the funk trolls — so who better to voice him than the legend of funk himself, George Clinton? King Quincy and his wife, Queen Essence, are the parents of Cooper and Prince D.
Queen Essence: Mary J. Blige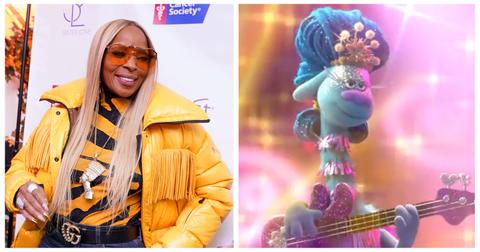 Queen Essence is voiced by Mary J. Blige, who rules alongside her husband, King Quincy, as leaders of the funk trolls in Trolls World Tour. And you can bet she's the one providing the queen's singing vocals, too.
King Thrash: Ozzy Osbourne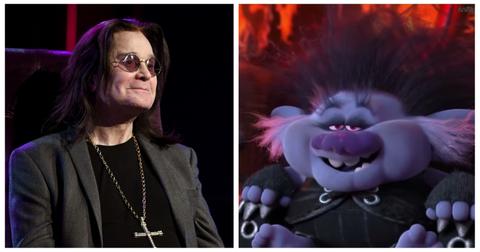 It's difficult not to see the similarities between King Thrash (Queen Barb's father) in Trolls World Tour and the Prince of Darkness, Ozzy Osbourne. As it turns out, Ozzy actually voiced him, too!
Prince D: Anderson Paak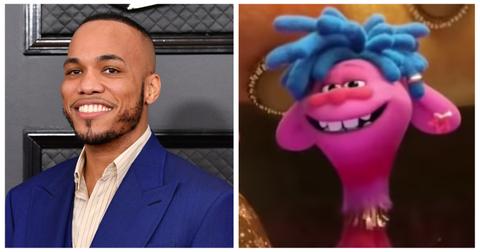 Prince D is the son of King Quincy and Queen Essence — and he's voiced by award-winning musician Anderson Paak. Even cooler? Prince D is actually Cooper's twin brother.
King Trollex: Anthony Ramos
Anthony Ramos is the voice behind King Trollex, who is the leader of the techno trolls. He briefly appeared in A Star Is Born, if you can't quite figure out why he seems familiar to you.
King Peppy, Cloud Guy, Mr. Dinkles: Walt Dohrn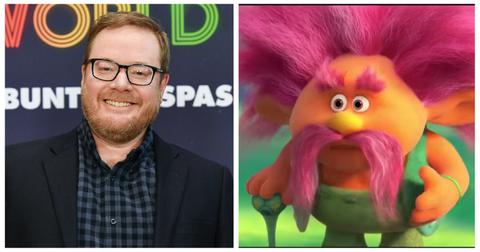 Walt Dohrn is a seriously multi-talented guy — because not only did he voice King Peppy, Cloud Guy, Mr. Dinkles, and a few other side characters, he also directed Trolls World Tour.
K-Pop Gang: Red Velvet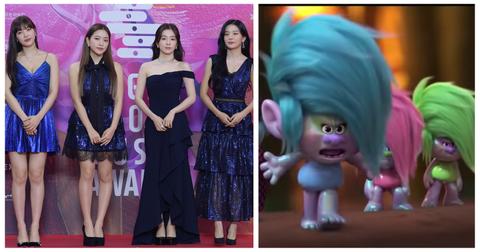 The K-Pop gang is a group of female trolls that represent the K-pop genre of music — and these ladies have got moves. They're based on/voiced by the Korean pop group Red Velvet.
There you have it! If you haven't rented Trolls World Tour yet, then now you'll have a serious heads-up going into the highly-anticipated sequel. And if you've already watched it more than once, you can finally put some faces to all of the new voices you're hearing.
What did you think of the Trolls sequel?