Family With Last Name Uber Blocked From Uber, Can't Use Ridesharing App (EXCLUSIVE)
Michelle Uber and her family were left stranded after Uber disabled their accounts for having same last name as ridesharing app — here's what happened.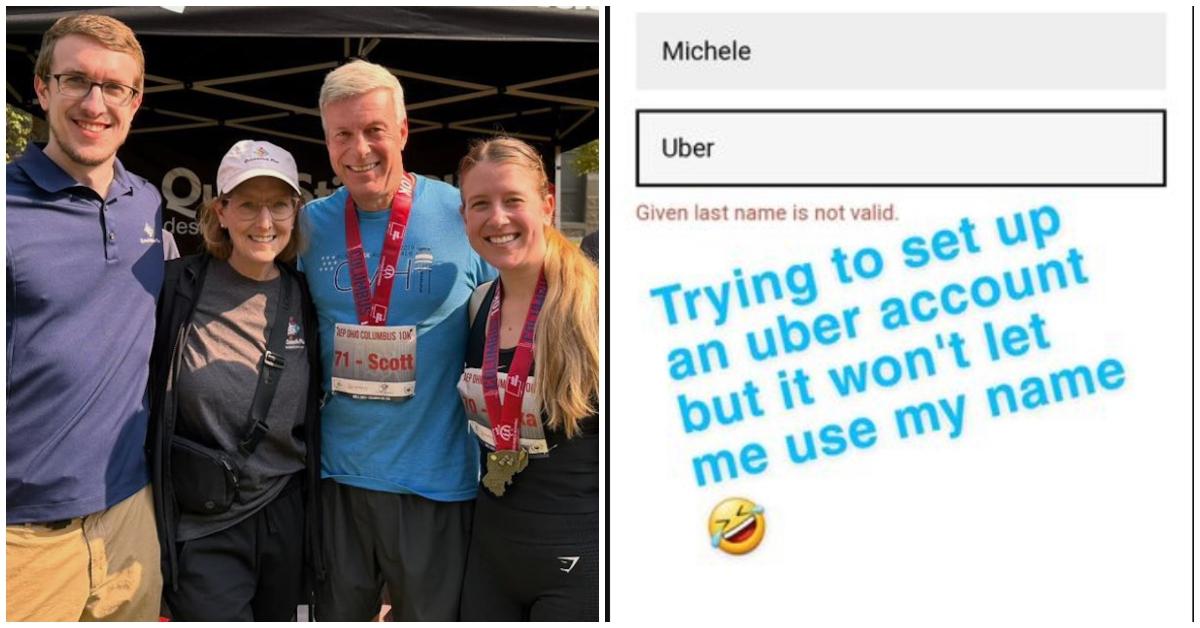 It's hard to imagine life without Uber. Whether it's calling an Uber from the airport, ordering Uber Eats, or just needing a quick ride, Uber has become a part of everyday life for millions of people worldwide.
However, for one family, Uber is not an option at all because they shared a last name with the ridesharing app.
Article continues below advertisement
Michele Uber took to the social platform Threads to share how her family was left stranded at a wedding after being unable to sign up for an Uber account, and her kids' accounts were disabled.
Luckily, the story does have a happy ending.
Turns out, having Uber as a last name does not come with perks on the app.
Michele reached out to Uber on Threads, the social media platform owned by Meta, after her name was flagged as invalid. According to Michele, last summer, after a wedding, no one in her family could get a ride and her kid's accounts were even removed from Uber.
Article continues below advertisement
"Original Uber here wondering why I can't sign up for the app using my name," she wrote to Uber on Threads, along with a screenshot of the app, where her last name is deemed "not valid."
"Trying to set up an Uber account but it won't let me use my name," she added.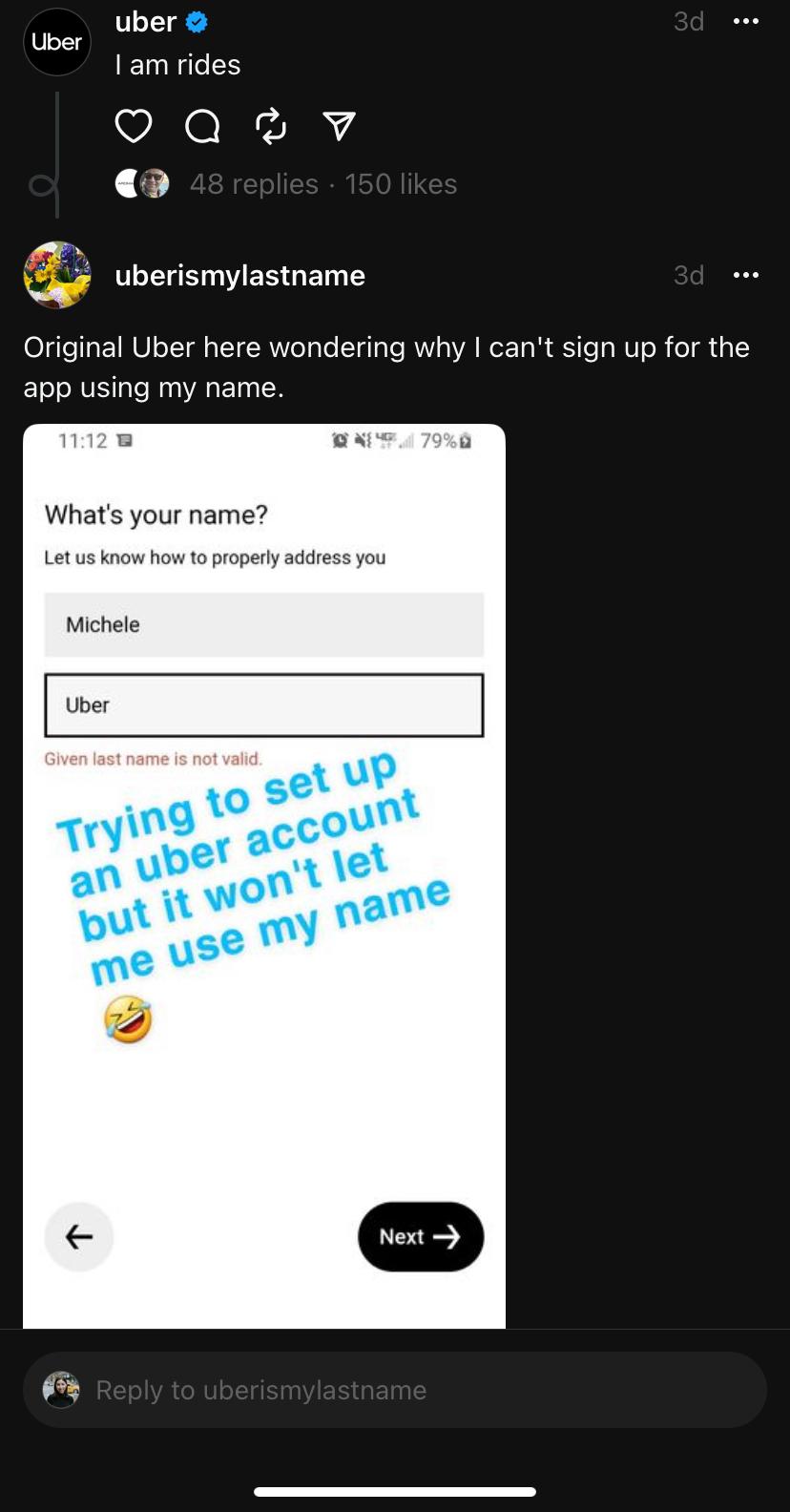 Article continues below advertisement
Distractify reached out to Michele about the Uber fiasco, and she revealed that the situation with the ridesharing app has been going on for years, and her kids are still unable to use Uber.
"My daughter has pursued it over the years, but none of us are able to use the app currently," she told Distractify. "It was humorous and frustrating at the same time. This has been going on for years."
In fact, Michele shared her story on Threads in hopes Uber would finally respond and help them get back on the app.
"I've actually tried to resolve this for a year, but we keep getting a robot answer," Michele explained. "I've even shared our story on social media before."
Article continues below advertisement
Luckily, Lyft came to the Uber family's "rescue."
Since's Michele's Uber dilemma started trending on Threads, Lyft has reached out to the family and gifted them with a $1,000 gift card.
For Michele, Lyft was already her go-to ridesharing app.
"I use rideshare mostly when I travel. As a small business owner, I often go to conferences across the country, and so it would be good to have both options available," she explained. "Thankfully, we can use Lyft."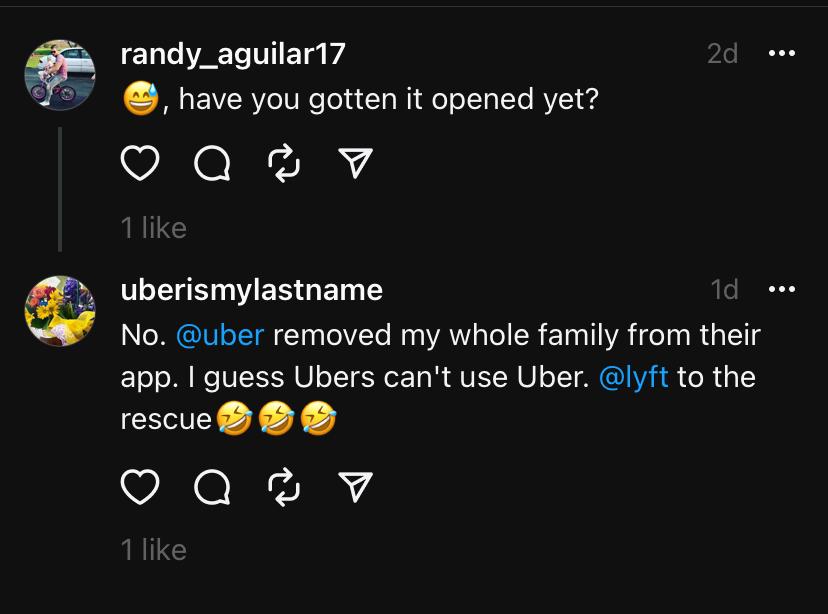 Article continues below advertisement
Despite the inconvenience, Michele does see the humor in the situation and even revealed how sharing a name with a popular app has helped her family in at least one way.
"Yes, everyone asks if we own Uber," she shared. "We used to pronounce it You-ber, a more Americanized way of saying it, but since the app became popular, we started pronouncing it like that — it has actually helped people spell our name correctly, which never used to happen."