Employee Sends Progressively More "Unhinged" Email Signatures Until Her Boss Notices
A woman has been documenting all of the "unhinged" emails sign-offs she's been sending her boss in a series of hilarious TikToks.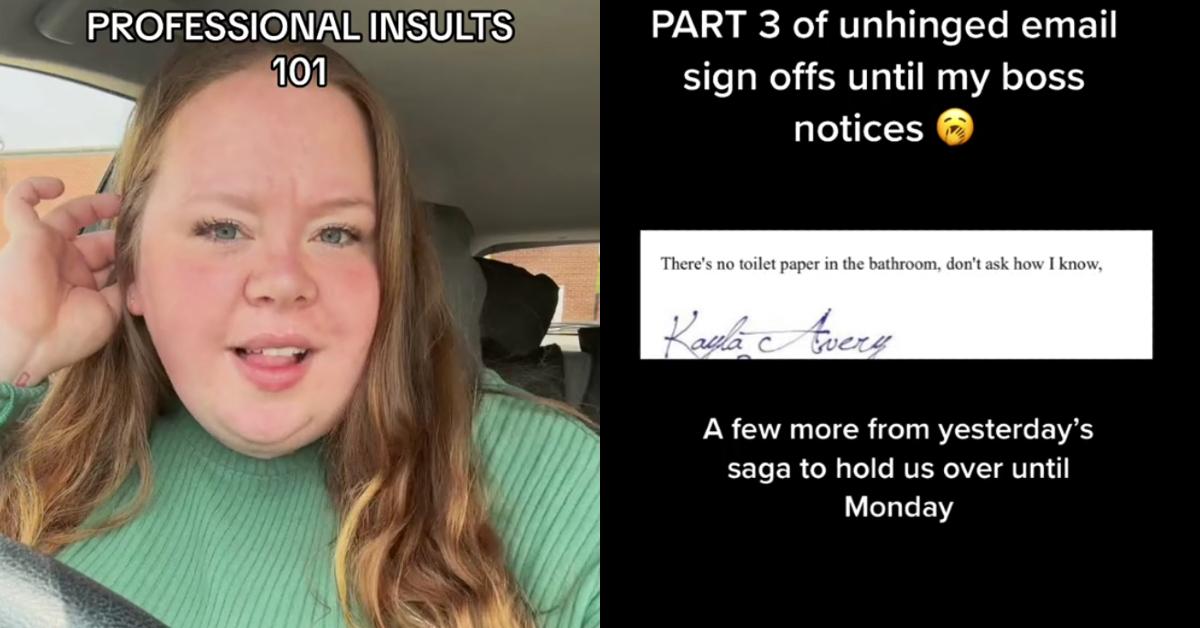 Article continues below advertisement
And it seems that a TikToker named Kayla (@bodybytacobell) has found a way to do just that with the "unhinged" sign-offs she's been putting in her emails at work.
Article continues below advertisement
Article continues below advertisement
One part of her multi-level saga about the "unhinged" corporate sign-offs she's been implementing, racking up a whopping 74,000+ likes. In it, she details some of the messages she's been sneaking into her e-correspondence and seeing if her boss would realize what's going on.
Here are some of the ones she showed off in the video:
Thinkin' with my d---
WEST SIDEEEEE
Glock tucked, big t-shirt, Billie Eilish
Two somethin', and I'm doing something,
Article continues below advertisement

They went on:
it's hard out here for a BBW
On the edge,
There's no toilet paper in the bathroom, don't ask how I know,
Do you feel Bonita? Cause you look Bonita
Article continues below advertisement
Remember when we said that it was a multi-part series? She posted at least 12 compilations of all of these sign-offs as well, here are a few more she's made a part of her daily correspondence workflow:
Considering arson,
Bite me,
Not slim, most definitely shady,
I hope this email finds you constipated
The hits just kept on coming:
Too much panic, not enough disco,
Yeed my last haw,
What kind of f----- is this,
Off the silly goose juice,
eat glass,
chasing the dopamine,
Article continues below advertisement

Then there were some that felt like the confessions of an office worker — the way they really feel about their job and what they'd want to say to the email recipient:
If you have any further questions, find someone else to ask,
Stay schemin,
Peace out, Girl Scout
Small weena, big dreama,
Two words, one finger,
Article continues below advertisement
mama didn't raise no pendeja,
Another fine day ruined by responsibility,
maybe swearing will help,
I have rabies,
respectfully no,
A number of TikTokers who saw her posts were cracking up at the email sign-offs, including someone who said that they worked in their company's human resources department: "As HR, I'm game lol"
Article continues below advertisement

Someone else joked that her sense of humor would make her a shoo-in for new hires at her respective place of work: "I'm hiring Kayla 11 out of 10 times."
Article continues below advertisement
Another person said that they were going to try and adopt Kayla's approach to email signatures when conversing with their own boss: "Paitently waiting for a reason to send my boss an email so that I can do this."
It would seem that there are other people who've done similar things at their own jobs, like one person who penned: "My signature says 'you'll never take me alive' nobody has yet to say anything"
Looks like folks either don't read the signatures or they're just too scared to say anything, how else would've Kayla gotten away with so many video compilations?