You've Been Playing UNO Wrong This Whole Time, According to UNO Creators
The official 'Uno' team behind the game says that people have been playing the game incorrectly this whole time.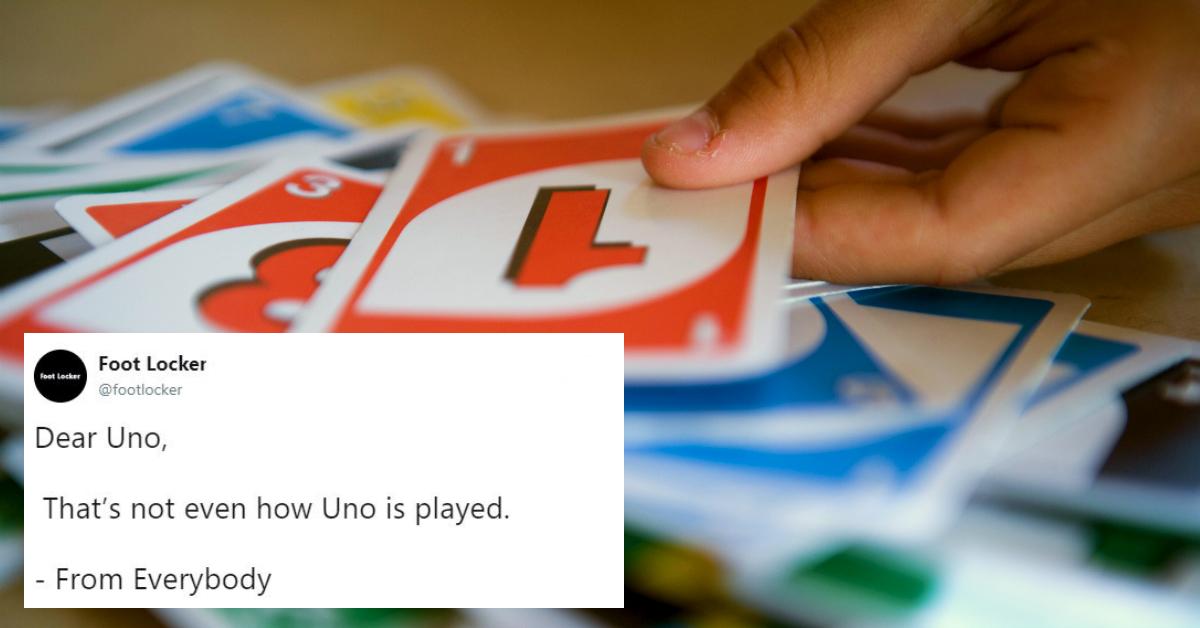 A recent Twitter post by the game brand Uno called us out on a common yet unscrupulous play to clarify that it is actually against the official rules. What do we say in return? "No, UNO. You don't know what you're talking about!"
I mean, they only invented the game and created all of its rules only to be broken as we, the loyal consumers, see fit.
Article continues below advertisement
Uno is about as common a party game as pizza is a party food, and every fan of the game has pulled a few tricks here and there to pile up the special-action cards to stick it to their opponents. One very popular stunt is piling up a Draw 2 card on top of a Draw 4 card. This forces the next player to draw 6 cards and, if the evil doers continue in their evil ways, some of these card hands are going to end up unsalvageable.
In an attempt to put an end to this madness, the Uno team put a friendly reminder on Twitter that this whole piling up "draw" cards has got to stop, that it is actually NOT how the game was intended to be played: "If someone puts down a +4 card, you must draw 4 and your turn is skipped. You can't put down a +2 to make the next person Draw 6. We know you've tried it."
Article continues below advertisement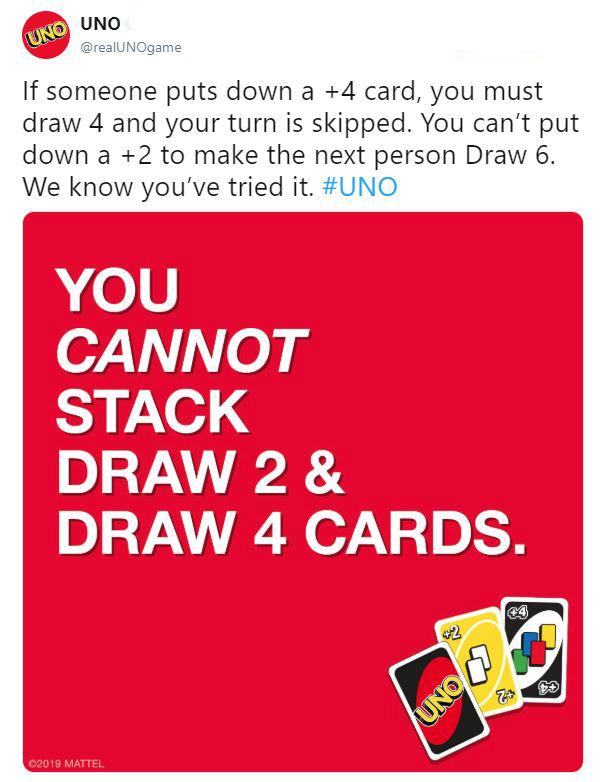 You might hope avid players would just accept the upbraiding, since the message was from the makers of the game, but the comments proved people aren't willing to bend to a rule change even if the rule has always been there, boss or no boss. In fact, they're convinced they know better. Everyone at Foot Locker agreed on that:
Article continues below advertisement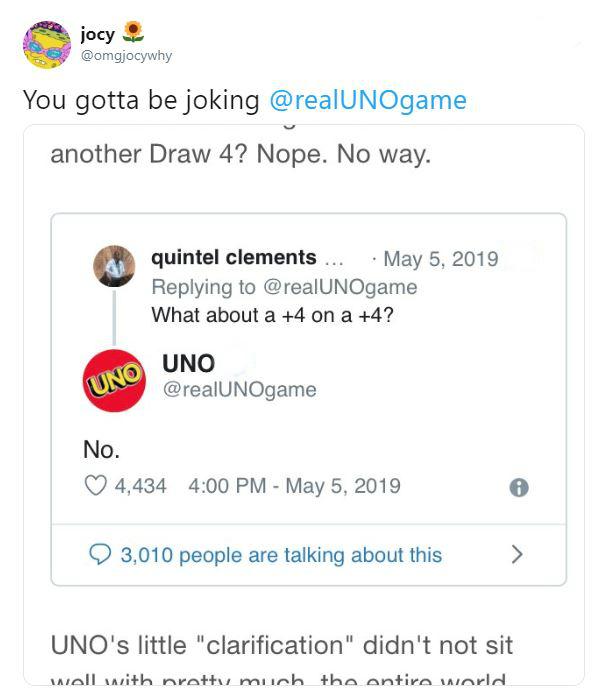 Article continues below advertisement
Tons of other players began sharing their own Uno experiences on Twitter to decry the "rule change" and also highlight that "real" players know the true struggle of being dead to rights in the game, and then using the long-employed rule to change the tide.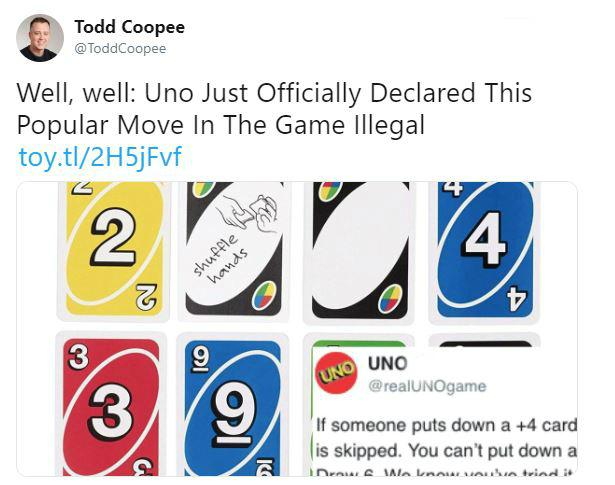 Article continues below advertisement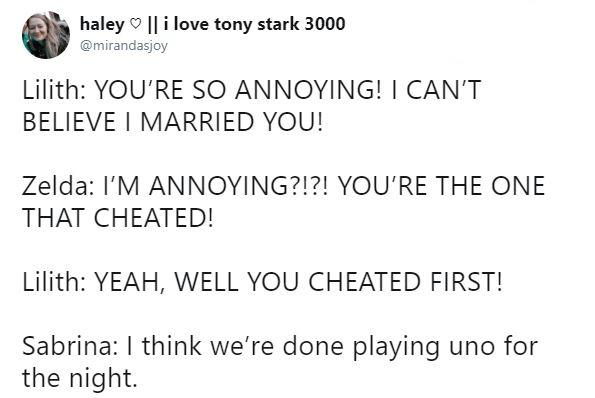 Part of the fun of Uno is that it seems like such an innocuous game and it ends up turning into a heated fight for one's life. Relationships are threatened. Friendships are strained, once powerful allies become sworn enemies. And this rule clarification threatens the exciting, albeit destructive, dynamic of the popular game.
Article continues below advertisement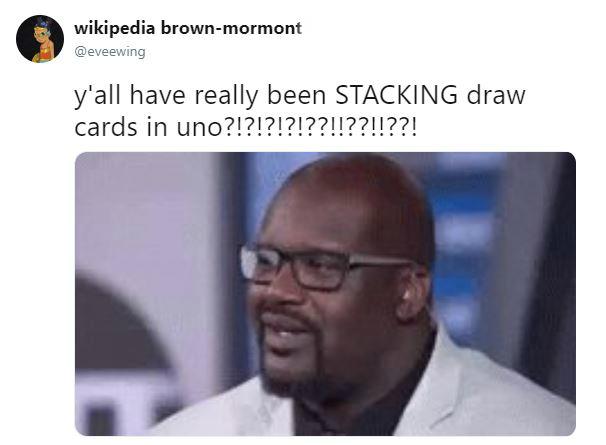 Article continues below advertisement
Other people pointed out that it's kind of crazy players are challenging how Uno is played to the creators of the card game themselves; however, I'd argue the players decide what to do with the rules. I'm sure the inventor of the guitar would be absolutely appalled by the way Jimi Hendrix played it, but I don't hear anyone saying "Purple Haze" sucks.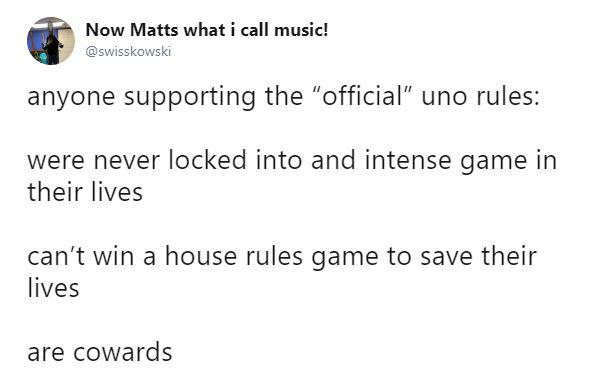 Article continues below advertisement

Others wanted to know just what the heck Uno was doing going on Twitter dictating how people play the game in the first place. Get back to printing cards you nerds.
Article continues below advertisement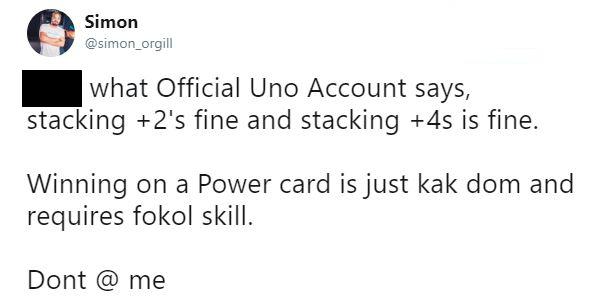 Article continues below advertisement
As it turns out, however, Uno isn't the only game that you're probably playing wrong. There's also Monopoly, AKA, the Family Destroyer 9000.
Article continues below advertisement
As it turns out, you don't need to perform a full lap of the board before you start buying property. You can buy that up the second you land on it. That's right, tell your cousin to kick rocks next time they swear you have to make a complete pass around the board before spending your hard-earned cash developing Atlantic Ave.
In the game of Clue, you can immediately go and make an accusation before making a suggestion. So if you've got a feeling someone is the killer and have an idea what the murder weapon is because you're a psychic or cheater or what have you, go right ahead.
Article continues below advertisement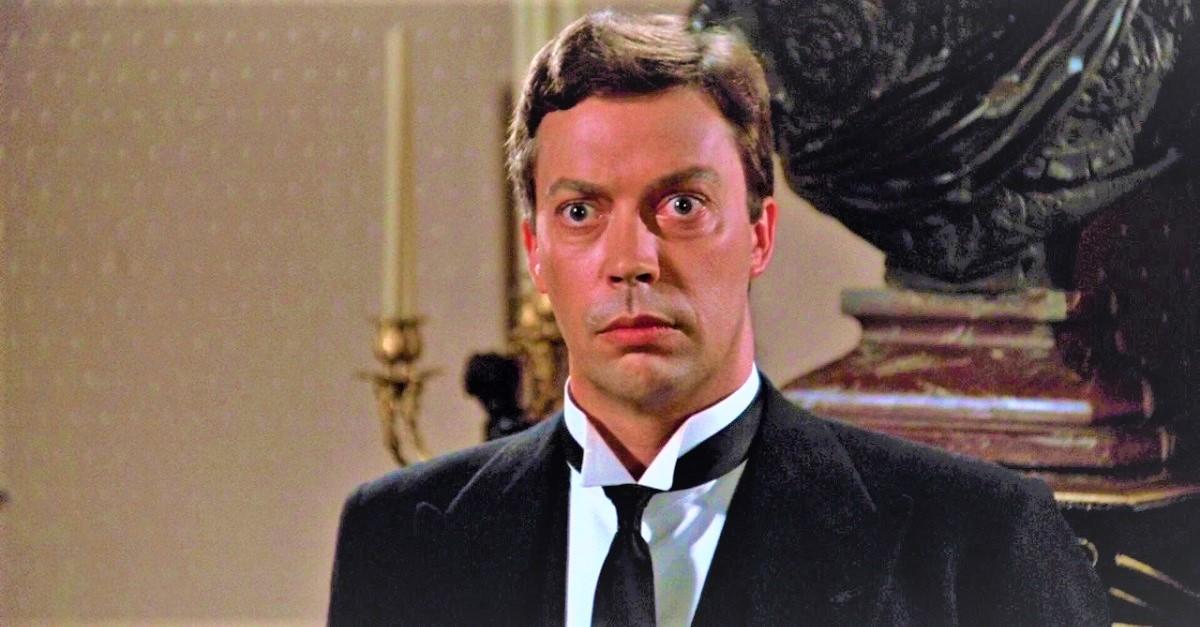 Scrabble also allows you to skip your turn entirely if you want, so you can allow other players to fill up the board and wait your turn to play a word for a sweet, sweet multiplier. Some might tell you that you have to exchange letters or something, but you can pass without changing anything in your rack.
So who's going to be the party pooper and let everyone know about these "official" rules at the next game night? Or is it understood that "house rules" always take precedent?