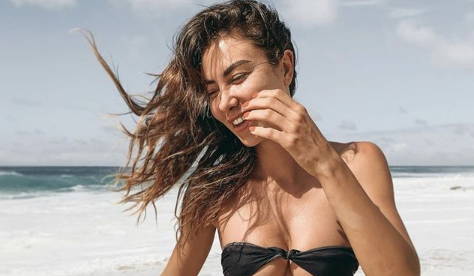 Here's Why All of Your Favorite Celebrities Are Wearing Their Bikinis Upside Down
Don't throw out your collection of string bikinis just yet — while one-piece bathing suits and cutout swimwear are super fashionable right now, you can still make use of those string bikinis.
In a trend all over Instagram, people are taking their average string bikini tops and tying them upside down, finding a creative way to keep their string bikinis in rotation.
Here's what you need to know about the upside-down bikini trend.
Article continues below advertisement
What is the upside-down bikini trend?
As if string bikinis weren't already precarious enough to wear right, celebrities and influencers are now wearing them upside down! The Kardashian / Jenner family is especially known for hopping on this trend.
Hopping on this trend is actually really simple, all you need is a simple string bikini, which isn't that expensive to get if you don't already have one.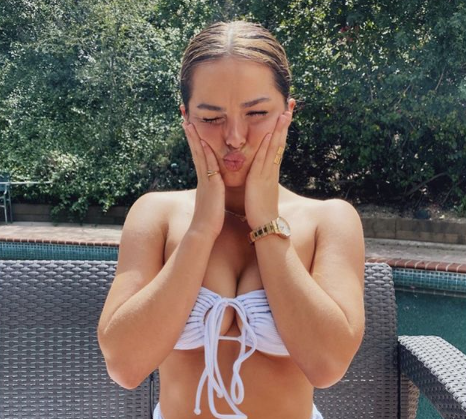 Article continues below advertisement
Instead of tying the top the way it's supposed to be tied, you flip it upside down, tying the bottom strings around your neck and the top strings around your middle.
The effect really capitalizes on the current underboob fad, showing off more cleavage than the tops typically do. Of course, this means the coverage is still just as precarious as it was before, if not a little bit more. We're not saying it's sturdy — we're saying it's trendy.
If you're not a fan of the string bikini bottoms (we wouldn't blame you), you can definitely swap them out for your favorite bottoms and still achieve a similarly trendy look.
If you do decide to try out this trend, we recommend avoiding sudden jumps into the pool — while the tops look cute, they're not the most supportive.
Article continues below advertisement
You can also get creative with how you tie the bikini top.
Probably one of the coolest parts of this trend is all of the different options this gives you for customizing your swimsuit. While you could go the traditional route and still have a trendy look, many celebs and influencers have been expressing their creativity by finding quirky ways to tie the top.
Kourtney Kardashian, for example, tied the bottom strings of her suit so that they crossed in the front, giving her an entirely new look.
Article continues below advertisement
Others have taken the strings and tied them so their string bikini turns into a bandeau top, still showing off the same cleavage as the original trend.
Whatever way you tie it, this is definitely a way to keep your old string bikinis in your summer swimsuit circulation.
Article continues below advertisement
The trend was started by Instagram model Valentina Fradegrada.
Model and Instagram influencer Valentina Fradegrada started the trend back in 2018, according to The Tab. After showing off her first look with her creative twist on the average string bikini, Valentina started an Instagram account dedicated to the trend.
On the account, she reposts others who have shown off their own spin on it.
If you're worried about tying your top so that it's both secure and flattering, or don't have a string bikini top already, Valentina also has a shop dedicated to the trend, where you can buy suits that provide the same effect.