WWE's Velveteen Dream Has Been Accused of Inappropriate Convos With a Minor
Accusations arose against WWE 'NXT' star Velveteen Dream that he's been engaging in conversations with minors and they're pretty serious.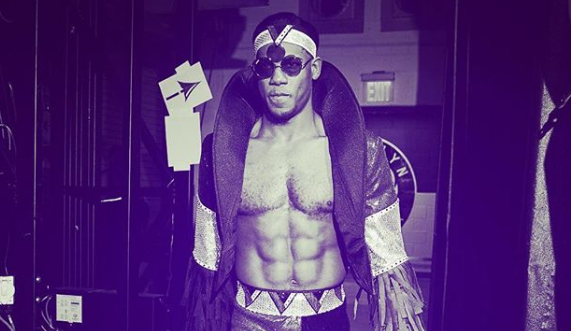 There are some pretty heavy accusations being levied against WWE NXT Star Velveteen Dream. The 25-year-old Washington D.C. native got his start in Maryland Championship Wrestling under the moniker of Patrick Brink and worked matches in independent promotions like Combat Zone Wrestling and World Xtreme Wrestling.
But his biggest break that got his foot in the door of the WWE was his selection as a contest for the sixth season of WWE's Tough Enough.
Article continues below advertisement
Early on, Velveteen Dream, real name, Patrick Clark Jr., was a favorite with many viewers speculating that he would be the one to win the entire competition, however in the show's fifth episode, he was eliminated for what judges perceived as a lack of humility. He came in ninth in the series overall.
However, a few months later, Patrick signed a development contract with the organization. On Feb. 5, 2016, he debuted at a NXT show in Lakeland, Florida.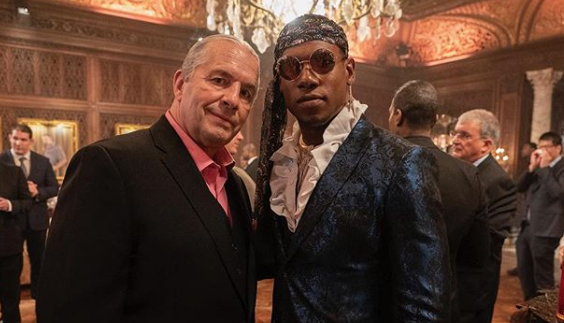 Article continues below advertisement
What are the accusations against Velveteen Dream?
There are several allegations floating around social media that Velveteen Dream had DM'ed some inappropriate things to underage Instagram followers. One fan on Reddit's r/SquaredCircle sub, who remained anonymous, had posted screenshots of messages the Superstar had allegedly had with a 17-year-old girl.
When the post began gaining traction, the user doubled down saying they also had audio of the wrestler speaking flirtatiously with the teen.
Velveteen Dream broke Kayfabe on Twitter to deny the allegations levied against him but he also suggested that there was some tomfoolery going around with the screenshots. The tweets also seem to indicate that he believes his social media accounts were hacked.
Recently, the WWE NXT talent took to Instagram and asked his fans to DM him and he would communicate via social media.
Article continues below advertisement

Whether or not these allegations will affect Dream's rise as a legitimate title challenger, and possibility a migration to either RAW or SmackDown has yet to be seen. It could very well hinge on whether or not the wrestler engaged in any online hanky panky with an underage fan or if he did so knowingly.
Article continues below advertisement
The alleged nude screenshots of Velveteen Dream that were posted on Reddit were subsequently taken down, and many commenters are saying that the audio that was uploaded, while it sounds somewhat like Dream, could very well another person impersonating the wrestler.
It's also worth mentioning that toward the end of August 2018, the wrestler's Twitter account was proven to be hacked when his profile picture was changed along with other personal bio information.
Velveteen Dream's hacked Twitter account at the time also featured a litany of tweets that lambasted other WWE stars, so it seems like someone did manage to get access to the wrestler's social media accounts before, meaning the possibility that he was indeed hacked for a second time could be likely, as many fans pointed out.
Article continues below advertisement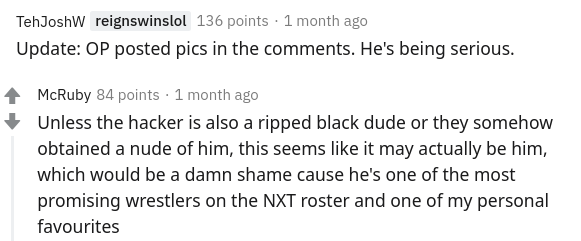 Prior to the allegations, WWE fans were obsessed with how to perform Velveteen Dream's "Purple Rainmaker."
In WWE 2k20, Velveteen Dream is a playable character and a foe that presents a unique challenge to those playing through the game's career mode.
Lots of players had a hard time pulling off his signature "Purple Rainmaker" move against him, which is a special challenge you need to perform to satisfy the match requirements. If you're having an issue with doing it, here's how to get it done.
Article continues below advertisement
First, you'll need to take damage to build up your "Red Payback" meter. Then you'll need to enable "Move Thief" by clicking the left stick on your controller. Then hold the right trigger plus y button (R2 or Triangle on PS) to use "Move Thief." Then, when Velveteen is floored, go to the top rope and perform the special move. It's as simple as that.

Article continues below advertisement
Velveteen Dream has been on the rise since recovering from an injury — what will happen now?
Known for his eccentric and boisterous mic skills, as well as his athletic performing acumen, Velveteen Dream has been on an absolutely sensational rise since recovering from a serious back injury that could've threatened his in-ring career.
He's been feuding with NXT champion Adam Cole and it's clear that the organization is giving the wrestler a big push.
It's unclear at the moment what will happen with the allegations against Velveteen Dream — keep an eye on this space for updates.