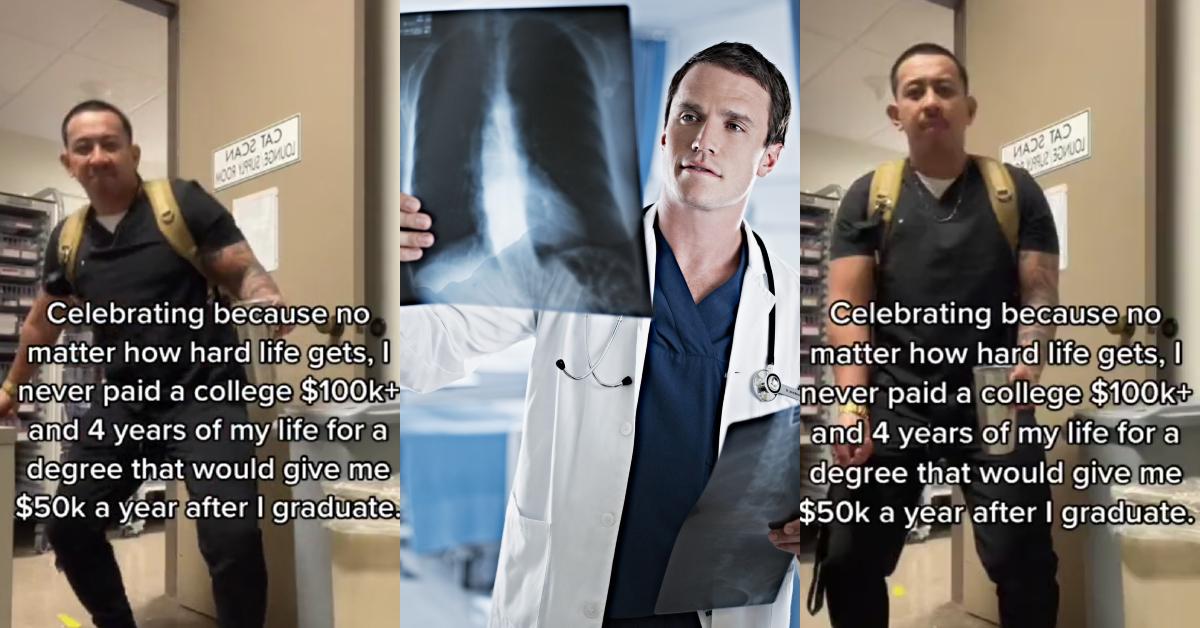 Vocational School Grad Urges Others to Ditch 4-Year Degrees and Avoid Going Into Debt
A healthcare worker expressed how happy they were for never going to college and accruing debt, stating vocational school is the way to go.
To some, college just isn't worth the price. While that might seem like a blanket statement and there are a litany of exceptions/personal accountability factors that need to be considered that don't make the claim an irrefutable truth, it's hard to argue that the value of a degree isn't greatly diminished in America.
Article continues below advertisement
If one is pursuing a higher education in the hopes of securing themselves a better-paying job, depending on the industry one is thinking of going into, then accruing massive amounts of debt is probably not going to pay off.
This is something that this TikToker recently went viral for after they expressed gratitude towards their past self for not doing and opting to attend a vocational school instead.
Article continues below advertisement
In his video, @jroddynotricch dances in front of the camera with a text overlay that reads: "Celebrating because no matter how hard life gets, I never paid a college $100k+ and 4 years of my life for a degree that would give me $50k a year after I graduate."
Article continues below advertisement
In other clips that the social media user posts online, he states that he's "just trying to show other Filipinos it's ok to not be a nurse."
Judging from his videos it appears that he's a radiologist tech who attained his certification instead of going to a 4-year university to attain his degree.
According to Indeed, X-Ray technicians earns anywhere from $29-$71 per hour. Depending on the state one lives in, Radiologist techs earn anywhere from $51,000-$110,000 per year, as per GlassDoor.
Article continues below advertisement

According to Best Colleges, the average student loan monthly payment for someone who completed a 4-year university is $244 per month.
Article continues below advertisement
Business Insider writes that "High interest rates on student loans are keeping borrowers from paying off their initial debt loads," making minimum payments have little to no effect on their overall loans.
Article continues below advertisement

In fact, there are a number of people who, despite making regular payments, are ending up with a larger loan balance than they initially borrowed due to exorbitantly high interest rates outpacing the principal of their initial loan.
Article continues below advertisement
A number of TikTokers who saw @jroddynotricch's video said that they agreed with him, with one person stating that they were excited to start pursuing their certification as a radiologist technician as well: "just got accepted into the rad tech program and start this fall. I'm so easily influenced"
Someone else said that they too, took the TikToker's advice and pursued a career as a radiologist tech: "In vocational school rn, got through my prereqs and got accepted into the Rad Program all because of you Graduate next August if it all goes well"
Article continues below advertisement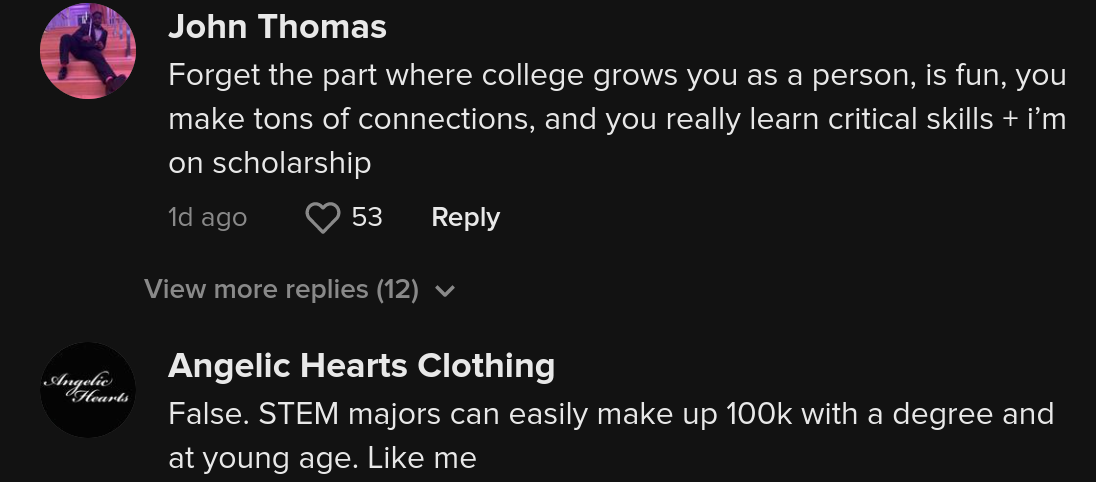 Someone else said that getting their degree in higher education was also worth it. Like @jroddynotricch, however, they also work in a healthcare field: "ill be in 120k+ in debt after my masters in anesthesia but making 150k-200k a year right out of school so itll def be worth it"
Article continues below advertisement
Someone else shared how they were able to advance their career all without racking up a large student loan debt as well: "Yesss sirr. Went to community college to get my RN, my hospital paid for my BSN, now my MSN. Debt free and thriving"

And another person, who said they were currently in med school, also said that the TikToker's advice was sound: "10/10 recommend vocational school. — coming from a 4th year med student"