Woman Brags About Dating Her Manager to Get a Promotion in Viral TikTok
A TikToker is getting slammed for posting a video where she "bragged" about getting a promotion, resulting in a deluge of negative comments.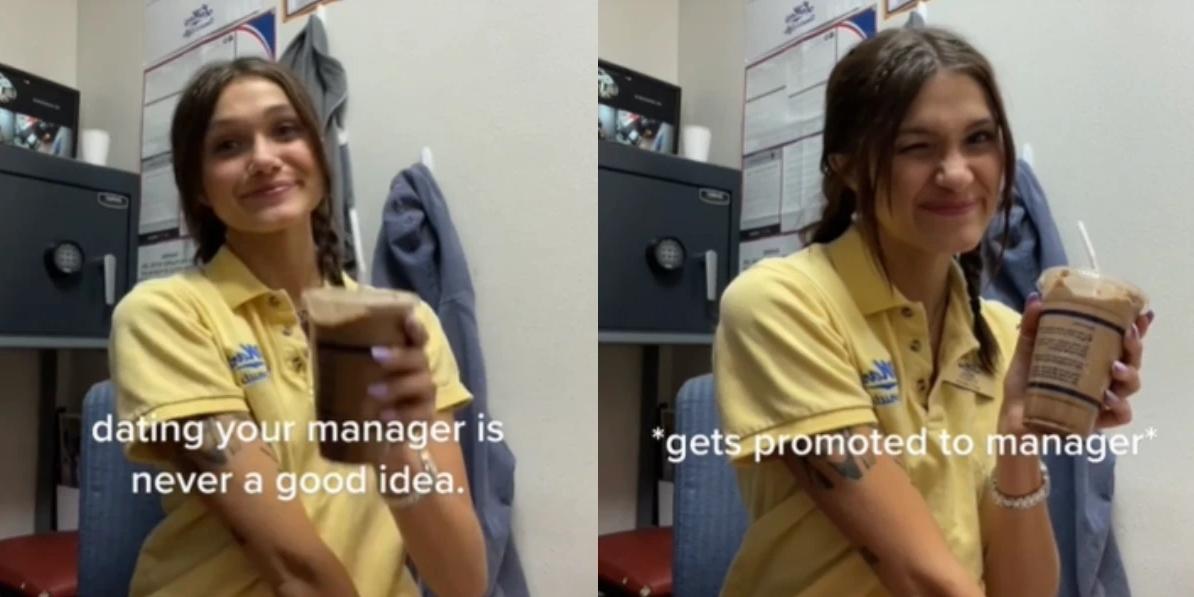 While it isn't illegal to date folks in the office, there are many workplaces that implement policies to curb on-the-job romance. In spite of this, there are a lot of Americans who do pursue romantic relationships with colleagues. 50 percent of folks in an SHRM survey stated that they've had a crush on another employee in their organization, and 34% said that they were either in a relationship with someone they worked with or had been involved with one in the past.
Article continues below advertisement
So why are companies so wary of folks in the workplace getting it on? Well, aside from the fact that it could lead to a lot of potential on-the-clock drama, there's also the trouble with power dynamics. Let's say you're dating someone and they get a promotion to a position that oversees your department, this is where things can get testy.
If you get selected for a pay raise or a better position and folks in the office know that you're now dating your supervisor, this can lead to a slew of HR nightmares. Which is why it's generally frowned upon, and considered a big no-no for folks to date their bosses, and probably why this TikToker is getting so much backlash for uploading this now viral clip.
Article continues below advertisement
In it, Kendall Serene, who posts on the platform under the handle @kenserene can be seen sitting in an office area rocking a yellow polo that looks like a work uniform while sipping an iced coffee.
Article continues below advertisement

The video begins with the text overlay, "dating your manager is never a good idea." After a few seconds go by and she smiles at the camera, drinking her beverage through a straw, the next overlay reads: "*gets promoted to manager."
Article continues below advertisement

Many commenters seemed baffled that she would "brag" about how she benefited professionally from her relationship with her manager. Others were quick to point out the pitfalls of engaging in this sort of relationship as well.
Article continues below advertisement

Tons of legal issues could result from this power dynamic as well. Her co-workers could argue that they were unjustly passed up for their own promotions (if her upload is genuine), which could prompt investigations from HR.
Article continues below advertisement

The company could even be sued in situations like this, which is probably why so many other users on the platform blasted the TikToker for her decision to share this information publicly on the internet.
Article continues below advertisement

"So you think it's cute that you literally were given a promotion cause you started dating your boss? what about the people who deserve that promotion," one commenter wrote.
Others chimed in as well.
"They have a word for people who "date" their supervisor or anyone to get ahead. And no it's not that clever come back your thinking. We all know it."
Article continues below advertisement

"Fraternization is frowned apon at work. Plus it can cause friction with the relationship, when seeing each other 24/7, and while fighting with each."
"Mine transferred to another store and told me to never visit him like hello have you seen gas prices I was never going to do that and now he shows up"
Article continues below advertisement

"So I knew a manager who was dating an employee. His wife left him, got fired, blew up his whole life just for the employee leave because he had no $$$"
Others said that folks were missing "the point" of her post, that she got her manager fired at the job and took over his position.
What do you think about dating your manager? Is it ever a good idea?