Waitress Says Wearing Black Jumpsuit Netted Her $400 In Tips — "Respect the Hustle"
A waitress said she found a new hack for increasing tips at work: simply wearing a black jumpsuit will encourage folks to cough up cash.
Servers' altering their appearance in the hopes of securing larger tips is nothing new. There's been a longstanding TikTok theory among waitresses who swear by wearing pigtails as a means of earning fatter gratuities. Folks who've tried the hack have said that there's been a marked difference in how much money they earn per shift.
Article continues below advertisement
And there are other "hacks" women use to draw attention from men that have been trending on the platform as well, like the "Red Nail Theory." The idea is that since red nail polish was a popular color for women to rock in the '90s, it's an aesthetic that transports people back to a nostalgic place.
Well, there's a potential new trend that server might start combining with pigtails and red nail polish and that's an all-black jumpsuit.
@bonaocean told folks to buy the form-fitting pieces of clothing that work perfectly for establishments that enforce an all-black server dress policy.
Article continues below advertisement
She said that she purchased the jumpsuits from Shein, an online retailer known for its affordable prices of cheap products. "So for all of you girls that work in a restaurant, and you just have to wear all black, I have the best thing for you. Go buy these jumpsuits," she says in the video.
Article continues below advertisement

In the clip, she shows one receipt that was packed with a massive $230 tip. Another was for $200, so raking in $430 just from working two tables is a pretty darn good night.
Article continues below advertisement

There were a number of TikTokers, however, who said that putting on what essentially looks like a cat suit wouldn't fly at their respective jobs. So if you are thinking about ambling between your tables at work like you're a second year Julliard dance student, then make sure that this sort of get-up is allowed at your job.
Article continues below advertisement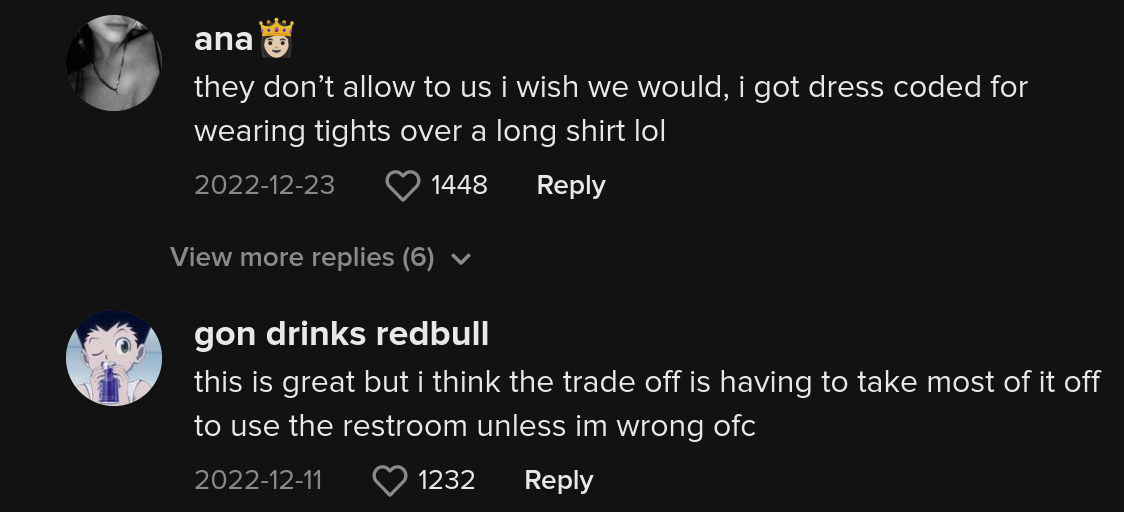 The correlation between attraction and financial success is one that has been well-documented across a variety of industries. Better Help says that the "side effects" of being attractive are what often lead to beautiful people, especially in corporate settings, to earning more money.
Article continues below advertisement

But that doesn't change the fact that there are a number of studies that point to diners tipping servers they find attractive with larger tips. So if you're a waiter or a waitress, then it can pay to gussy yourself up before you head to your shift.
Article continues below advertisement

@bonaocean managed to rack up a ton of views with her bit of advice: about 4.2 million of them. She also garnered over 1,000 comments on the video revealing the tip amounts she received as a result of rocking the bodysuit as well.
Article continues below advertisement

One commenter joked: "what happens if you wear the jumpsuit with your hair in pigtails? do the men self combust?"
Another said: "We're not allowed to wear leggings for I don't think this will fly"
Others couldn't believe how much she was earning: "bro what? you gotta be doing some extra stuff or I'm in the wrong field of work"
Article continues below advertisement

Have you ever worked as a server and noticed you made more money depending on what you were wearing? Or do you think it's just the luck of the draw? Or were there some workers that customers fancied and would fork over their cash with no problem?