TikToker Shames Woman for Holding Up Walgreens Line by "Shopping Like It's Walmart"
A TikToker went viral for starting a debate about drug store vs grocery store shopping etiquette.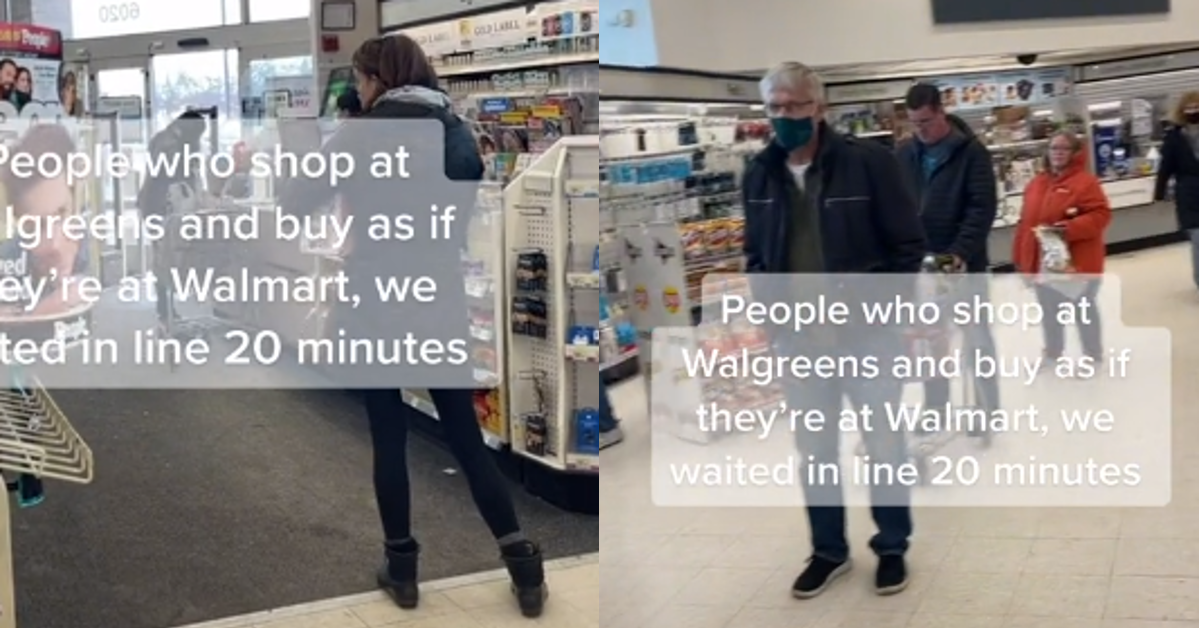 Different situations require different rules of etiquette. When you're on a road trip traveling more than halfway across the country with a close friend, you will and should probably say the most insane and depraved things that you find humorous to one another within the confines of a vehicle in order to keep yourself entertained.
But you should probably keep those same jokes to yourself while delivering a speech at your parents' vow renewal ceremony.
Article continues below advertisement
The same goes for dining experiences. If you're taking your significant other out for a nice anniversary dinner, you're probably going to order your food and inquire about the menu in a different manner than the way you'd speak to the familiar deli owner at your corner bodega when you order a chopped cheese sandwich.
But does the same apply to different stores that you shop at? For instance, let's say you're popping inside of a drug store like Walgreens to pick up a prescription, do you grab a shopping basket and/or cart to purchase a lot of items and bring a Rolodex of different coupons? Or do you grab your handful of items, scan them, and head on your merry way?
That's become the subject of debate thanks to a viral TikTok making the rounds on the popular social media platform.
Article continues below advertisement
TikToker @iselavanessaaaa writes in the caption of a video that shows a long line at a Walgreens store that reads: "Do you think it's bad etiquette on her part or should we mind our business cause it's a public store?"
Article continues below advertisement

The clip in question shows a huge queue of people who appear to be held up by a single customer. The video's text overlay states: "People who shop at Walmart and buy as if they're at Walmart, we waited in line 20 minutes."
Article continues below advertisement

While it's unclear as to how or why the customer was holding up the line it nonetheless sparked throngs of comments from people in the video's comments section from equally frustrated drug store customers and employees who had similar experiences of long waits at the store.
Article continues below advertisement

Some folks attributed this to the lack of open registers at Walgreens locations and the fact that self-checkout machines aren't available at the Walgreens locations they visit.
Article continues below advertisement

Others stated that many combination drug/convenience stores were usually understaffed so whenever there's an influx of customers, long waits are bound to occur.
Article continues below advertisement

But the "real" culprit according to both customers and employees who offered their opinions in the comments section were coupons and shoppers who brought too many items to the register for purchase.
Article continues below advertisement

Processing coupons and then voiding them out is a reportedly time-consuming process according to some TikTokers who said they work at Walgreens. And matters are only further complicated when customers present expired or already used coupons or promotional discounts that cannot be combined with other shopping incentives.
Article continues below advertisement

Others expressed that there's an unspoken rule about a limit of items folks can buy at a store like Walgreens and said that if someone planned on making a big haul shopping experience, then they should probably go to a grocery store or supermarket.
But there were a bunch of other users who thought that OP was being unfair and unkind to the shopper, stating that perhaps the reason why they were buying so many items at once could've been due to personal restrictions not readily apparent.
Article continues below advertisement

What do you think? Did the customer in the TikTok break an implied rule of shopping at Walgreens? Or do they have the right to purchase whatever they want and everyone who had to wait in line should just understand that sometimes your shopping experience isn't going to go as smoothly as you thought it would?