A Woman Walks Alone for Five Minutes in Newark, Gets Catcalled and Followed
A woman recorded her 5-minute walk through Newark, N.J. and shared just a snippet of that walk, which included several men catcalling her.
Sometimes, men wonder what women mean when we say we feel unsafe walking alone, especially at night. Luckily, there are heroes like TikToker Shady (@lissalayinlow). Shady recorded her five-minute walk through Newark, N.J. It's a notoriously dangerous city that was on America's list of Top 10 Most Dangerous Cities until very recently.
Article continues below advertisement
Throughout her walk, which was in the middle of the day, the 20-year-old was catcalled and even followed by various men. There's a reason women feel fear on a daily basis, and this is it! So for all those men who think they're "complimenting" a woman when they catcall her, go watch Shady's video on TikTok.
Article continues below advertisement
On a walk through Newark, woman encounters several men who feel the need to catcall her.
A catcall is never a compliment because we never know how far a man will go to get what he wants. As a woman who just wants to go for a walk and get from place to place, when men call out, whatever they might be saying, they're basically suggesting that their desire is more valuable than the woman's time. It's already a form of disrespect just by asking for a woman's attention.
But beyond that, when a man catcalls a woman, she doesn't know if he will continue to harass her, follow her, assault her, kidnap her, or whatever else he might do to capture the attention he demands. That's a big part of why it actually is frightening for a woman to be catcalled. The catcall is a hint that something worse could happen.
Article continues below advertisement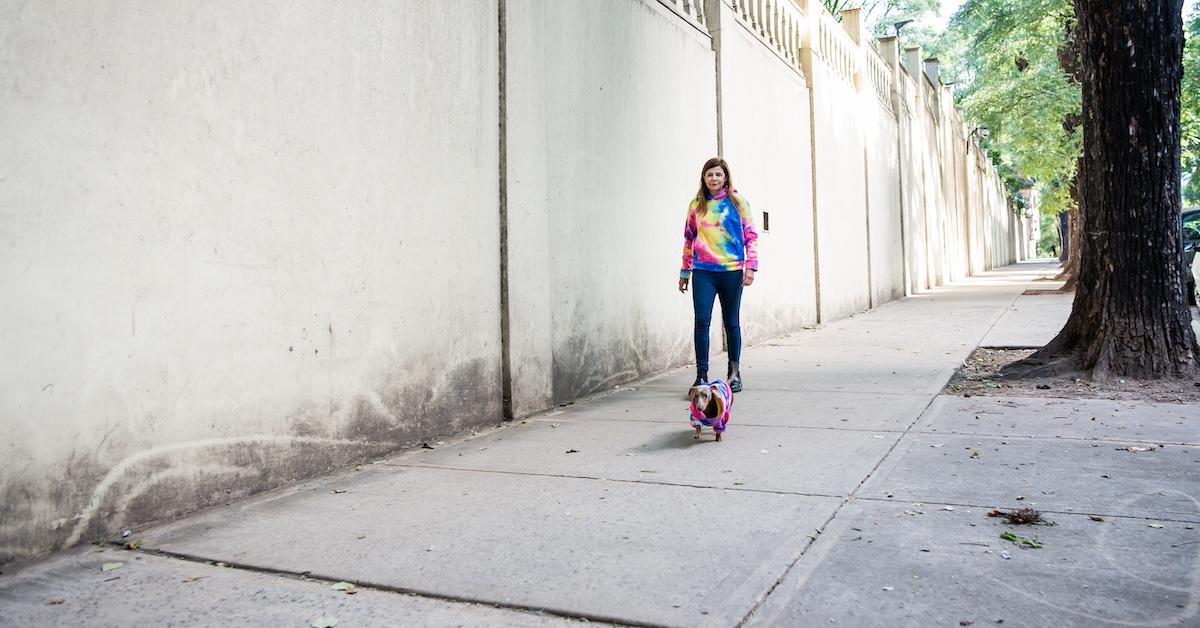 So on Shady's walk, she got several of those hints…and worse. She titled the video, "POV: walkin 5 mins to the corner store in Newark as a female," and we already know what to expect. The first man shouts at her, "Aye gorgeous. You not speaking? Alright slim goody have a good day."
Article continues below advertisement
One commenter could relate to this type of catcall. "Yup same in Philly," she wrote. "It's always the 'You ain't speaking?'" When we don't answer, which we have every right to do, men seem to think they deserve a response, despite the fact that they're a stranger and we have things to do. But at least that guy backed off.
"Morning beautiful," another man said, making it clear that Shady's appearance has value to him. Sir, we don't need your input! Shady said, "Morning," back, perhaps to protect herself from further escalation.
Article continues below advertisement
But a more serious perpetrator weaves throughout Shady's video. He first shows up in a car, where Shady wrote that he "screamed 'where u been all my life' and honked." A man in a car is doubly threatening because he's going out of his way to see and comment on the woman, and he is also driving a pretty powerful weapon.
Article continues below advertisement
Another guy shouted, "Ayo, aye gorgeous." When Shady didn't answer, he continued, "You ain't gotta be like that." Many women have heard this phrase too many times. A commenter empathized and wrote, "'You don't gotta be like that…' Sir, YOU don't gotta be like that!!!"
That's the crux of this common catcall — the predators are blaming the victims and trying to gaslight them by hinting that they're "nice" and that we're the ones who are in the wrong for ignoring them. But at the end of the day, they don't have to infringe on a woman's safety and privacy!
Article continues below advertisement
At this point in the video, the man in the car pulls over. "Babygirl, babygirl" he says as Shady tries to walk away. She's clearly not interested, but this man is relentless, which isn't a good thing.
Article continues below advertisement
As he drives away and Shady walks off, someone else shouts, "Aye wassup, aye. Hey Becky." Shady responds, "I'm not Becky!" We would probably do the same thing — it's a smart move on the catcaller's part to get Shady to respond. He asks, "Aye, what's your name?" She tells him that her name is Shady. "Alright Shady, be safe," he says, and luckily leaves her alone.
Then, the guy in the car pulls up on Shady "for the 3rd time." So, she confronts him. "You are everywhere," she tells him as she laughs to try to stop from panicking. "You're just so sexy," he tells her, which, contrary to popular belief, no woman wants to hear from a random man in the middle of the day. "Bro, he's following me," Shady says in the video.
Article continues below advertisement
The man might not even realize that he's following her, but if I were her, I'd be terrified at that point. Shady shows us that she's wearing a sweatshirt, glasses, and very little makeup, proving that men will catcall at any time of day for any reason. Then Shady shares, "One of the oldheads who asked my name comes and finds me on his bike."
At this point, Shady has been followed by not one, but two different men. And then, another guy shouts, "Aye gorgeous," adding to the long list of men who have a lot to learn. In just five minutes, Shady was catcalled by at least six men. This is sadly a systemic problem with the patriarchy that men feel the need to assert power over women, so all we have to do is overthrow the patriarchy and we're good to go!