Walmart Bag Checker Goes Way Overboard in Customer's Viral TikTok
A Walmart greeter was recorded checking every bag in a customer's cart, TikToker demands apology after it was verified he paid for each item.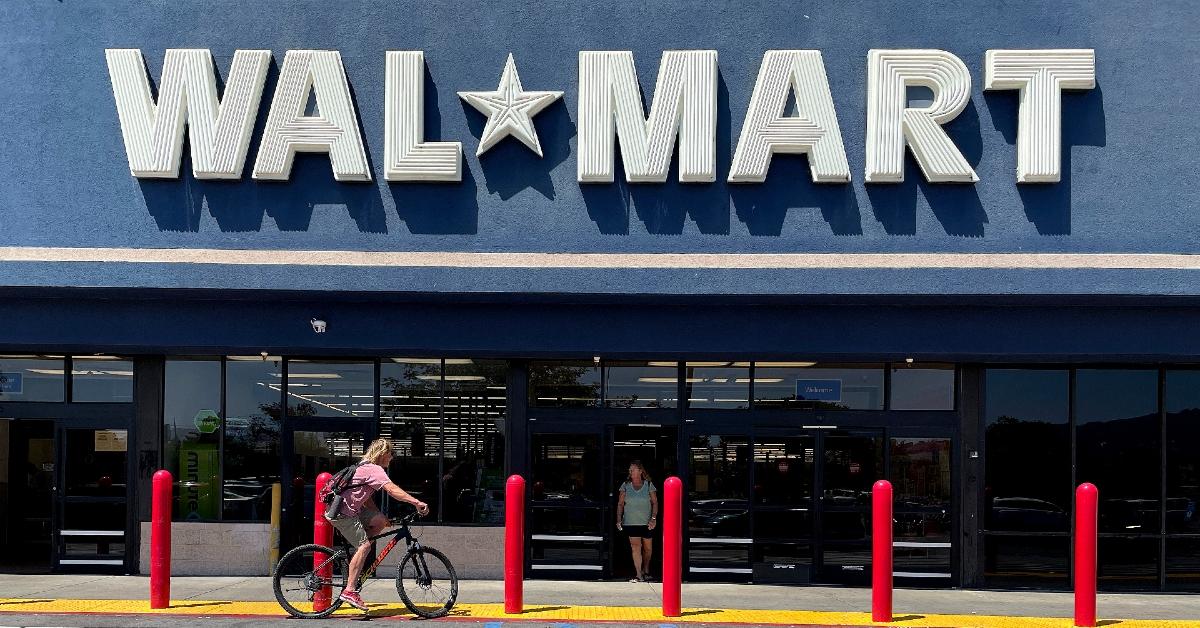 Sam Walton says in his autobiography that he adopted the idea of a "greeter" for his Walmart store as a more delicate way of attempting to bolster loss prevention in his store, thinking that folks would be less inclined to steal if there was someone at the front of every retail location saying hello and goodbye to customers who walked through the location's doors.
Article continues below advertisement
Now, the "greeter" position might be more accurately referred to as "receipt checker." If you've ever shopped at the store, your experience with folks who work this job probably begins and ends with with them barely looking up at you, taking a cursory glance at your receipt, maybe marking it with a little highlighter, and then you go about your merry way.
However, TikToker Terrance Williams's (@rips_world) exit from a local Walmart after he purchased several items went down way differently as the greeter thoroughly checked each and every bag in his cart and then took it to the customer service desk after being convinced there was an item that Terrance hadn't paid for.
Article continues below advertisement
The entire time, Terrance recorded the man and said with confidence that he did indeed pay for everything in the cart, laughing sarcastically and expressing that he felt he was being stopped because he was a Black man.
Article continues below advertisement

The elderly Walmart greeter avoids eye contact with Terrance throughout the entirety of the clop. The TikToker says, "Going through all my stuff, huh?"
"Yep, you've got on item that's not on there," the greeter replies.
"What? This is how it comes to Walmart," Terrance says after turning the camera around on his face to show his reaction.
Article continues below advertisement

"We're going to customer service right now," the greeter says.
"No we ain't going nowhere," Terrance replies.
"Yes we are," the greeter then places the items he was looking at back in the cart and begins pulling the cart to the customer service desk, as Terrance protests that it isn't necessary.
Article continues below advertisement

The greeter ignores him and takes his cart of items to the desk. At this point, Terrance laughs off his agitation, attempting to regain control of his cart. He eventually allows the greeter to push the cart to the customer service desk, audibly commenting on the absurdity of the situation.
Article continues below advertisement

"He just took my cart, whole receipt in my hand," the TikTok user states, holding up the paper receipt to the camera. The clip then transitions to Terrance suggesting he should get "some type of discount" for his troubles as the employee asks the customer service employee to ensure everything in the cart is on the receipt.
Article continues below advertisement

"He's standing on guard making sure," Terrance exclaims sarcastically of the greeter's behavior. When it's clear that he paid for everything he then says, "F--k you and f--k you, I put that on there and then the other electronics. I put everything. You think I be telling you to f--k off if they wasn't on there?"
Article continues below advertisement

At this point in the video, the greeter sees he was in the wrong and begins placing the items back in the TikToker's cart slowly. "Is it on there, sir?" Terrance asks in a mocking tone, "Right, then what the f--k you owe me, cuz?" Terrance demands an apology from the greeter, who says he was just doing his job.
Article continues below advertisement

"An apology? Say it," Terrance continues. "Say you sorry or something, cuz," the TikToker persists, continuing to record the worker. "I apologize," the elderly greeter eventually says. "Thank you," Terrance responds.
"Just like you found it, just like the f--k you found it. I should go and shop for some more s--t," Terrance says at the end of the video as the greeter places his items back in the bags.
Article continues below advertisement

Other TikTok users were shocked at how thoroughly the greeter looked through Terrance's bags. Some claimed customers don't legally need to stop for greeters, especially if they know they paid for everything. Others urged Terrance to sue.