Town With Congested Starbucks Drive-Thru Reportedly Voted to Make Employees "Work Faster"
A Connecticut town is going viral for reportedly telling Starbucks employees to "work faster" at a congested location with a drive-thru problem.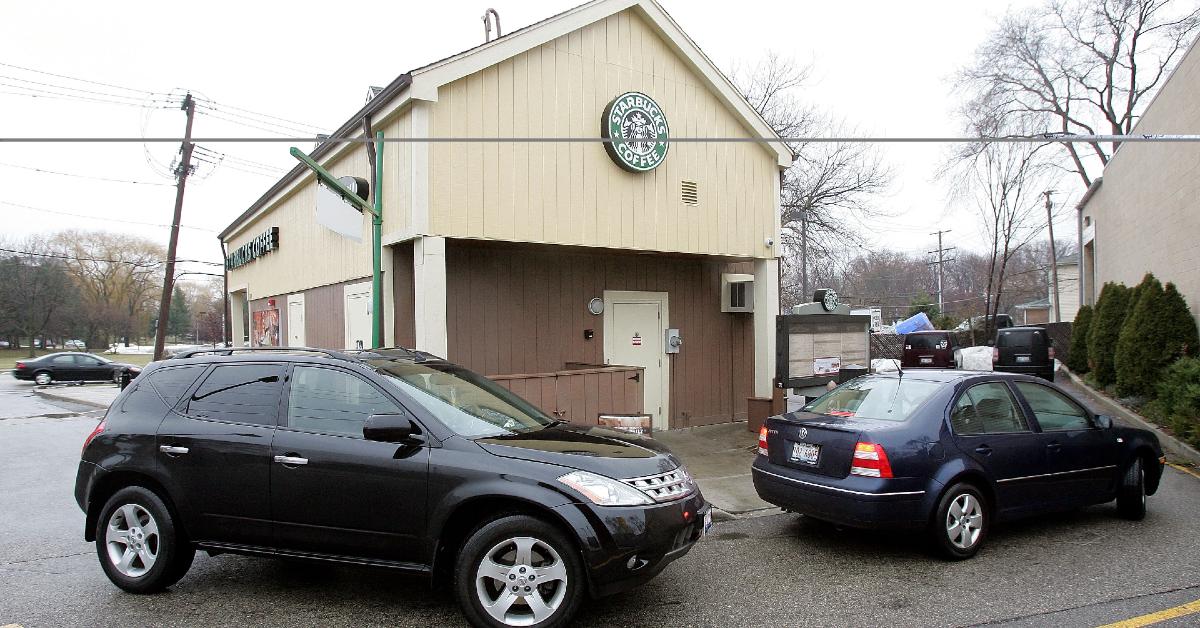 Fewer things will make you develop a disdain for humanity more quickly than seeing how lazy people can be. You see it in massive parking lots where folks who are otherwise perfectly healthy and capable of walking will spend 10 minutes circling around the front of the store waiting for a closer spot to open up instead of simply parking farther away.
Article continues below advertisement
Then there are folks who will idle in a drive-thru for 30 minutes to place an order for their food, simply because they can't be bothered to leave their vehicle. They'd rather just sit there and waste a chunk of their day instead of parking and heading inside the restaurant to get their food.
It's not like knowing a particular drive-thru is always congested will dissuade people from frequenting it, either. Take this Starbucks in Trumbull, Connecticut. Folks are saying on social media that the town passed a resolution that effectively states employees of that store need to "work faster" to remedy the traffic build-up caused by the drive-thru.
Article continues below advertisement
According to TikTok account @everydayengineering, the root of the problem is the way the Starbucks' drive-thru is situated, which doesn't allow for more than 15 or so vehicles to queue without causing a massive line that prevents other vehicles from parking their cars in certain areas of the huge parking lot. As a result, street traffic surrounding the Starbucks comes to a standstill.
Article continues below advertisement
Although there is more than enough room for multiple customers to place their vehicles in a lot so they can hop inside and pick up a drink, the TikTok account attributes the vote to "car culture," stating that other, more effective measures could've been taken instead of simply demanding the workers deal with the problem.
Article continues below advertisement
In a clip titled "illusion of convenience," he says, "So I'm here at Starbucks in Trumbull, Connecticut, and it's not just any old Starbucks. This one has been in the news quite a bit because of how bad the drive-thru line is."
At this point in the video he posts a screenshot of a Trumbull Times article referencing the issue.
Article continues below advertisement
"During busy periods and even right now, the line only holds about 15 cars and so it spills out onto this major road here," he moves his camera to show a line of cars waiting to pick up their coffee in the drive-thru. "And so the town decides to take action."
Article continues below advertisement
He then begins to offer up some alternative methods of action that could've been taken. "Did they recommend re-configuring the drive-thru to make it more efficient? Did they even suggest closing the drive-thru altogether, just having people park in this massive parking lot and walk inside?"
Article continues below advertisement
He continued, "No, they voted on and approved a resolution to simply order the Starbucks workers to work faster. I wish I could make this up." He then posted another screenshot from the same article, which reported Trumbull commissioner Anthony Cory looked into the congestion issue.
Article continues below advertisement
It seems that Chory adopted a strategy of sending a letter from the town to the Starbucks location, telling them effectively to "pick up the pace" and have workers tell customers to pull their vehicles up ahead of the drive-thru and then have employees deliver these orders to vehicles.
Article continues below advertisement
The clip has gone viral on TikTok but has also been re-posted to Twitter, and Reddit, where it has also been shared several times.
But Starbucks refutes the claims in the video. In a statement, a spokesperson for the company said, "The claims made in this TikTok are false. There was no vote, no resolution, and no letter to Starbucks sent by the city regarding the drive-thru at this store."
They added that in addition to the drive-thru option, Starbucks offers "mobile and indoor ordering, as well as curbside pickup."