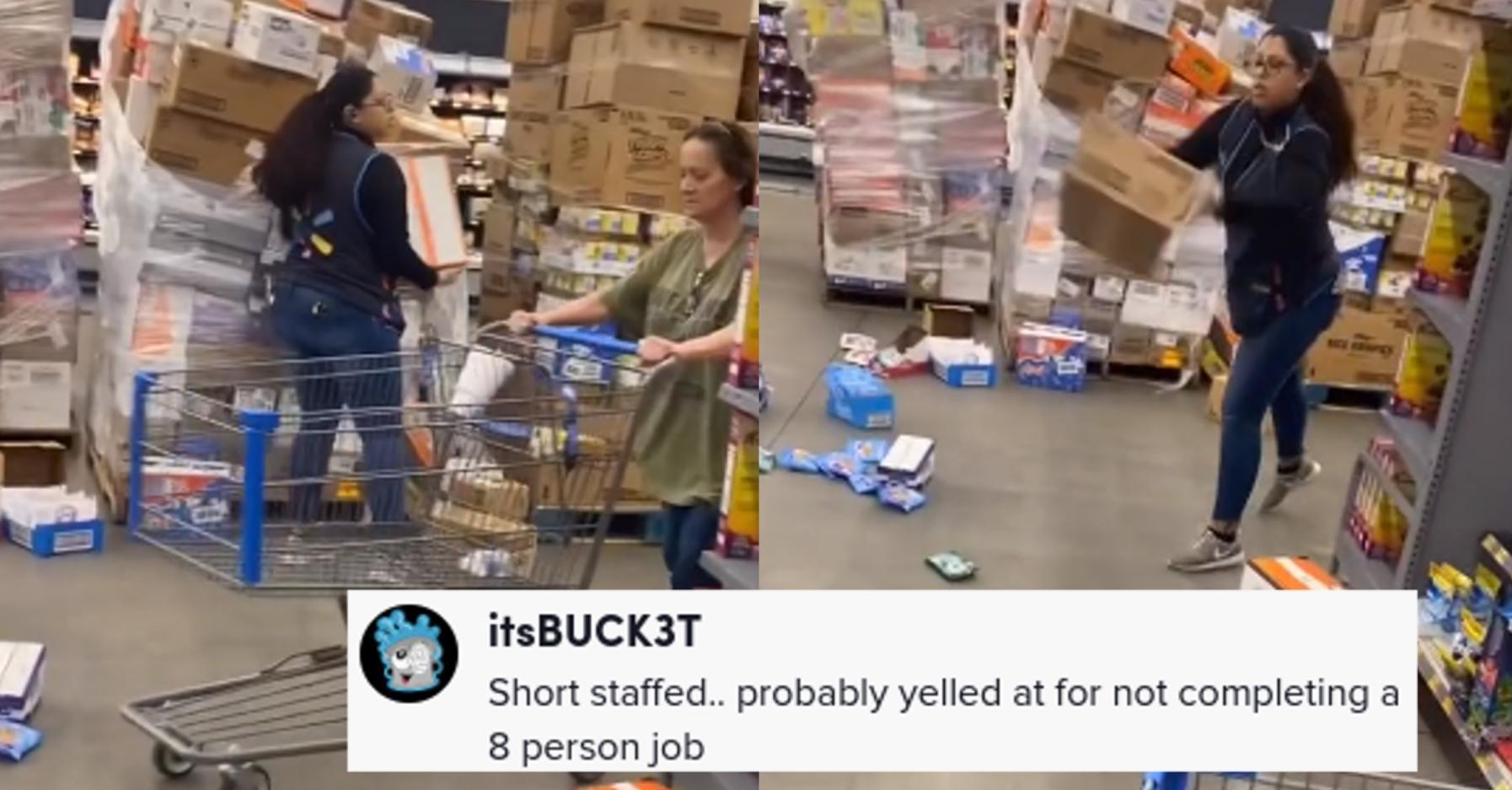 Woman Records "Fed Up" Walmart Employee Throwing Boxes, Says She Was Hit by One in Viral TikTok
Working in retail can be a pretty brutal job, especially when it's at a massive store that offers a variety of different items, just because there's so much inventory to account for. And while there are protocols set in place, along with corporate store planning and different shelving maps/arrangements to keep things as organized as possible, people still need to physically load these items on shelves and make sure the store's easy enough to navigate for shoppers to buy what they need.
Article continues below advertisement
And if you've ever worked retail at any of these fine establishments, then you'll know that there's pretty much always work to be done. Whether it's customers leaving products at the register or in different aisles, cleaning up spills/messes, helping someone with a loss prevention case, or getting a key for the electronics department to assist a parent buying a surprise gift for their kid, you're almost always being pulled in various directions.
What's worse is when a bunch of folks call out of work and leave you doing the jobs of multiple people and all for an amount of money that is barely enough to exist, let alone have any kind of financial future.
All of that can take a toll on a person and some employees lash out while at work; combining not wanting to be at a place with a low salary can sometimes be a recipe for disaster.
Article continues below advertisement
Which is exactly what a lot of TikTokers think happened in a now viral clip uploaded by user @sam.a.nt.ha who claims that a disgruntled Walmart employee was breaking down/throwing boxes and hit them in the process of their workplace outburst.
Article continues below advertisement

Samantha claims that prior to uploading the video she was hit by a box tossed by the Walmart worker and proceeded to record the woman throwing boxes from a stack that appears to have toppled over.
Article continues below advertisement

Samantha wrote in the comments section of the video: "Before I started recording she hit us with a box and kept tossing them towards several customers. She's currently looking for a new job!"
Article continues below advertisement

There were several other TikTokers who commented that the employee definitely looked irate and wondered just how many customers she may have struck while throwing boxes.
Article continues below advertisement

Others thought that the female employee appeared to be irate and that it was wrong of her to take her frustrations out on the job and that customers definitely shouldn't be subjected to this kind of treatment.
Article continues below advertisement

However, there were others who didn't see anything wrong with the employee's actions, stating that this is how late-night shift employees break down pallets and that the boxes she was tossing are more than likely filled with goods that won't be damaged.
Some acquiesced that while the employee may have been upset, they could have been exhibiting signs of exasperation of having to cover shifts of multiple people who probably called out of work.
Article continues below advertisement

There were some who also took issue with Samantha attempting to get the employee in trouble and then there were those who thought that the worker was trying to get fired from the job on purpose.
What do you think? Have you worked in retail and broken down pallets this same way? Or was this a worker who was simply fed up?